The Best Skoolie Bathroom Ideas
From Tiny House Festivals to Skoolie Swarms and gatherings all across the United States, when someone tours a skoolie, there is one room people are more interested in seeing than others.
The skoolie bathroom is one of the most intriguing areas of a skoolie. With good reason too! The bathroom is often an afterthought. A place where you go to do your business and then quickly leave as if it never happened.
We tend to gravitate towards a different approach. The skoolie bathroom is more of a retreat for us. Mind you, we try not to spend any more time there than we need to, but we want to feel relaxed and enjoy the space while we are there.
Putting some critical thinking into your bathroom design will pay dividends to you and your family in the days to come while you are on the road.
But how do you get the inspiration for skoolie bathroom ideas?
Where do people get their skoolie bathroom ideas? Like most of us, we get inspiration from pictures, videos, and bathrooms we have seen with our own eyes.
In this post, we are going to address some questions that come up time after time. People want to know what kind of toilet is best without going all black tank.
People want to know if the tile is realistic in a moving, bumpy school bus. How big should the bathroom be? Can they have a shower or a bathtub? How much is it going to cost?
We will address all of these concerns and more. Grab a beverage and a snack and let's get into it!
Tips For Designing A Skoolie Bathroom
Some of the best ideas we have come across for skoolie bathroom ideas have come from bathrooms that were never intended to be in a skoolie in the first place.
It's just like when you are driving down the highway or anywhere really and you see a school bus. We instinctively point and say, "Skoolie".
We see and notice things our minds are subconsciously programmed to recognize. Getting too deep here? Back to skoolie stuff.
Here is the golden ticket on tips for designing a skoolie bathroom.
Do You!
Let your personality and ideas translate into how you design your bathroom. Don't build your bathroom just to get it done and mark off the "To Do" list.
That is a common mistake we all make when converting a school bus to our tiny home, we get too task-oriented and neglect creativity.
Spa Skoolie Bathroom
Creating your bathroom like it was meant to be. This is what we are
doing for our current build. We want a dedicated space for both our
shower and toilet. A space that is relaxing and calm.
Imagine going to a spa for a massage. The colors, lighting and
accessories that put you in a place that is different and separated
from the rest of your skoolie.
We are very excited about completing this part of our build and
sharing the results with everyone. Stay tuned for our epic tropical,
spa bathroom experience.
Country Skoolie Bathroom
Country boy can survive! Growing up in North Carolina for the early part of my childhood, I know the experience of going to the bathroom in an outhouse.
That is not the kind of skoolie bathroom experience we are talking about here. We are talking about something with a rustic and warm atmosphere.
Wood walls, dried flowers, potpourri, and a feeling like you are in a rustic, winter lodge.

It doesn't have to be fancy or boujie, just warm and inviting.
Minimalist
The minimalist skoolie bathroom is what we did in our very first skoolie build.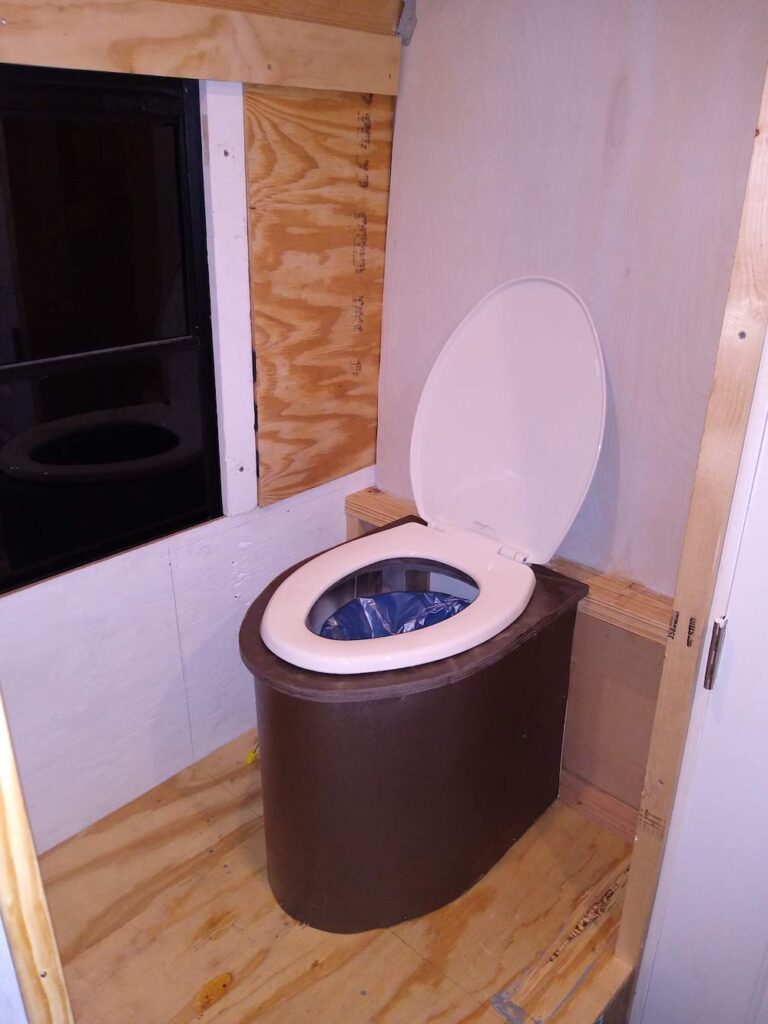 We had a 32" by 32" shower pan that rolled underneath our couch and into the middle of our floor. Our shower was in essence, a hide-a-way shower.

It saved us 9 square feet of living space. It was innovative and efficient for space, but it was kind of a pain in the rear to set up and put away every time.
For our Sprinter DIY bathroom, we had a port-a-potty that we would stow away into a cabinet, and pull out when we needed to use it.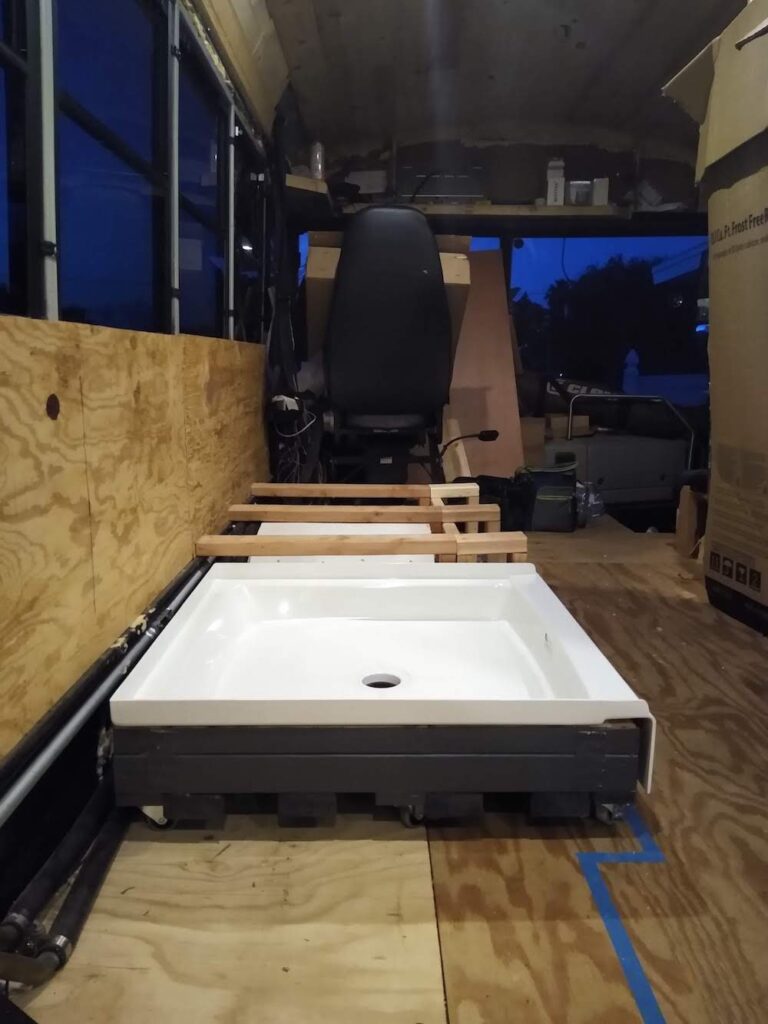 That worked fine, but this time around, we don't want to have to work so much to go to the bathroom every time. We want something already set up and ready to go without much prep and energy.
Outside Skoolie Bathroom
It's not a typo. Having an outside bathroom for your skoolie is something that is quite popular. We have net those who do not want to do their "business" in such a small confined space next to their significant other.
So, they go outside and do their deeds in a pop-up tent next to their skoolie.
The pop-up tent is versatile because it can also be used as a shower. No gray tank, no mess.
How Big Is A Skoolie Bathroom?
Your skoolie bathroom can be as big as you want it to be. As we mentioned above, our first skoolie build, we tried to make our bathroom footprint as small as possible.
After building out a van, living and traveling in it for almost a year, we knew our next skoolie bathroom would be its own room.
For our current build, our skoolie bathroom is going to be approximately 23 square feet.
We will have it in the back of our bus and in front of the garage section. Toilet will sit on the right side and the shower, a 32" x 32" pan will sit on the left side.
Most skoolie bathrooms are not this large, but after "skimping" on our bathroom for the last two builds, we want one where we do not feel cramped.
You will have anywhere from 90 square feet to over 200 square feet in your skoolie. Make your bathroom as big or small as you like. It's your skoolie floor plan design and your life.
If you would like a good article on Skoolie Floor Plans, check this one out.
What Kind of Toilet Do You Use In A Skoolie?
There are so many different options for a skoolie toilet. The great thing about every single one of them is that they all work for those that have chosen them.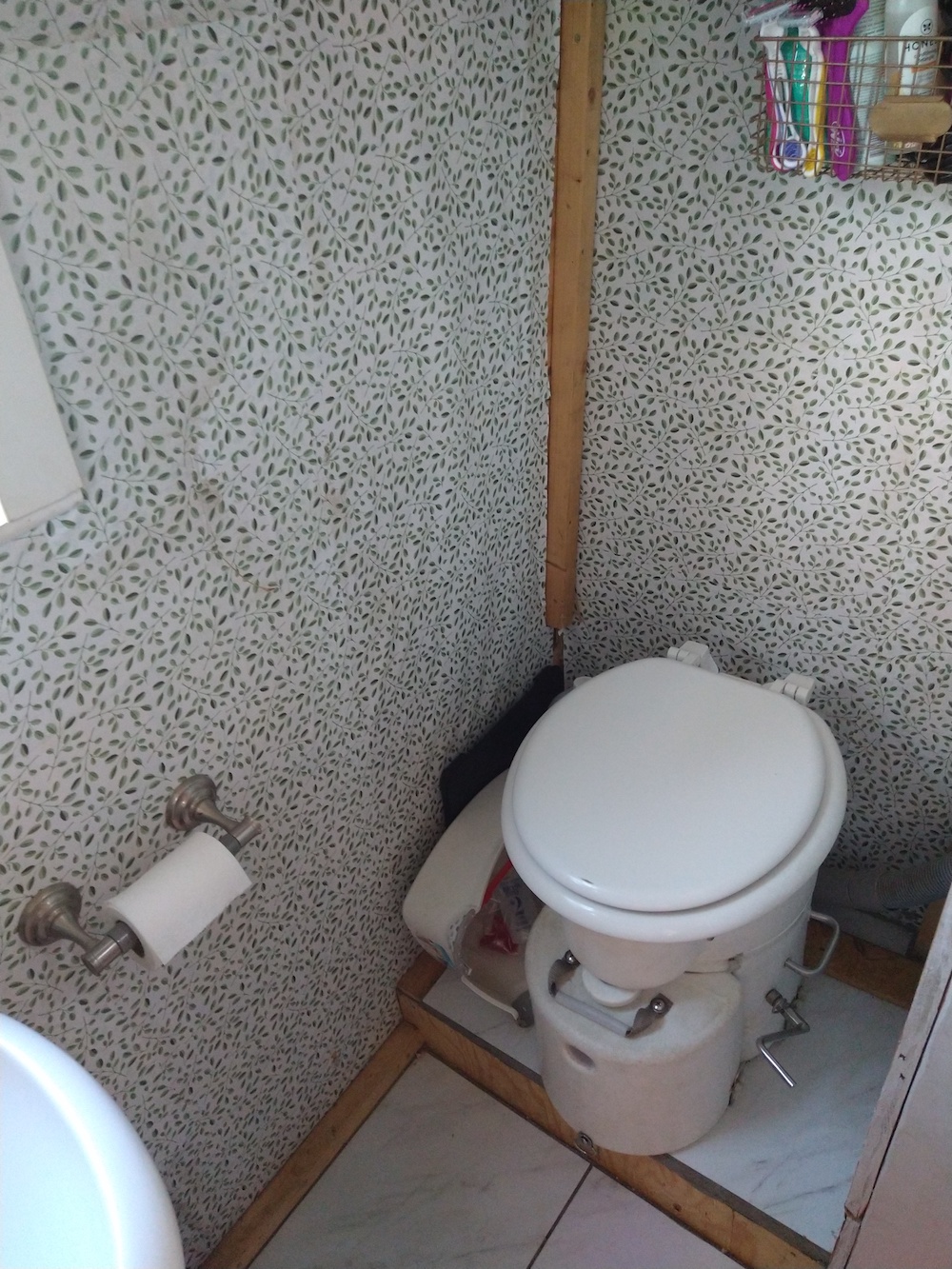 The other great thing is that if you don't like it, you can change it. We wrote a piece on The Best Composting Toilet for a Skoolie but covered a few other options that are not composting toilets.
Black Tank
Do you want a black tank? All of your #1 and #2 go into a holding tank and sit there, fuming and boiling into a gnarly brew until you empty into a dump station somewhere down the road.
Not for us! We have dealt with a black tank in an RV and we do not want any part of that ever again. To some, it's no big deal. To us, gag!
Composting Toilet
You can choose to use any number of composting toilets. They can cost you anywhere from a couple of hundred dollars for a self-built to over $1,000 for one from a manufacturer.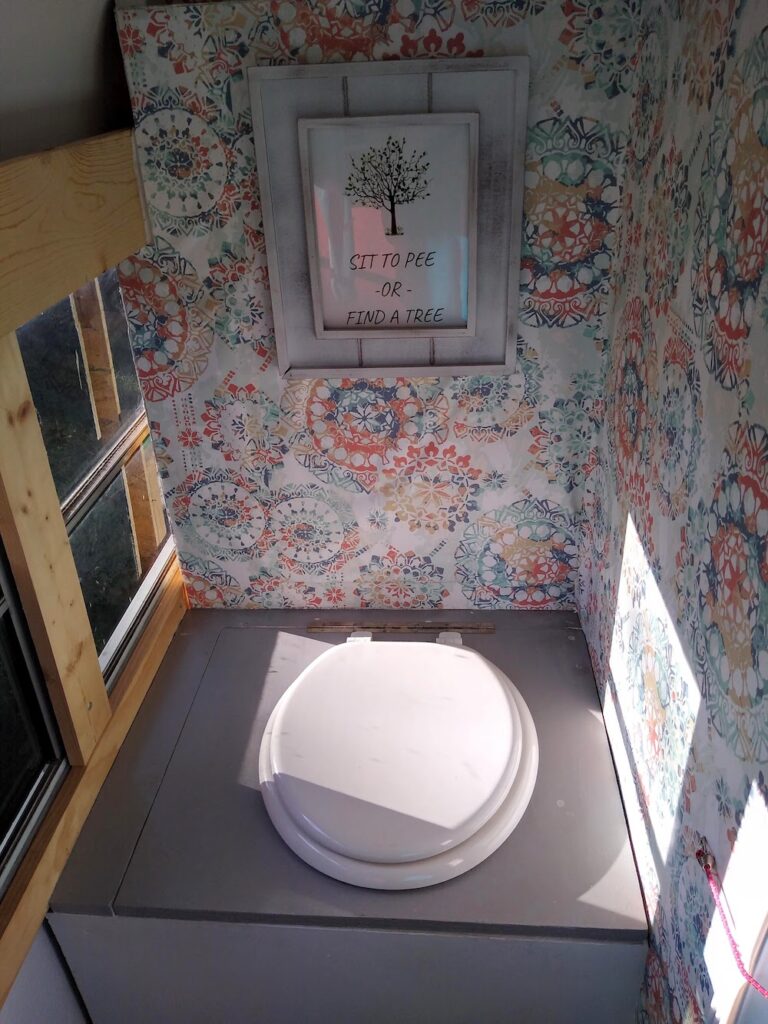 Either way, a composting toilet is very popular in the nomadic community and they work great with no nasty smells. We are leaning heavily towards a composting toilet for this current build.
Cassette Toilet or Port-O-Potty
A cassette toilet or port-o-potty is another choice for you. It is an all-in-one toilet that can hold both your solids and liquids or you can fashion it to where it just holds your liquids.
You would need to put a bag of some sort in the toilet while you complete your #2, and then discard the bag at the nearest dump station or trash can. No different than disposing of a diaper.
Whichever toilet you decide to implement into your skoolie project ultimately depends on what works best for you! Don't be afraid to try something and then switch it up a little down the road.
How Do You Tile A Skoolie Bathroom?
Tiling a skoolie bathroom is not as complicated and precarious as you may think. We never liked the idea of tiling in a bathroom or shower in a skoolie.
That perception has changed now. We have seen many skoolies with a tiled bathroom and tiled shower with no problems at all. We thought for sure the grout and tile would crack and pop from the constant bumps and rough riding.
No so. If you have a level and smooth surface to lay the tile and use the proper consistency of grout, you are most likely going to have no issues at all.
Grouting and tiling a bathroom on a skoolie has everything to do with workmanship and patience. Do not rush the process of setting your putty, spacing, and laying out the tile firmly and securely with no air pockets.
Then grout it in with a good tight pack and line of grout between your tile.
How Do You Make A Skoolie Shower?
Making or installing a skoolie shower is not as simple as putting up some walls, running the plumbing, and installing a showerhead.
When putting up walls, you are going to want to coat the plywood walls with a waterproof coating. Using a paint product similar to Perma-Guard, RedGard, or Hydro Stop will help protect that wall from any moisture or condensation that may get beyond the inner shower walls.
A popular shower wall we have seen in several skoolies is galvanized corrugated metal. It comes in wide panels and will not rust. Piecing layers or walls together is simple and fast.
Another reliable option for your shower wall is to tile the walls. We addressed the reliability and durability of tiling your skoolie bathroom or shower above.
We have a very special shower planned for our new skoolie project. It is going to be a shower we have never seen in a skoolie, RV, or van. It will use a 32" x 32" shower pan.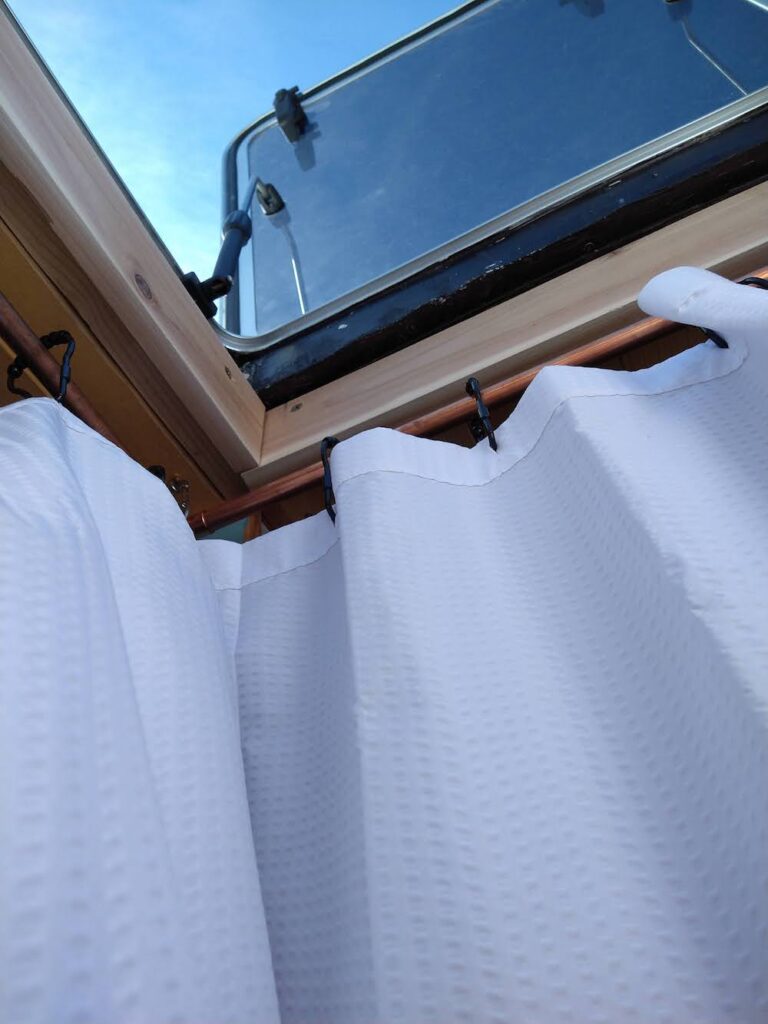 We will reveal the specifics of what it will look like once we get closer to that part of our skoolie build. We are very excited about it and can't wait to see how it looks when completed!
Skoolie Conversion Bathroom Costs
Skoolie Bathroom costs are going to vary from bus to bus. No two skoolie bathrooms are built and designed the same. (At least that we have ever noticed)
We wrote a post on School Bus Conversion Costs. It may give you some insight as to how to budget your build to account for your bathroom.
The best way to budget for your skoolie bathroom is to pick out the faucets and hardware you want to use and run a spreadsheet of parts and supplies.
Be sure to account for the cost of a composting toilet if you go that route. It is very likely going to be the most expensive part of your bathroom budget.
Skoolie Bathroom Sink
Having a skoolie bathroom sink is completely personal and objective to the individual. You do not have to justify it by logic or reason. If you want a bathroom sink in your bathroom, put it in there.
For us, this goes back to breaking out of the mentality of living in a house. All house bathrooms have a sink for washing your hands after using the bathroom, brushing your teeth, or shaving.
Don't forget, you have a kitchen sink that is no more than 10 or 15 feet away from your toilet at most. That sink will clean your hands just as easily and effectively as a "bathroom sink".
Now, we do understand if you have small children, a bathroom sink is probably better for brushing teeth and washing hands. It is a personal choice that has no negative effects either way.
Wrap Up to Skoolie Bathroom Ideas
Remember above all else, this is your skoolie project. Your bathroom can be as simple and cost-effective or as luxurious and expensive as you choose it to be.
We love to see creative ideas come to life in people's skoolie projects.
Your skoolie, your rules, and your ideas!
Create the atmosphere in your tiny house on wheels and let that creativity and personality flow over into your bathroom.
If you have to go, why not enjoy the time spent there. When taking a relaxing or refreshing shower, why not create an oasis of solitude and relaxation?
We would love to see and hear about your skoolie bathroom ideas and what you have dreamed up.

Leave us a comment and your Social channels so we can connect.