Before You Build Your Skoolie
Before You Build Your Skoolie
What Happens Before You Build Your Skoolie?
Now that you have your new tiny house on the wheels, you know what is next, don't you? The skoolie build process can now begin! However, before you build your skoolie, you have a little bit of planning to do.

One of the first things you need to consider is, where the skoolie build is going to take place as well as obtaining insurance for your skoolie while it is in the build process. This is generally going to be a commercial policy with liability-only coverage.
The liability coverage will protect you if someone gets injured while your bus is being converted.
Once you have obtained insurance and determined where you are going to do the actual build, then you can finally get busy!
Maybe your new skoolie is sitting in your driveway or on your property somewhere? Maybe it is on someone else's property?
It doesn't matter where your skoolie is sitting, just as long as it is secure, legally parked and you can easily accomplish the tasks needed to get it built.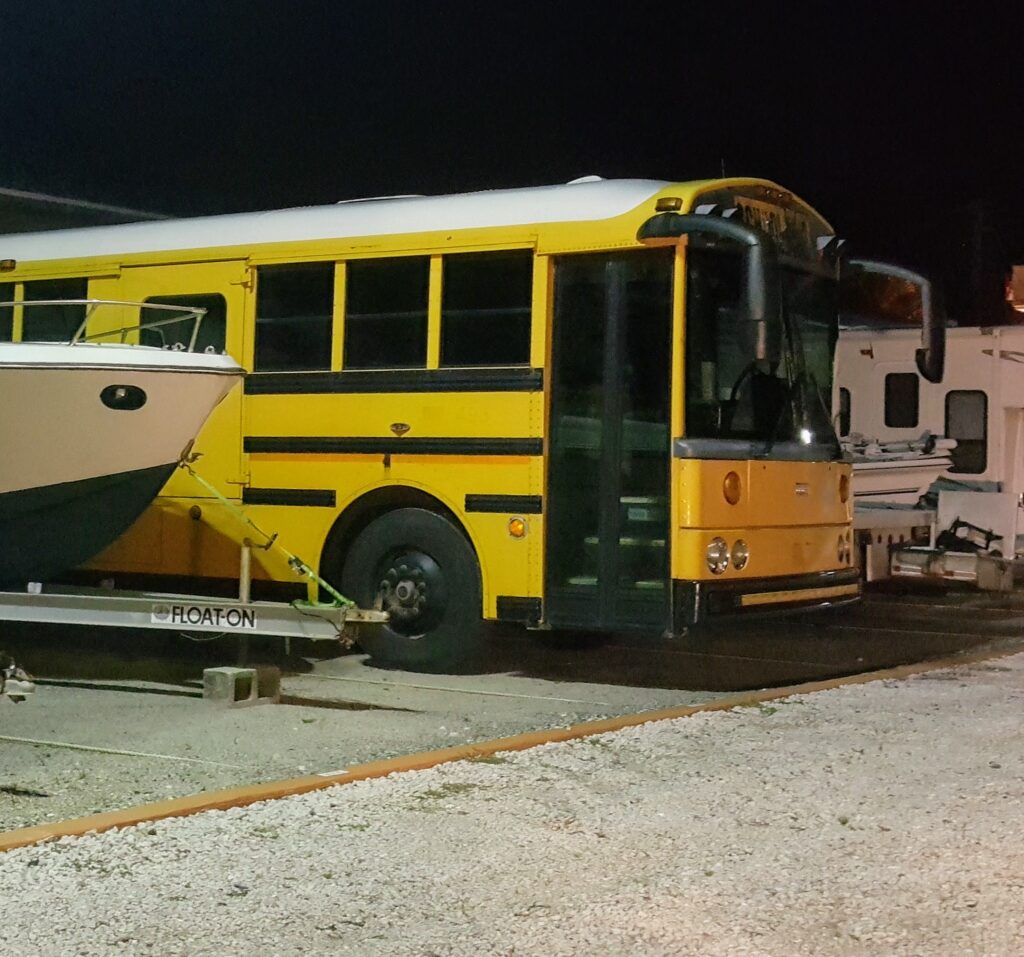 For most, the idea of starting the build your new tiny house on wheels can be a tad bit intimidating and overwhelming. Especially if you have never taken on such a large and personal project like this before.

As the old saying goes, "How do you eat an elephant? One bite at a time."
The same concept goes with transforming this big yellow school bus into a rolling house of wonder and amazement! How do you build a skoolie?
One step at a time. (okay, okay, we all know that sometimes you have to do several steps at once, but you get our point!)

There are several choices for you to get this project going. You must first decide though, where, who and how are you going to get this skoolie build accomplished.

Let's address the first part.
Where Are You Going To Build Your Skoolie?
Where are you going to build your skoolie?
There are several factors that need to be considered and addressed before
you even make this decision. If you are planning on doing the demolition
and build-out at your home or on someone else's property, you need to
consider a few things first.
City or County Ordinances
The first thing you must consider is; Are you even allowed to have this bus
parked on your property? It would be a good idea to check with your city
Or county ordinances about this.
Some city and county ordinances will allow it, but will not allow it to remain yellow. As silly as that sounds, we have heard of that before. Some will allow it, but it can not be visible from the road or to other neighbors.
Others simply will not allow it at all and give you little time to remove it before issuing a citation to you.
HOA or POA
Another governing body you may need to verify is whether it is permissible
to build your tiny house on your property is with is your Home Owner's
Association (HOA) or Property Owner's Association (POA) if you live in a
neighborhood or area that has one.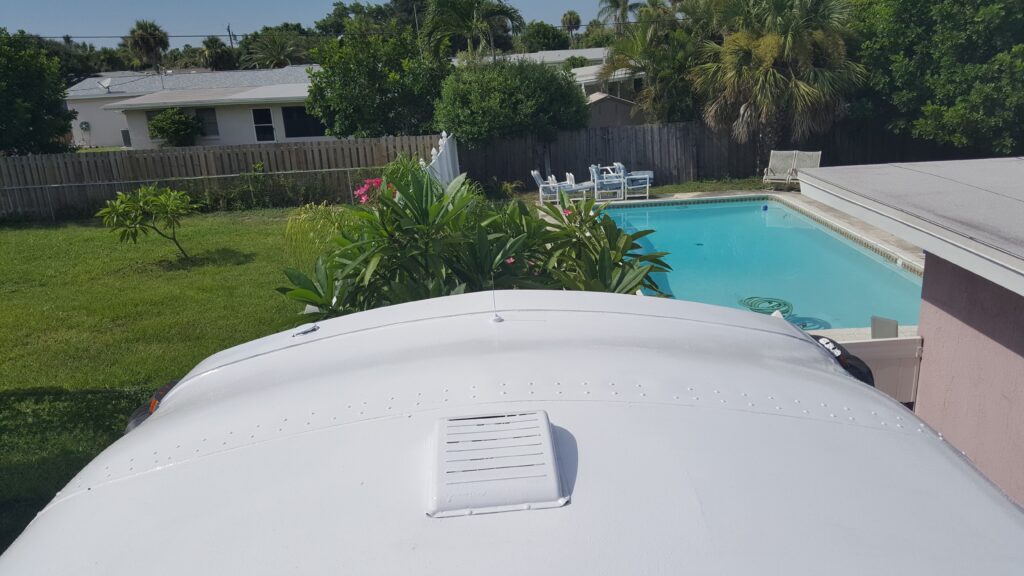 Many times, an HOA will not allow a boat, RV, or commercial vehicle in the
driveway of the home, much less a large yellow retired school bus. So,
make sure that will not be a point of contention with you and your local
government or HOA.
Neighbors
The last thing I would recommend checking with is your neighbors.
While this is not a requirement, it would be a courteous gesture to the people around you and let them know what you are doing. Right or wrong, unfortunately, a big ol' yellow school bus parked on your property still carries a certain amount of stigma and stereotype with the 70's hippie and drug movement.
Approach your neighbors and let them know what your plans are. Even the most curmudgeon and cynical neighbors may catch your excitement if you present it in the right way. Remember, delivery is everything!
Who Is Going To Build Your Skoolie?
Taking on such a project of converting a school bus to a functional and safe motorhome is no simple task. Just tackling the demolition of a school bus into a skoolie is difficult enough.
You have to have the location and room to get this done. Simply thinking you are going to get this done in your driveway in the typical neighborhood is probably not realistic.
If you have a good bit of land or know someone well enough to use their land, then it may be an option. However, you are going to need access to a power supply or a heavy-duty generator at the very least.
DIY Skoolie Build
The DIY is our preference. Even though we have limited tools and equipment and we have limited knowledge of demonstration, we still prefer to get our hands dirty.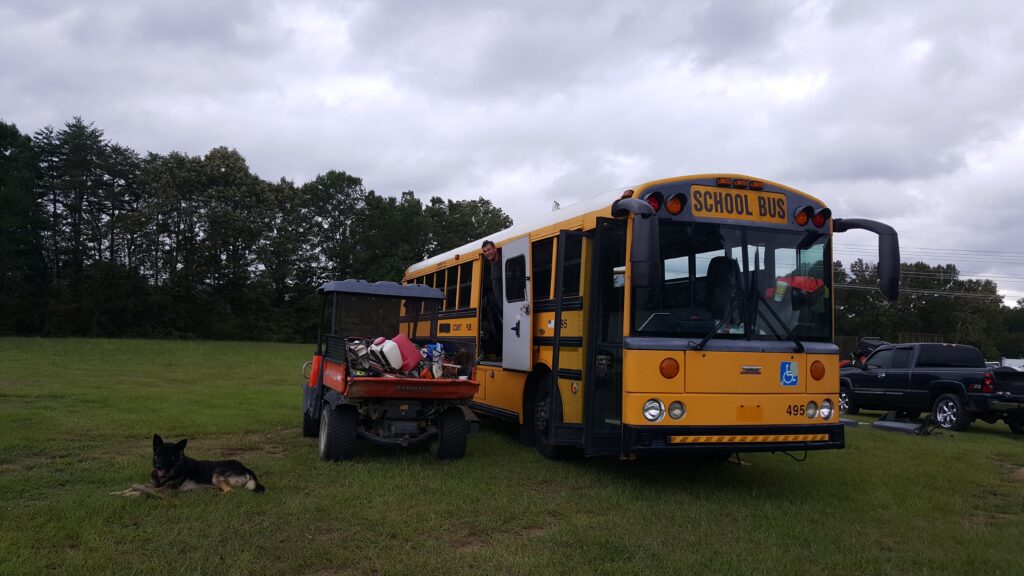 By doing the demolition ourselves, we have firsthand knowledge and intimate experience in knowing all about our bus.  We know where all of the seams are.  Know exactly where the fuel tank access port is.  We know our bus inside and out!
I recommend anyone considering a skoolie build to at the very least be a part of the demolition process.

This is a great time to get underneath the bus to see what the frame and floor look like. Get an understanding of where the chassis wiring harness is connected and airlines.
The more time you spend working and getting to know your bus, the much better off you are going to be down the road when a system or area of your bus needs repairs or upgrades.
Tools and Space
If you are motivated and brave enough to complete your skoolie build on your own, then there are a couple of things you will need before you get started.
Tools
There are certain tools you are going to need to get this job done. Not just the demolition, but the build itself. It is a good idea to have a shopping list of tools before you start to take out your first seat.
For a Complete List of Tools Needed for your skoolie demolition and build, check out this blog post.
Space
When tearing out the seats, floor, ceiling, and walls, and then reconstructing your skoolie into a beautiful tiny house on wheels, you need some room to move things in and out of those bus doors.
Do not make the mistake we did when we brought our first skoolie home to Florida.

We had rented an RV and boat storage spot just a few miles from our home. We had gotten the okay from the site owner/manager and planned to complete the build there.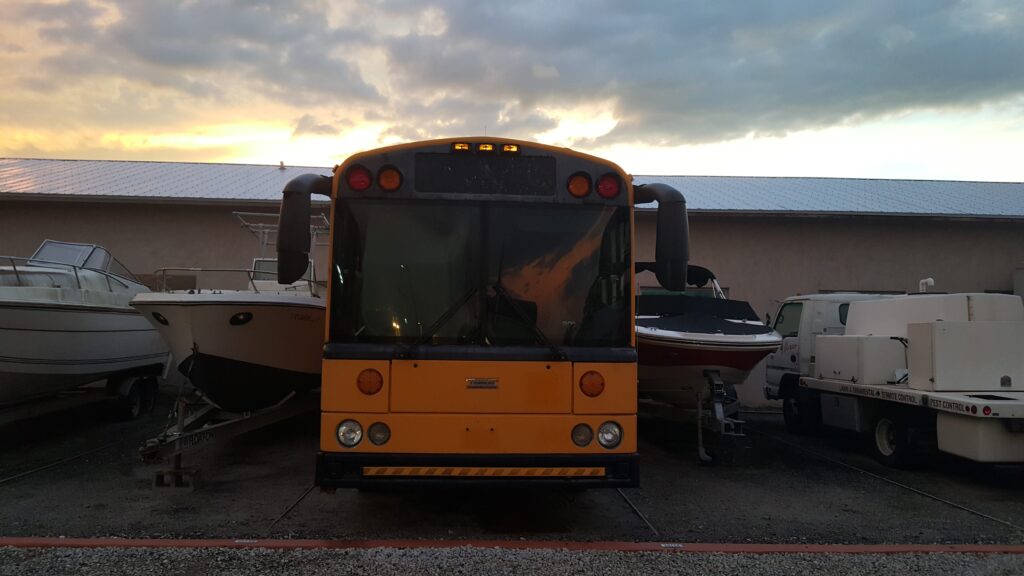 What we didn't know or realize is that we would have a boat on each side of the bus only 2 feet from the bus. Needless to say, it was a tight foot. We ended up moving her to a friend's property where it was much easier to work on her.
Pay Someone Else To Do It
There is absolutely nothing wrong with paying someone to do the demolition of your skoolie build. Some people may not have the physical ability to get in and under the bus to tear everything out.
Perhaps your schedule at the time of demolition will not allow you the freedom of time to do it. There are only so many hours during the day and if you are spending a majority of that time working your job, then, by all means, pay someone else to do it.
The bottom line is, just get it done so you can begin to build your skoolie!
Already Built Out Skoolie
Here is a novel idea, albeit a very expensive one. If you do not want to demo or build your skoolie, finding a skoolie that has already been cleared out of all of the seats, floor, walls, and ceiling is a rare find, but, they are out there.
Not only will this allow you to immediately get started on the skoolie build process, but it eliminates the time and some of the tools needed to get the demo completed.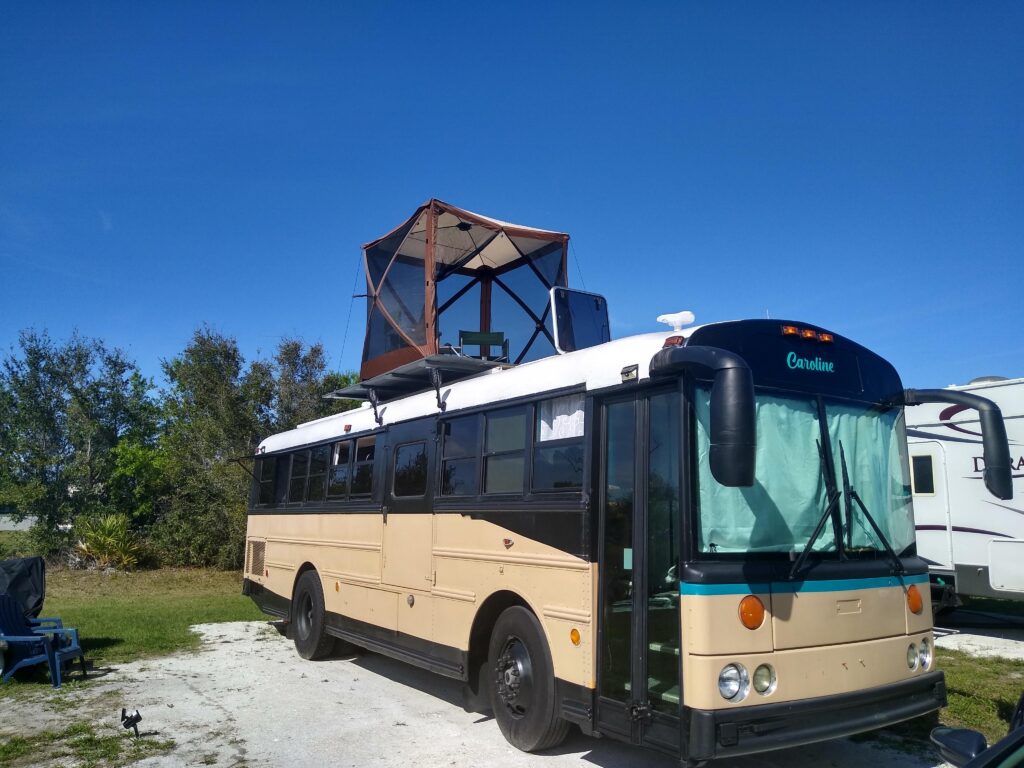 Regardless if you do it yourself, pay someone to do it, and are fortunate enough to find a skoolie that has already been demo'd, once it is complete, there is a sense of satisfaction and excitement of the next step in the skoolie build process.
How Are You Going To Build Your Skoolie?
Do you have the skills and knowledge to convert a functional school bus into a functional and comfortable motorhome? If anyone had asked us that question before we had thought about it, we would have answered very quickly, "No."
Have you formulated a plan as to what materials you are going to use? Do you know what your floor plan is going to look like?

Have you calculated your electrical needs to determine how much solar and battery bank you will require? Take our advice on this part….
Whatever solar and battery requirement you think you need, do more!
Most people we have met that wanted to build their own skoolie were afraid and intimidated by the mere thought of it. However, they did it! They didn't just build a rinky-dink shabby old hippie bus either.
We have seen and been inside some beautifully built and designed floor plans! You will be very surprised at what you can accomplish when you build your skoolie all by yourself!
Passion, resolve, and desire can make up for skill in so many ways. Besides, the more you do something, the better you will get at it.
It Is Time To Demo Your Skoolie
YES!  The time has come! 
It's is time to begin doing what you have been watching on YouTube for the past 6 months.  Just like the television show that yells out through a megaphone, "MOVE THAT BUS", it is now time for you to TEAR OUT THOSE SEATS!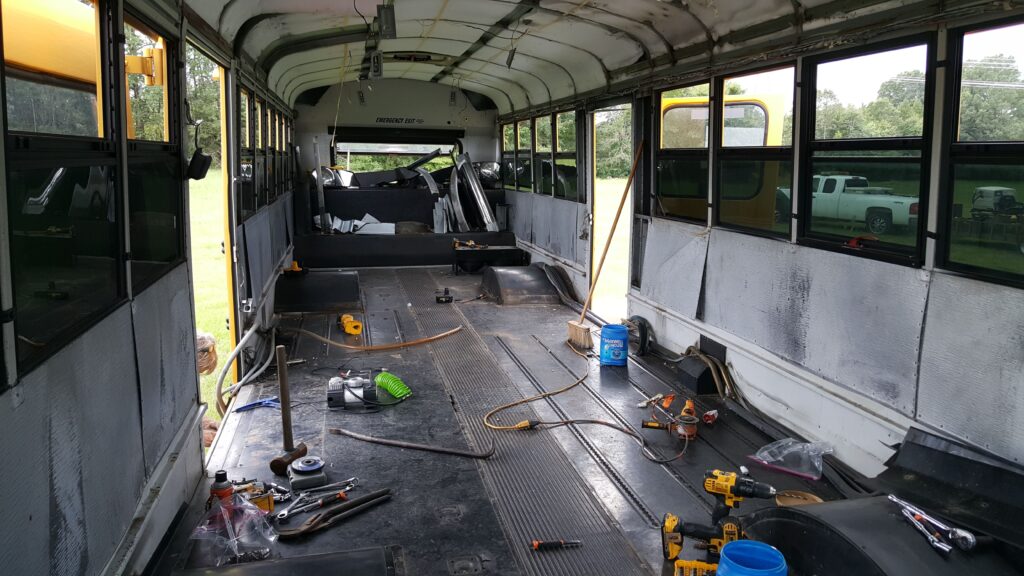 But wait!
Where are you going to put all of those scrapped seats and metal frames?
Do you have enough room where your bus is parked?
Will the city or county come and pick them up?
How are you going to fit twenty-eight school bus seats, backs, and frames into your Jeep Wrangler?
Besides that, do you have the proper tools to remove those seats, tear up that floor and remove the sheet metal from the roof and walls?
Most bus seats require two people to do the job. One underneath the bus holding the nut with a pair of vice-grips or a wrench and the other in the bus working the bolt end with a socket and rachet.
Don't even get us started on the seized-up rusted ones that require a grinder to remove them.

You do have some choices when it comes to the demolition phase of your skoolie build.
First of all, if you are brave and confident enough to take this project on yourself, then you need to be sure to have someone as a reference who may have already been through the process and can help flatten that learning curve for you.
Perhaps you are the type of person who would rather learn everything on your own through trial and error. Whichever way you decide, know that there are resources and options available to you.
Besides YouTube, there are some really good Facebook Groups specifically on the subject of School Bus Conversions. We will include a few of them we have participated a little later in this blog.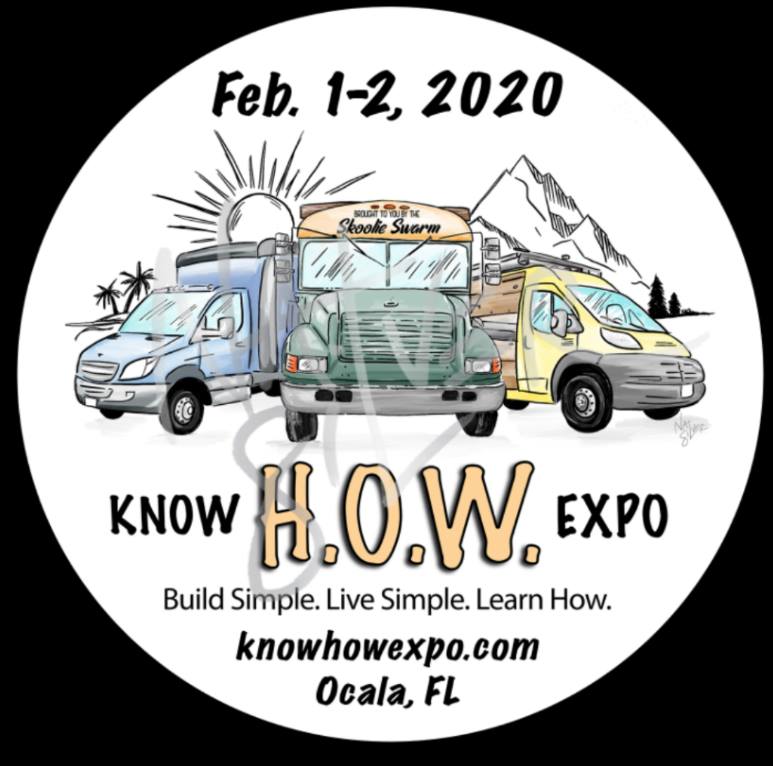 If demotion, carpentry, electrical, plumbing, and general skoolie home building is not your cup of tea, there are some very good options for you!
Hire Someone Else To Demo Your Bus

There are individuals and businesses that are dedicated to renovating Rvs, building Tiny Homes, Skoolies, Van builds, and box-truck homes exclusively.  
By going this route, there are several advantages.

You are likely to get the entire process completed in a much quicker time than if you were to do it yourself. You are also very likely to receive a quality skoolie build from start to finish.

In some cases, you should even have some type of warranty on the build itself in the event something does go sideways a little down the road.

Where can you find someone who has the know-how, the experience, and the tools and location to properly build your tiny house on wheels? We know of a few places where you can get this done.

We will add some links to their Instagram pages below if you would like to contact them to inquire about their process and fees.
Bret The Builder
Skoolie Homestead Community, Jesup, Georgia
Brett and Renea Niehaus
Or their Instagram:
https://www.instagram.com/skooliehomesteadcommunity/

Colorado Custom Coachworks

Colorado Custom Coachworks, Denver Colorado
https://www.instagram.com/coloradocustomcoachworks/
Splendor Oaks, Canton, Georgia
Some helpful Skoolie Facebook pages. This is a great place to go for ideas, information and inspiration.
Skoolie Homesteads Facebook Group
Regardless of whether you do the demo and build out yourself or hire a professional to do it for you, the thing to living tiny is to just do it! Get started and keep going until you are living in your own tiny dream home!
The last thing we will say on this topic is to vet your tiny home builder with due diligence.
Be sure the person is insured, bonded, properly equipped, and capable of building your skoolie to your specifications. The three references we have mentioned above are for reference only.
We will say that we have seen the quality of work completed by Brett and Renee Niehaus of the Skoolie Homestead in Jesup Georgia. Great couple and great workmanship!
You must do your own due diligence. Skoolie Project, nor do we, assume any responsibility for the craftsmanship and quality of anyone else's work or product.
What Is Next Before You Build Your Skoolie?
Now that you have decided where you are going to build your skoolie, who is going to build your skoolie and how you are going to get your skoolie built, it is time to get going and get it done!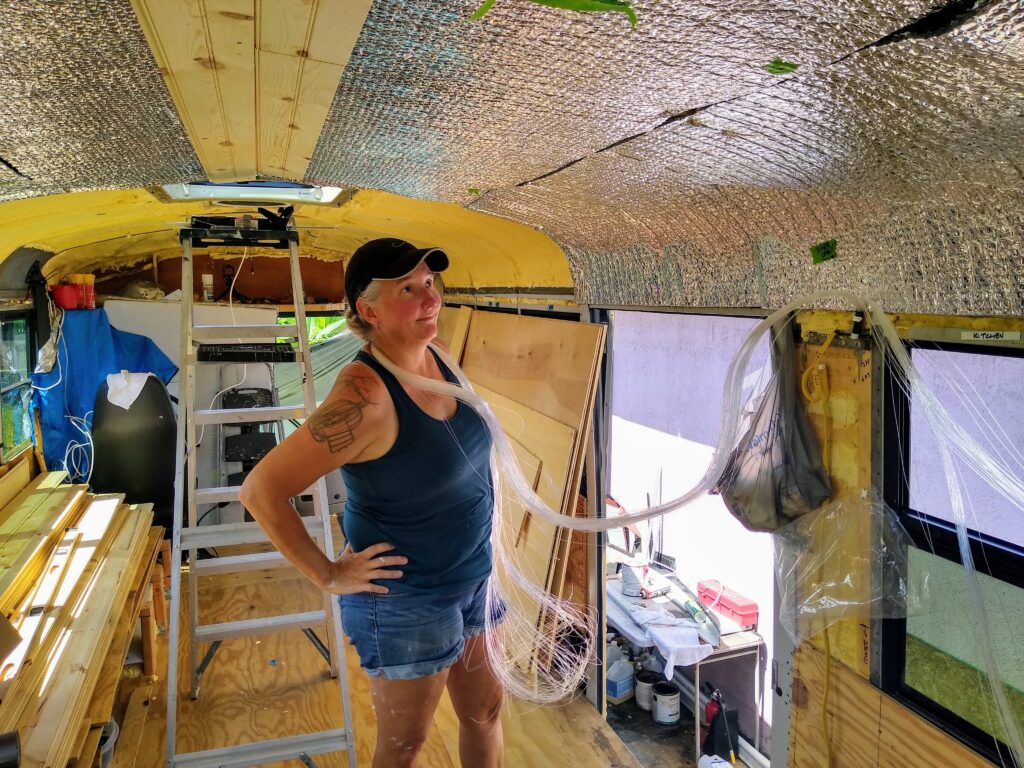 The next phase in this saga of living a life of adventure, freedom, and an ever-changing scenery is to get your bus ready for the build process to being.
Let's tear out those seats and floors!