30 Easy Ways To Make Money Living In A Skoolie
How can you make money living in a skoolie? What's your dream?  For many people, it is to travel and explore in a skoolie before they reach retirement age.  Before retirement age, how would you make money living in a skoolie?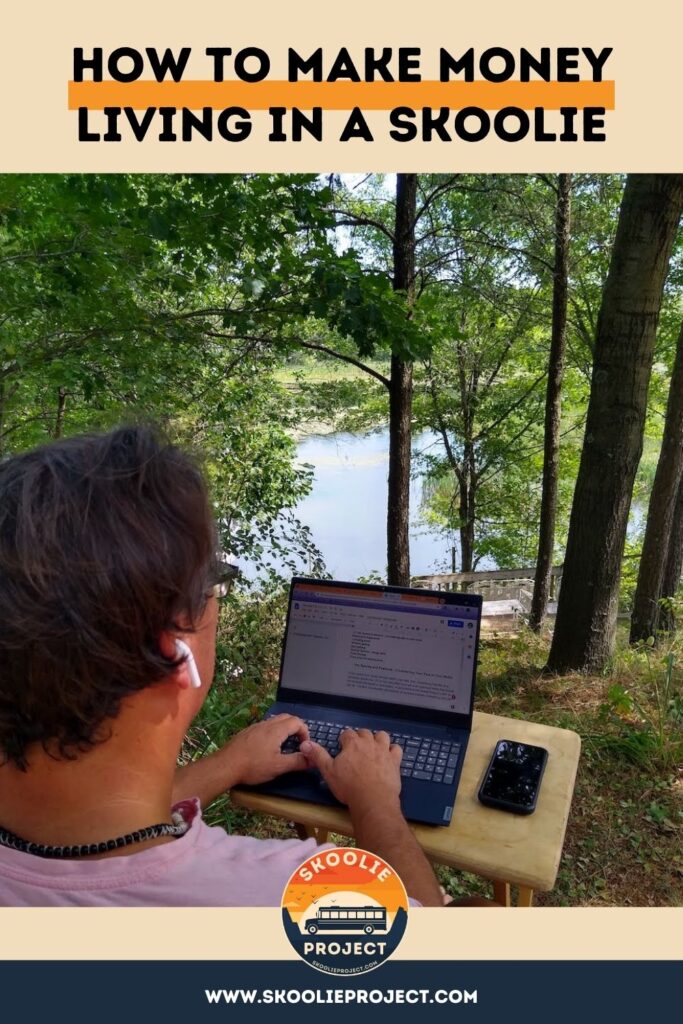 It is the one significant obstacle that is keeping thousands of people from abandoning their jobs and routine life and hitting the road full time in an RV, skoolie, or van. Knowing how to make money living in a skoolie.
Unfortunately, with the system our society has in place, most people can not afford to, do not understand how to, or can't mentally grasp the idea of "retiring" before the retirement age.
Who really wants to wait until they are 65 years old or older, to finally get out and explore this world and actually do what you want to do on a daily basis?
We decided back in 2018 that we wanted to travel and explore places we have always dreamt of.  We wanted to do all of those things and places before we were too old to really enjoy them.
We want to hike in Moab and the Rocky Mountains. We want to go zip-lining in the Appalachian Mountains. We want to Swim in a natural pool under a waterfall.
When we are 65 or older, we don't know if our bodies will be able to handle that kind of abuse.
We adopted the mantra, "Adventure Before Dementia".
How Do I Go Full Time While Living and Traveling In My Skoolie?
It's one thing to want to live and travel in a skoolie. It's another thing to be able to convert a school bus into a skoolie.
It's a whole other ballgame to be able to finance your travels without a disability, retirement, or being financially independent.
So, how do you make money living in a skoolie?  First, you have to stop thinking like a 9 to five employee of someone else.  
Does that seem impossible to you? Want to learn how to Quit Your 9 to 5 and Travel Full Time? Click that link and learn how we make money living in a skoolie!
Also, you may need to adjust your income expectations in order to live and travel full-time without working from someone else.  Depending on your skill sets though, you may make more money on the road.
Let's look at some proven and realistic ways of making money while living in your skoolie and traveling full-time, regardless of your age.
These are in no particular order.  Some of these jobs we have done in the past while living and traveling full-time.  Some of them we currently do that finances our travels and life.  
1. Work Camp – Make Money Living In A Skoolie
Work camping is becoming a very popular way to make money while living in a skoolie.
Working in a State or Federal campground, RV park or private campground are some of the more popular and common work camp gigs.
Work campers who are couples will have the best chance of securing a work camp gig.
One person will be in charge of answering phone calls, setting and canceling reservations, and greeting guests.
While the other person will likely be responsible for handyman duties, mowing, and keeping the campground clean and manicured. These outside duties also involve keeping bathrooms and showers clean and stocked.
Word of mouth and personal references are the easiest and best ways to land a work camp job, but there are many websites that offer these positions through their services as well.
Some of the most common websites for work camp jobs are listed here for you.
You can apply to as many work camp jobs as you have time to do so. When you do secure a job, enjoy the area and adventure and explore when you are not working camping at your campground.
You can do this all year round. Go from one campground to another depending on the seasons and locations.
2. Seasonal Work – Make Money Living In A Skoolie
Another great option for making money while living in a skoolie is by doing some seasonal work for corporate gigs as well as mom-and-pop businesses.
We haven't personally done a job like this, but we have several skoolie, van life, and RV friends who have.
Let's jump right into some of the seasonal jobs that can make you money while living in your skoolie.
Christmas Tree Farms
Christmas tree farms are a great way to make some cash between Thanksgiving and about a week before Christmas.
Santa's Christmas Tree Forest is a neat Christmas tree farm located in Eustis Florida.  Family-owned and operated.  Spending the Fall and winter in Florida would not be a horrible place to be.  
The best way to secure a job at a local Christmas tree stand is through Indeed.com.
Word of mouth is always a good place to search for a seasonal job like this as well.
Pumpkin Patches
Pumpkin patches, like Christmas tree stands and farms, are another great temporary and seasonal job. If you plan it out well, you can go from a pumpkin patch job straight into a Christmas tree stand job.
This would cover you from September into December.
Just like the Christmas tree jobs, Indeed.com does a good bit of hiring for these jobs as well. Another way is to simply Google "pumpkin patch seasonal jobs".
There are lots of family-owned businesses that do this seasonally all over the country.
Diana's Pumpkin Patch in Canon City, Colorado, just south of Colorado Springs.  
Howell's Pumpkin Patch in Cumming, Iowa
Valas Pumpkin Patch in Gretna, Nebraska
It isn't very difficult to find a gig like this. Let your keyboard do the walking and have fun with it!
Amazon Distribution Centers
There are Amazon distribution centers all over the country now. When it comes to Cyber Monday and the Christmas Holiday season, Amazon will triple their employee numbers.
Mind you, most of the seasonal jobs are just that, temporary and seasonal. For someone living and traveling in a skoolie, a seasonal job is ideal though. If you wanted to be anchored geographically, you probably wouldn't be living in a skoolie in the first place.
If the Amazon Distribution center gig sounds like something you would be interested in, go to Amazon Camperforce and apply there.  
Getting a seasonal job at Amazon is likely going to earn you more per hour than other seasonal jobs and get you more than 40 hours per week.
Many of our friends who have done this use this season's money to fund their travels for the next several months.
Sugar Beat Harvest
This is a seasonal job that Don has wanted to do, but Nat has no interest in it at all. Working the sugar beet harvest up in the Northern States is a great way to make some good money, weather permitting, in a short time.

There are different companies that have their own sugar beet harvest. Just Google it and chose a company you feel compelled to work with.

We have not done the sugar beet harvest, but have friends who have and reflect on it as a positive experience.

Don wants to do it for October 2022.  We are thinking about working with this company and seeing how we like it.  The Unbeetable Experience looks like they run a good operation. 

This is a great way to make money living in a skoolie in a relatively short amount of time.
3. Freelance – Make Money Living In A Skoolie
Do you have a specific skill or talent? Have you ever considered monetizing that skill or talent? There is a customer for anything if the presentation, need and cost are all balanced just right.
Chances are, whether you realize it or not, you have a skill or talent that others would be willing to pay.
That is what we have done since going on the road full-time back in December 2019.
Nat is an accomplished artist whose work has been seen all over Florida since the early 1990s. She has harnessed that talent and does commissions for other nomads from decals, paint schemes, and private commissions.
She also has uses her skills and talents in web design, graphic art, and general business savvy ness to help us grow our own brands and businesses.
Let's look at a few ideas of how you can utilize and monetize your skills and talents.
Web Design
People and businesses will pay several thousand dollars for a website for their brand and business. Designing and building a functional website is a piece of cake if you already possess the skills to do so.
As long as you have the software, hardware, and internet connection, you can market your services to others and easily financially support a skoolie lifestyle of full-time traveling.
Art Work
Do you enjoy painting, drawing, or some other form of artwork? Do your thing, and then sell your work to others.

We have friends who do wood carvings, macrame, digital, and canvas art. Tattooing and the list go on and on.
Just create for yourself first of all. Whatever you create you can sell at skoolie gatherings and events you attend.

Word of mouth moves quickly within this community and before you know it, people will be contacted from all over interested in your talent.
Writing – Make Money Living In A Skoolie
Being able to write is a skill that most people can develop. Practice and the mindset of learning and improving can turn a pass time into a vocation.
Don has always enjoyed writing. It is a form of one of his creative outlets. It just so happened that a couple of people noticed his writing on our own blogs and offered to pay him to write for them.
Just like that, an income on the road is born.
There are many different types of writing gigs available and writing broker websites to help you land a paying writing gig.
Photography – Make Money Living In A Skoolie
As silly as it may sound, you can make a good bit of money by taking pictures with your cell phone.  Sure, the resolution and zoom are nothing compared to a professional-grade DSLR camera, but it is a start.  
Save up some money from your sales and upgrade to a good camera that will allow you to take professional pictures.  If you're already traveling around the country, capture it with photos.
People and even businesses will pay good money for original photos.
You aren't confined to selling your talents and craft to others within the skoolie community either. With the proper approach to social media and an optimized website, you can sell your product to anyone in the world.
4. Work Gigs – Make Money Living In A Skoolie
Work gigs are a great way to make money living in a skoolie whether it is a side hustle or a primary funds gig.  
If you have a pull-behind vehicle, then gigs like Uber, Lyft, Door dash, Instacart, etc, are easy and fast ways of making some instant cash. Depending on how much time you spend doing it may or may not result in a lot of money.
5. Blog – Make Money Living In A Skoolie
If you have a niche that other people are interested in, then perhaps starting a blog would be a good source of income for you.
Understand though, monetizing a blog typically takes 1 to 2 years before you begin to see any kind of residual income from it.
Having a minimum of 50,000 unique visitors to your blog on a consistent monthly basis is the threshold for being able to monetize your blog for ad income.
Another way of monetizing your blog is through affiliate links.  Whether it is selling services or actual products.  Either way, it requires a lot of unique visits to your blog on a regular basis.

Here are some examples of how others are making money by blogging. This is one of the ways we make money living in a skoolie.
6. Telecommute – Make Money Living In A Skoolie
Since the onset of Covid 19 a couple of years ago, it has become very common for lots of employees to work from home. We have several friends who still work from home due to the virus.
Companies are discovering it is less expensive per employee to have them work from home.
If you are working for an employer and believe you can do your job from home, consider approaching them to allow you to telecommute. It is the best of both worlds. Keep your regular job and make money living in a skoolie.
As long as you have a reliable internet connection, it shouldn't matter if you do your job from your home or apartment or from your skoolie sitting next to the Grand Canyon.
7. Online Tutor – Make Money Living In A Skoolie
Consider being an online tutor. As long as you have that consistent and reliable wifi, teaching others online is a great way to make some decent money to drive your skoolie adventures.
Most online tutoring companies require the following:
College Degree
Some form of teaching certificate (State, TESOL, TEFL)
Teaching Experience
Successful Interview and Video Submission
Solid, internet connection. *
A solid internet connection is a key to keeping a job like this.  We wrote an informative piece on Skoolie Wifi.
Don was teaching English as a second language to Chinese children when we first started traveling and living in our skoolie full-time. He did that for almost two years.
It is not unheard of to make over $20/hr by teaching others online. You generally set your own hours and work as much as you want.
Here are a few of the more popular online teaching platforms that will allow you to make money living in a skoolie.
*Pro-Tip
Know the country of China has reigned in on foreign tutors to Chinese students.  Unless you are a China citizen or live in China, you may only be able to tutor Chinese students on weekends, school holidays, and summer breaks.
VIP Kids
VIPKid is, or at least, used to be one of, if not the most popular English as a second language tutoring platform.  It is a Chinese-based business that teaches Chinese as well as other national students English as a second language.  
Cambly
Cambly is another great company that teaches ESL to both adults as well as children all over the world.  
Having a teaching certification as well as an English as a second language certificate is required.
Varsity Tutors
Varsity Tutors is a U.S.-based company that is easy to work with and allows a wide range of teaching capabilities for a wide range of students.
8. Mobile Services – Make Money Living In A Skoolie
If working online is not necessarily your thing, then perhaps working with your hands is more your jam.
Having a skill that traditionally requires building a customer base in a geographic location is not necessary the steadfast rule. There are lots of ways to make money living in a skoolie this way.
Mechanic
Being a mobile or nomadic mechanic is a viable option to make money living in a skoolie.  By advertising in skoolie groups and forums, getting a mechanic gig can be a regular thing. 

Travel from one customer to another who needs and trusts your skills based on the advice and recommendations of others who have benefitted from your knowledge and skill.
Hair Stylist
If you know how to cut and style hair, then you should never be without income.  You will always be able to make money living in a skoolie. This is a skill and talent that is needed by just about everyone, everywhere, and all of the time.
Again, word of mouth of your skill will go a long way regardless of where you are camping and adventuring.
Massage
Massage therapy is a very underrated form of health care and therapy.  Although technically, you are only supposed to work on others for money in the state you are licensed in, you can accept "donations".
Setting a recommended amount of donation is an easy and legal way to circumvent this requirement and make money living in a skoolie.
Seriously though, offering different massage services is a reliable and consistent form of making money while living in a skoolie.
9. Virtual Assistant – Make Money Living In A Skoolie
Virtual assistant opportunities are popping up all over the place. This type of job is not just secretarial work anymore.

If you have a real estate license or interest in real estate, becoming a virtual assistant as a transaction coordinator can land you $75,000 a year or more.
The key is to pair up with a Realtor who is very busy and will need you to assist with several closings per month.
10. Network Marketing – Make Money Living In A Skoolie
Network marketing is a way to make money living in a skoolie.  However, like building and monetizing a blog, it is going to take some time.  
This is not your starting the job on Monday and collecting a paycheck on Friday.  It typically takes a year or longer to develop your business before you are making residual income.
This job like building a blog though is a great business to start while you are planning your life living and traveling in a skoolie.

Do the groundwork now, so when the time comes that you have built your bus and are ready to hit the road, you can be making those bills.
11. Travel Jobs – Make Money Living In A Skoolie
Traveling jobs is a great way to travel, see different parts of the country, and make money while living in a skoolie.  
Work in a location for a little while, then move on to a different part of the country.  Maybe following 70 degrees.  See how we follow 70s degrees while traveling. Living and working in a part of the country where it always feels like Spring sounds pretty good.  
Nurse
Traveling nurses make very good money. That is in part because there is a shortage of registered and specialized nurses in the United States.
On top of that, if you are open to being a traveling nurse, you can sometimes double your normal salary to work in a location where this is a shortage of qualified nurses. Make money living in a skoolie, love your job, and travel at the same time!
Healthcare
It's not just confined to nurses either. There are several healthcare-related fields where a traveling gig is an option to make good money while living in a skoolie.
Some of the traveling healthcare jobs you can do to make money living in a skoolie are:
Occupational Therapist
Physical Therapist
Anesthesiologist
Diagnostic Imaging
If you hold a certification or degree in the healthcare industry, look into travel opportunities. You may find something that will allow you to get out on the road much sooner than you anticipated.
Consultant – Make Money Living In A Skoolie
If you have knowledge in any field that is an asset to others individually or corporately, then consider being a traveling consultant.
You can actually get others to pay for your travel costs in addition to a handsome salary for consulting gigs.
We have a Canadian friend who does this. They get paid to travel throughout Canada and the United States to teach and speak at events throughout the year.
What If I Am Only Part-Time?
Some may think that just because they only want to live and travel in their skoolie part-time, then a full-time paying job on the road is not an option for them.
Depending on what "part-time" traveling means to you, then having a job like the one we have mentioned here today is still relevant to you.
The times when you are not traveling or living full time in your skoolie, you can earn your income sitting still where ever you call home. You can still make money living in a skoolie part-time if you are allowed to telecommute with your 9-5 job.
Wrap Up To How To Make Money Living In A Skoolie
Knowing how to make money living in a skoolie should never be a hindrance to doing what you dream of and makes you whole and happy!
It's so easy to make excuses for why you can't do something you really want to do it.  It is much harder to come up with solutions to make something happen.  
Especially if you have never done those things or never had a reason to consider it.
If you are not collecting social security, disability, or retirement, there are many ways for you to afford and make money living in a skoolie.
Don't be misled, it is not cheap to live and travel in a skoolie full-time, but it is possible.  Having a reliable stream of income is definitely a bonus.  
How do you make money living in a skoolie?
We'd love to hear your success story.  Leave us a comment. We'd love to connect with you!