A Complete Guide to Skoolie Insurance 2023
Skoolie insurance is one of the most talked-about and stressed-about topics for anyone thinking about or already converting their school bus to a tiny house on wheels. If people already had the information or a copy of a guide to skoolie insurance, life would be much simpler.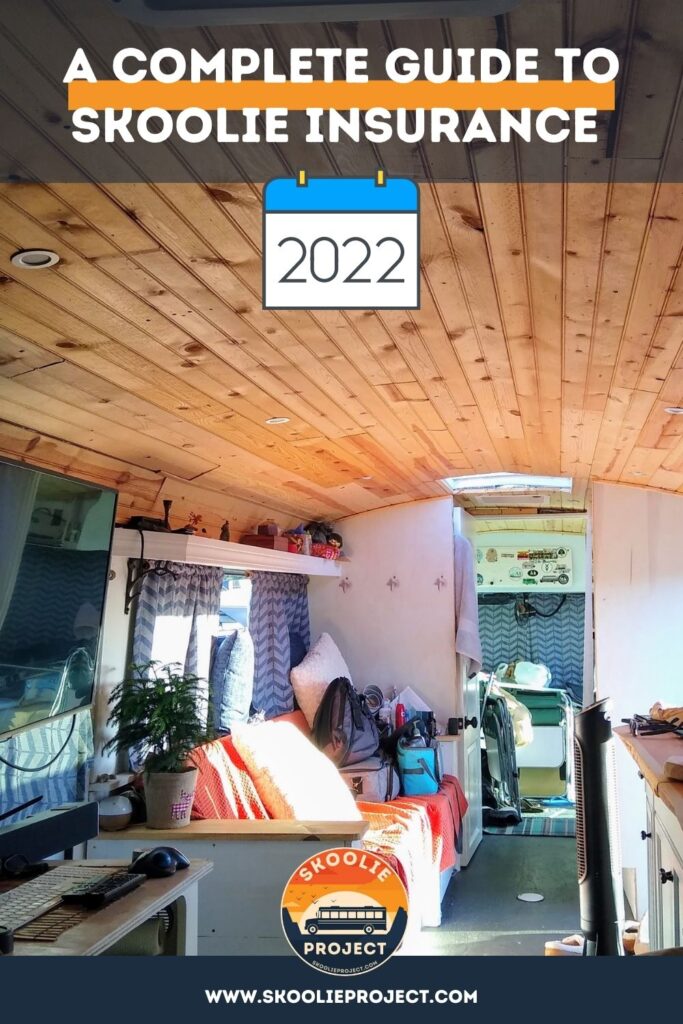 Why does it seem as though insurance is like the white elephant in the room when it comes up as a conversation topic. We know there are several people who are not fully covered for the contents and actual value of their skoolie.
Having a liability-only policy or a commercial policy for your skoolie may get your bus registered and tagged. However, should some unfortunate event occur, those skoolies are not going to be covered and the owners are going to take a significant loss.
We would like to address some of the skoolie insurance obstacles and hopefully shed some light on this beast of a requirement for us all.
Can You Insure A Bus Conversion?
You can most definitely insure a bus conversion.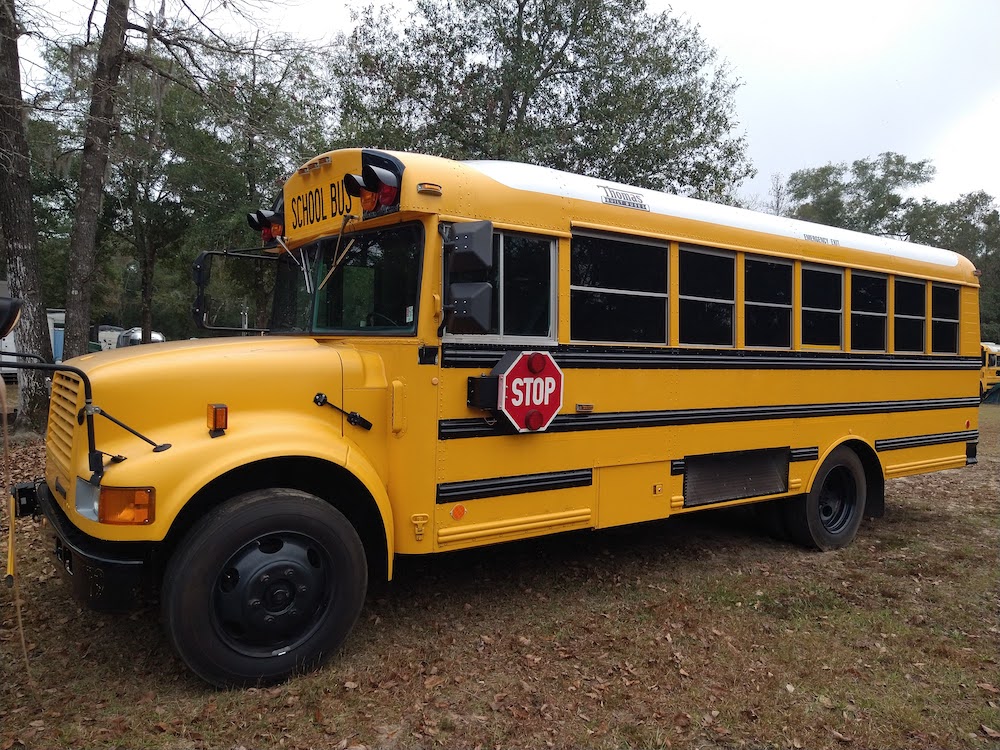 That being said, you are not going to have as easy a job insuring your skoolie as you will your Subaru Outback.  Car insurance is easy.  RV or Skoolie insurance is a little more complicated.
RV or skoolie insurance is typically an additional policy to your primary vehicle insurance.  
One of the most common mistruths told to insurance companies is "how long do you live or travel in your RV?"
Too often people are not forthright with their insurance company and do not tell the truth about being a full-timer.
The premium quoted is based on the information you provide the insurance company. Be smart and give the correct information.
How Do I Get My Skoolie Insurance?
Be honest!

Being honest is the best advice you can ever get when it comes to skoolie insurance.  If you knowingly or unknowingly mislead or misrepresent information to obtain insurance or get a cheaper quote, if you ever do have a claim, you run a high risk of your claim being denied.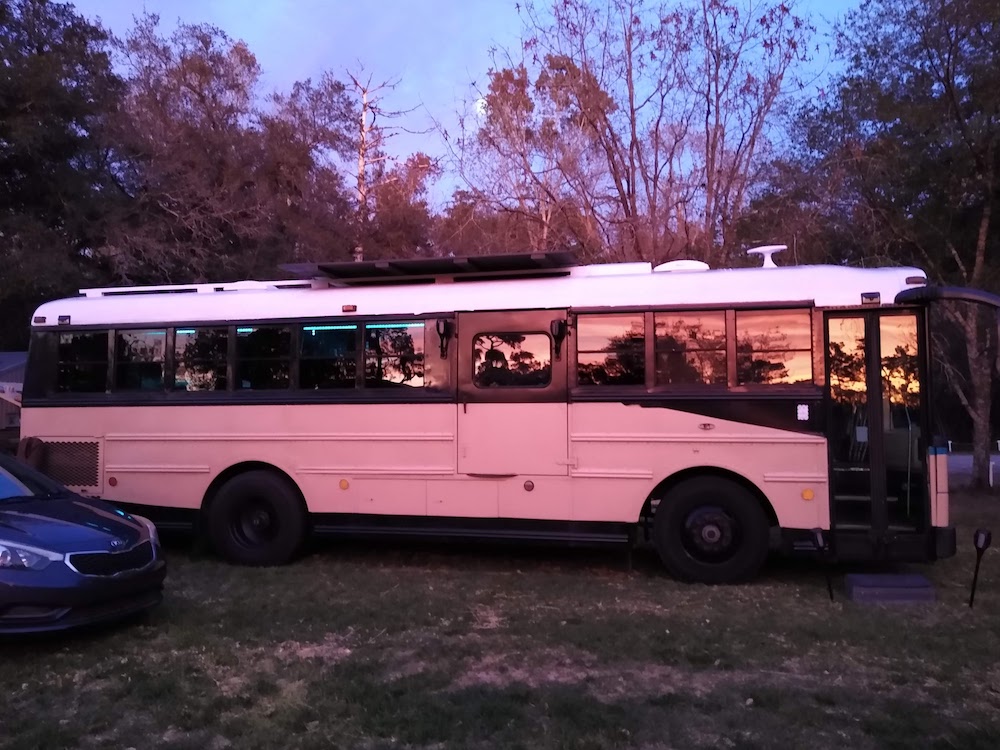 I spent 15 years in property and casualty RV insurance claims. I have seen so many claims denied and many of them turned over to the fraud department for misrepresentation.
The easiest and best way to get insurance coverage for your skoolie is through a local insurance agent. An insurance agent is trained and licensed to find the appropriate coverages for you.
Understand that besides the fact that if they are able to bind an insurance policy for you, they make money off of that policy. They have a financial interest in helping you get coverage.
Contact A Local Insurance Agent
Be forthright and tell them what you have and what coverage you want for your skoolie. If you do not know or understand what coverage you need, have the agent explain it until you do understand it.
We will explain the primary coverages for your skoolie insurance a little later in this post for you.
An insurance agent will talk directly with their own underwriters and explain that your skoolie is essentially an RV. Most of the time an agent can get your skoolie approved by the underwriters.
Again, they have a financial interest. Purchasing insurance coverage online may seem easier, but it is not the most effective way to get the adequate coverage you may need should something happen to your skoolie.
How Much Does Skoolie Insurance Cost?
The premium or cost for your skoolie insurance is going to be determined by several factors.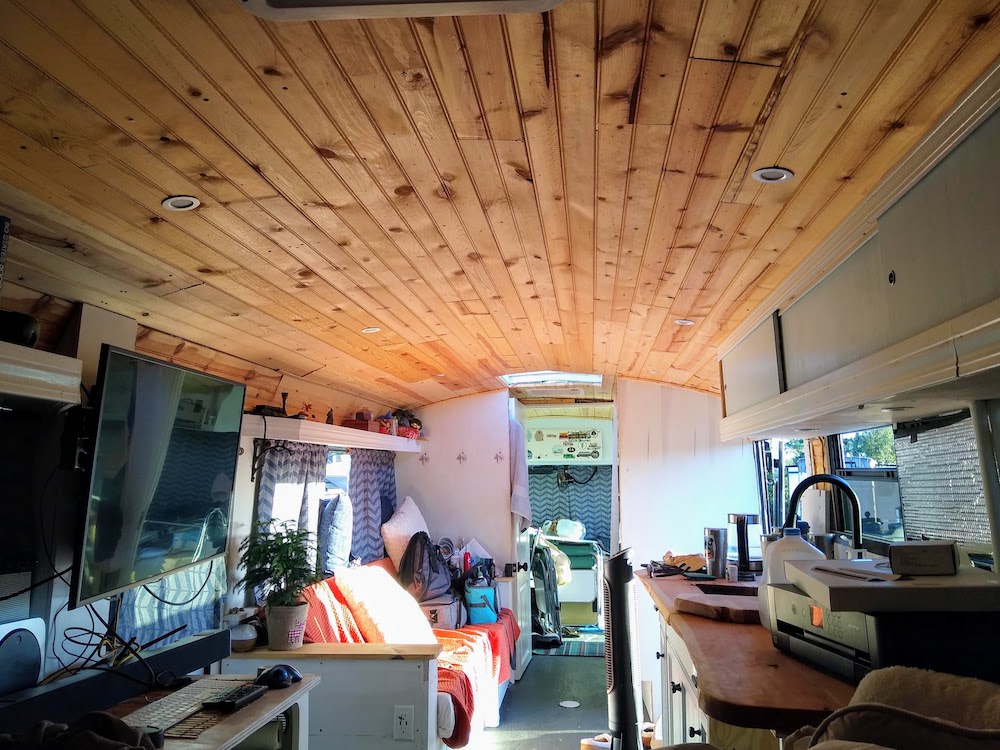 Here is a list of the common factors your insurance premium is based on:
Driving Record
Credit Score
Claims Records
Prior Insurance
Type of Vehicle
Type of Coverages Purchased
Your Age
Marital Status
Level of Education
If You Own Or Rent A Home
Believe us, we do not like some of the criteria used by underwriters to determine a person's risk, but as the Mandalorians say, "This is the way".

That is the way and we have no choice but to play along with their rules.
So, if you want your insurance premium to be lower, then work on the list above to improve your risk status and we can guarantee that your premium will improve as your risk factors are reduced.  
Can I Get Skoolie Insurance With A Deck On My Skoolie?
There was a deck on our first skoolie. We loved that deck. We would sit up on it four or five days a week. It was our "go-to" breakfast spot and sitting up there in the evening with a good drink was a great way to wind down the day.
Many people have a deck on their skoolie. It is kind of like the "calling card" of skoolie accessories. For some people, having a deck is as important as having a bathroom. It's just a given!
Here is the reality of having a deck on your skoolie. It is a huge risk for insurance companies. Having a deck on your skoolie means a six-figure or seven-figure claim on your insurance eventually.
You invite someone onto your deck.  You and your guests are drinking alcohol, smoking weed, or just having a cup of coffee.  Your friend falls off of your deck and breaks something or even worse, dies.
Now, your insurance company is on the hook for hundreds of thousands of dollars potentially. The simple solution for insurance companies is to simply reject any skoolie with a rooftop deck.
Does that mean that decks may be a thing of the past if anyone wants their skoolie insured?
Not necessarily.  A deck is only a deck, if, well, it is a deck.  We like to refer to ours as a storage platform.
Does Commercial Insurance Cover Personal Use?
Commercial insurance for your skoolie is basically a liability-only insurance policy. The commercial policy is issued because a skoolie is just a school bus before it is titled and registered as an RV.
Getting insurance on your skoolie is one of the first things you should do before starting the build process. Here is a good article on things you should do Before You Build Your Skoolie.
Talk to your local agent if you can get a commercial policy on an RV. We are not licensed insurance agents, so that is a question for a professional.
We do know enough to tell you that a commercial insurance policy does not cover the personal use of a school bus or a skoolie.
A commercial policy will cover your bus for liability should anyone injure themselves entering or exiting your bus. It will cover you for liability if you have an at-fault accident while driving your school bus.
In order for it to be covered, however, you are likely going to be governed by a mileage radius of 50 to 100 miles from your garaged address.
What that means is that if you drive your school bus outside of the mileage radius, your coverage is suspended while outside of that mileage zone.
Ask your local insurance more about that if you would like further clarification.
So, just to be clear, a commercial insurance policy will not cover you if you are driving your school bus or skoolie for personal use.
What Coverages Do I Need For My Skoolie Insurance?
Knowing what coverages you need for your skoolie and how they apply to you if you ever need them is the best knowledge to have when purchasing insurance.
There is a misnomer in insurance called "Full Coverage" that is slung around like a cat playing with a half-dead mouse.
Let me make this clear to anyone who is reading this, Full Coverage is a subjective term unless you purchase every possible piece of insurance coverage available or offered.
Below is a list of typical coverage that would apply to you if you were to have an insurance claim under most scenarios.
Pro-Tip
Always check with your local insurance agent before binding any coverages and ensure you understand the coverages you are purchasing and what they cover in the event of a loss.
Liability Insurance
Liability insurance is coverage provided to you by your insurance
company in the event you cause damage to someone else and you
are wholly or partially negligent.
Liability insurance is a mandatory requirement for most states in
order to legally operate your vehicle on public roads.
Most states have a minimum coverage of 10,000/20,000/10,000.
What that means is your insurance will company will pay for the
damages or injuries of another due to your negligence up to those
limits of liability coverage you have purchased.
So, in the example above, it would cover medical and lost wages up
to $10,000 per person and a maximum of $20,000 per accident. It
would also cover a maximum of $10,000 in property damage.
There is an in-depth post on NatnDoninthewild.com that explains
all coverages in depth. It is worth a read if you want to educate
yourself more thoroughly on this matter.
Liability coverages are divided into two parts.
Liability Casualty
This type of skoolie insurance covers another person's medical costs, lost
wages, and pain and suffering due to an injury as a result of 
your negligence.  
The insurance will only cover the total amount or value of the
claim up to your purchased liability limits.
Liability Property Damage
Liability property damage covers another person property
damage as a result of your negligence.
The amount of property damage liability coverage purchased is
the maximum amount your insurance will pay for regardless of
how much damage you have caused.
Collision Insurance
Collision coverage will pay for the damages to your vehicle
regardless of fault or negligence. It will not cover damages that were
intentionally done or for damages that were caused by any exclusions
stated in your policy jacket.
Collision coverage almost always has a deductible that you, the
insured, will pay first, and the insurance will then cover the remaining
damages.
Comprehensive Insurance
Comprehensive coverage will pay for damages to your vehicle
regardless of negligence in the event, your insured vehicle is
damaged by an "act of God" such as storm-related damage, wind,
rain, flooding, hail damage.

Other scenarios that would fall under comprehensive coverage are
events such as theft, fire, vandalism, hitting a deer, or other types of
animal.
Most insurance policies exclude damage to your vehicle caused by
rats, mice, or any animal or insect considered an infestation.
Like collision coverage, comprehensive coverage almost always
comes with a deductible you will pay first when having repairs
completed and then the insurance company will pay for the remaining
damages above your deductible.
Towing and Emergency Service
Towing and emergency service is a great coverage to have as a 
skoolie owner.  Having skoolie insurance to cover the cost of a tow or 
emergency roadside service is a lifesaver. 
Tows for a skoolie are not like a tow for your mini-van or Prius. A skoolie tow can cost hundreds of dollars or more.  A flat tire service on the side of the road could be over a thousand dollars. 
When purchasing towing and roadside assistance coverage, be sure
to understand exactly what is covered and how many miles they will
tow your skoolie before they start charging you milage.
Uninsured Motorist Insurance Coverage
Uninsured motorist coverage is another voluntary coverage you can
purchase. It isn't mandatory, but it is a very good idea to have it.
UM or Uninsured motorist insurance covers damages as well as
injuries lost wages, and pain and suffering to you and your vehicle's
passengers in the event someone else causes damage to you and
they are negligent and they do not have insurance or not enough
insurance to cover your losses.
I know that was a mouthful.
Basically, if someone hits you and they don't have insurance, your insurance company will take care of you up to the limits of the UM coverages you purchased.
Ask your local insurance agent more about this coverage before signing a waiver and rejecting it.
There are other types of coverages you can purchase for your skoolie, but we will not go into those here.  I refer to the Skoolie Insurance Coverages post on NatnDonintheWild we mentioned a little earlier in this blog. 
Who Can I Get Insurance With For My Skoolie?
There are several insurance companies who will write an insurance policy for your skoolie. The trick to getting your policy application past the underwriters is to visit and talk with a local insurance agent.
Purchasing skoolie insurance online is fine in some situations, but having an agent work with you and for you is the best route to go.

Remember, if the agent is able to write you a policy and get their underwriting department to approve and accept it, then the agent makes bank.
Some insurance companies we have had success with and know from others who have "full coverage" with them are the following;
Allstate
StateFarm
National General
Assurance
Be honest, forthright, and always tell the truth when purchasing insurance for your skoolie.
If you are afraid of getting rejected because of something on or in your bus, it is better to get rejected upfront than when you have an insurance claim and the adjuster finds out you lied about having a deck and they deny your claim and refund your policy.
It's just not worth it and could end up costing you thousands of dollars.
Skoolie insurance myths
There are some myths about skoolies and insurance. Those myths are nothing more than opinions of those who were unable or unwilling to finish what they started.
Skoolie Insurance Is Impossible To Get
Go read the link we have shared from NatnDonintheWild.  You can see that obtaining skoolie insurance is possible and really not all that difficult after all.  
All you have to do is find a local agent who can get your application through underwriting and be sure to be truthful.
Skoolie Insurance Is Too Expensive
This is really as subjective as saying a meal at a family restaurant is expensive. What or who defines what "expensive" is?
How expensive you ask? It can be very expensive if you have a very poor driving record and a series of insurance claims under your belt within the last few years.
Skoolie insurance is a necessary and required expense of owning and traveling in a converted school bus.
Wrap Up – Skoolie Insurance
So you want a skoolie eh?  You want to live and travel full time in a skoolie. Before you put rubber to road, be sure you have adequate skoolie insurance. Doing so without the proper and adequate skoolie insurance coverage is not only illegal in most states, but it is illogical and irresponsible.  
Obtaining skoolie insurance is as easy as visiting your local insurance agent or picking up the phone and calling your local insurance agent.
We all have to face things that stress us out sometimes.  For some, getting skoolie insurance is one of them.
We hope, by reading this today, we have made it a little less intimidating and stressful for you.
Let us know if this was helpful. We would love to hear from you and connect!