A Complete Guide To Your Skoolie Awning
Awnings and skoolies go together like sunglasses and the beach. Awnings, however, do not get the attention and consideration enough when it comes to skoolies.
Awnings, to most people, are those sheets of fabric that only couple up with an RV. That could not be further from the truth.
Of the few people we have met that have incorporated an awning with their skoolie build, it is pure gold! An awning changes the entire mood and atmosphere of camping and relaxing outside of your rig.
This blog will attempt to shed some light on the luxuries an awning offers as well as some practical information on installation and types of skoolie awnings available.
Why Would I Want An Awning For My Skoolie?
Picture this:
Sitting outside of your skoolie in the early morning watching the birds wake up and fly from branch to branch. Seeing an elk off in the distance.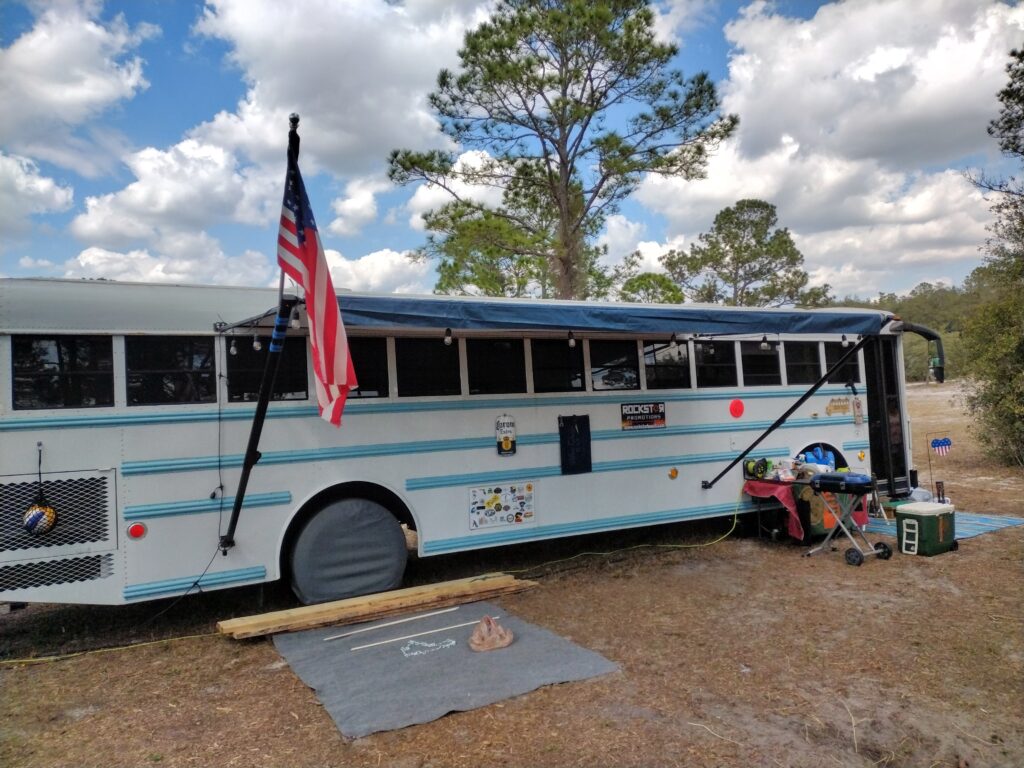 Watching, hearing, and smelling the ocean's waves crash on the sandy shore as seagulls fly, dove, and catch their breakfast.
Sitting outside of your bus in the morning, afternoon or evening under your skoolie awning is as relaxing as sitting on the front porch in a rocking chair.
Add a glass of iced tea or your favorite adult beverage, coffee for the morning, and you have the recipe for a perfect relaxing moment.
Adding an awning to the outside of your skoolie is like adding another room to a house. It is an extension of your living space.
If you are like us and most other people we know living and traveling in a skoolie, at least half of your time is spent outside of the bus.
An awning will keep you cool when the sun is high above and dry when there is a light drizzle.
The awning is a great friend when the sun is high and you want to be inside of your skoolie as well. It is a heat and sun shield for the side and inside of your bus.
Skoolies, RVs, and boats with awnings or shades provide a 10-degree temperature difference from the outside to the inside of a skoolie.
If all of the other reasons of why to have an awning is not enough, that should be reason alone.
How do you install an awning on a bus?
Installing an awning on a bus depends on the type of bus and the type of awning you have.
Not all awnings were created the same. Generally speaking though, they are simple to install. Although you could probably install one alone, having at least one other person to assist is ideal.
If you are installing an RV Style awning onto your bus, then simply follow the manufacturers' guidelines on installation.
When installing a fabric or canvas type of awning, having steel eye-hooks bolted into the side of the roof will be an anchor point for the top of the awning.
Using tent poles or awning poles staked and grounded to the ground will be your anchor points for the ends of the fabric.
The RV-style awning is a more secure and "stiff" awning, but both are susceptible to high winds.
Be sure to secure your awning, regardless of style and type prior to a rain or wind storm.
How much does it cost to put an awning on a camper?
The cost to install an awning on your skoolie will vary depending on who is doing the installation.
If you are doing a DIY, then the cost will only be the parts. Your time is certainly worth something, but labor on DIY is never included in the overall costs.
When choosing the option of someone else installing your awning for you, consider 3-4 hours of labor at a minimum of $65 per hour. If it takes the installer longer than 3 to 4 hours, consider someone else to get the job done.
Is it illegal to live in a Skoolie?
What is the point of installing an awesome awning if you are not allowed to live in your skoolie full-time and enjoy it?
Understand this, living in your skoolie full-time and camping in your skoolie occasionally are two different things.
Most municipalities and city ordinances are not concerned about you living in your skoolie as much as they are about parking and sleeping overnight.
The thing about living in your skoolie full-time is to do your best to not look like you live in your skoolie full-time.
Most people have enough common sense to know how to avoid attention. The cleaner and more discreet your bus come across, the less likely people and authorities are going to notice you.
The less they notice you, the less likely they are to want to know what you are up to.
Here is a good read on Is It Illegal To Live In A Skoolie?
Where ever you are planning on parking, whether it is in a rural area or an urban setting, always check ahead if it is okay to park overnight. It sure does beat getting a knock on your door in the middle of the night.
Most police officers don't really mind, they are typically just responding to someone else calling it in.
Is A Skoolie Worth It?
Is a skoolie worth all of the money and labor of a conversion? I guess that depends on your skoolie experience,
Living in a skoolie is a much different experience than living and traveling in a skoolie.
What is your sense of adventure? How well do you accept and adapt to change? Do you have a source of income to support living a nomadic lifestyle comfortably and safely?
If you have positive answers to all of those questions, then we would say, Yes. a skoolie is worth it.
Otherwise, you are setting yourself up for a lot of frustration and disappointment.
Skoolie life is not all rainbows, butterflies, and unicorns. Sometimes it is very hard.
Tires are expensive at $350 each plus another $100 to $150 labor. Fuel is very expensive right now. At $4.00 a gallon and getting only 6 to 8 miles per gallon, it is going to be expensive no matter where you travel to.
Not to mention occasional repairs.
Besides all of those things, we can not imagine living any other way right now. This is the lifestyle we have dreamt about and it has been everything we imagined so far.
If you really want to know if skoolie life is worth it, give this post a read. Why Travel In An Off-Grid Skoolie? Your motivation and answers will be different than everyone else's.
Your reasons are your own and that is good enough for yourself!
What Is The Best Awning For Your Skoolie

The best awning for your bus is the awning that you can afford, gets the job done, and is compatible with your bus.
It doesn't matter if it is an RV awning with a roller on it or a tarp with tent poles. The purpose of the awning is to get the sun off the side of your bus and create an environment for relaxation and shade.
Arb awning
An ARB retractable awning is a nice accessory to your skoolie. It will provide a low-profile awning without the expense of adding an RV awning. It does require poles and guidelines for the poles.
The awning itself however neatly rolled up into the awning case up against your skoolie.
Price: $200 to $500
Depending on the size and who you purchase it from, expect to spend somewhere between two and five hundred dollars for the setup.
RV awning
Going with a traditional RV awning is the creme de la creme. Light but strong aluminum frames with either electric or hand-crank roll-out application.
An RV awning is going to give you maximum shade, depending on the size of awning your go with. The fabric can be replaced for less than $300 typically.
Price: $1,200 to $2,500
You will pay more upfront for the awning itself. The hardware is not cheap by any means. The downside to an RV awning is that if you do not remember to pull it in before a moderate wind storm, you may be replacing it soon.
With an expensive price tag, this is a tough lesson to learn the hard way.
Diy awning
DIY awnings are inexpensive, easy to install, and portable. Depending on your location, you can affix a portable DIY awning to just about anything around you.
Price: $100
The Sunshade UV protective fabric will cost you around $20 to $30 depending on the size you purchase and the adjustable camping tent poles will run you about $40 to $60.
We have utilized a DIY awning on both our skoolie and van conversions. For our second skoolie project, we are looking at doing a combination of an RV window awning for the left side of the bus over our bedroom windows. For the right side or entertainment side of the bus, we are thinking of a DIY awning.
Wrap Up To A Complete Guide To A Skoolie Awning
Knowing ahead of time that you are not going to be spending every waking hour inside of your skoolie, you should prepare and plan to make outside living as comfortable as possible.
Having some outside skoolie living accessories like a fire pit, comfortable chairs, a hammock, and an awning make it more like a vacation than it does camping.
There is no better awning for your skoolie than the one that fits your budget, needs, and provides shade for you.
Shade, a little privacy, and comfort are what it is all about.
We want to see and know what kind of awning you plan on using or already using. Leave us a comment so we can connect with one another!