Skoolie Ceiling – Everything You Want To Know To Create An Amazing Skoolie Ceiling
Your skoolie ceiling is one of the largest surfaces and the most looked-at part of your bus conversion.  Whether you leave it the original metal ceiling or you tear it out and do something different, the skoolie ceiling is the largest area of surface people are going to see.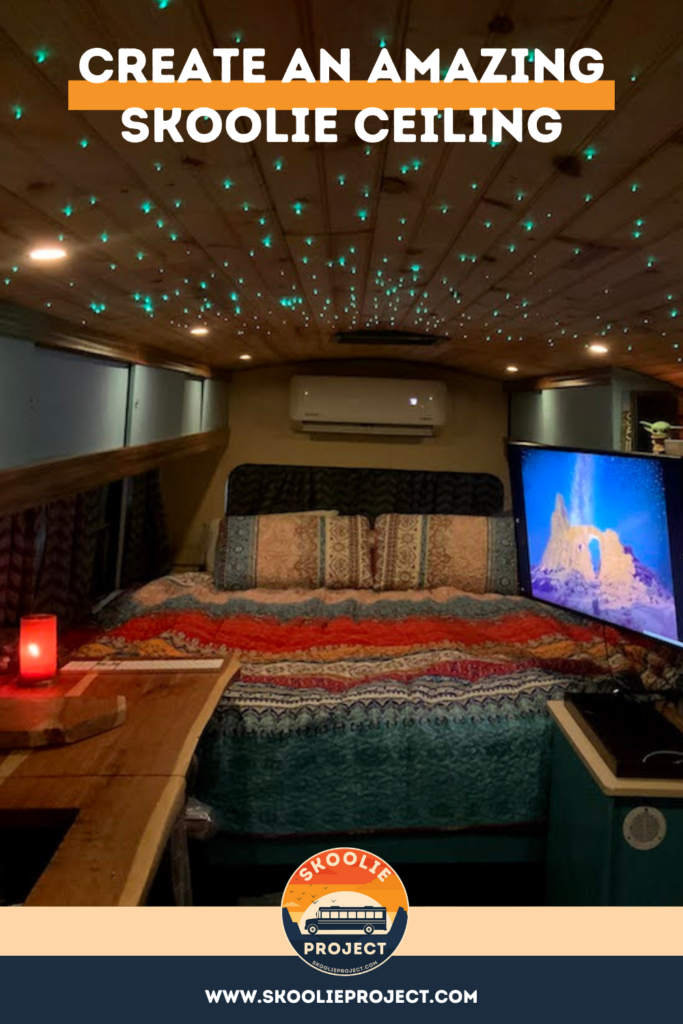 Besides the fact that you are going to be looking at your ceiling all day long and even when you are laying in bed at night.  Your skoolie ceiling is either going to be a proud achieving moment for you or something you wish you had done differently.
Do yourself a favor when converting your school bus into a tiny house on wheels. Leave nothing wanting! Do not cut corners, compromise or concede to anything but the perfect ceiling for your skoolie.
What Is The Ceiling Height Of A School Bus?
Depending on the year, make, and model of your bus, your skoolie ceiling is going to have a different height.  Most school buses have a standard interior height of 72 inches.  The interior height may flex a little between the center of the ceiling towards the window.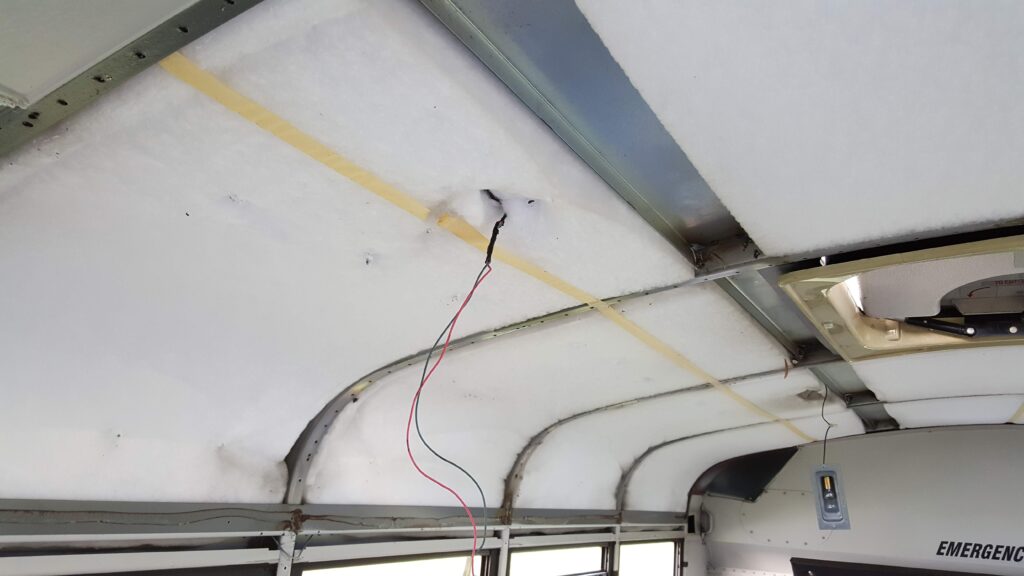 Since most school buses have a curved roof and ceiling, the sides of the skoolie ceiling are going to be two to three inches shorter than the center of the ceiling.  
So, if your ceiling is a standard 72 inches, then expect the left and right sides of the interior height to be somewhere around 68 to 69 inches.
This is important when considering your floor plan and placing your shower on the left or right side next to the windows. If you are at least 6 foot 8 inches, then a standard ceiling height is too short for you to have a shower next to your windows.
That is, unless, you don't mind ducking while taking a shower.
Extended Roof School Buses
Some buses, like the Thomas HDX and C2, will have a higher ceiling. The 78-inch ceiling school bus is typically designed for handicapped, high school, or activity groups such as sports or band members.
You can tell the difference between a 78-inch bus from a standard 72-inch bus by looking at the window frame behind the driver's window.  There will be a slight "bump up" that adds a few inches to the overall height.
These additional inches make all of the difference in the world. (that's what she said)
What School Bus Has The Most Headroom?
No two skoolie are made the same. That is the beauty of the creation of a DIY school bus conversion. There are plenty of different school bus makes and models to choose from as well.

Deciding on which school bus to build your foundation from can have a direct impact on the entire build.
Choosing the right school bus from the get-go will highly decrease the chances of you wanting to sell your bus and start from scratch. Trust us on this one, we learned that lesson the hard or expensive way.
School Bus Make and Model Interior Ceiling Height
If you are looking for a school bus with a higher ceiling than others, then you came to the right place. We have researched the following School Bus makes and models and their respective ceiling heights.
We hope this proves to be helpful when choosing the best school bus for your DIY conversion.
78 inches or 6.5 feet
GreenPower Motor Co. BEAST: BEAST is an acronym for battery electric automotive school transportation.
International IC Bus CE Series
International IC Bus RE Series
Thomas Built Saf-T-Liner EFX
Thomas Built Saf-T-Liner HDX
The Lion Electric Co. – LionC
The Lion Electric Co. – LionD
Thomas Built Saf-T-Liner C2
Thomas Built Saf-T-Liner C2 Jouley
77 inches or 6.41 feet
Blue Bird Corp. Vision
Blue Bird Corp. All American Front End & Rear End
Collins Bus Magellan Collins Low-Floor
76.5 inches or 6.37 feet
Collins Bus Magellan Collins MFSAB and Magellan MFSAB (DRW's)
Collins Bus Magellan Collins School and Magellan School  (SRW's) (DRW's)
Micro Bird Inc. Micro Bird G5 DRW 
Titan Bus Dual Rear Wheels
75.8 inches or 6.31 feet
Collins Bus Magellan Collins MFSAB and Magellan MFSAB *MFSAB stands for multi-function school activity bus.
Collins Bus Magellan Collins School and Magellan School
75 inches or 6.25 feet
The Lion Electric Co. Lion A
Trans Tech SST & CST
Trans Tech eSeries
74 inches or 6.16 feet
Thomas Built Minotrek SRW
Thomas Built Minotrek DRW
Trans Tech Trans Star
Trans Tech ST Aero
Micro Bird T-Series
Micro Bird MB-II SRW
73 inches or 6.08 feet
Thomas Built Minotour SRW
Thomas Built Minotour DRW
Titan Bus SW
Titan Bus SRW A
67.8 inches or 5.65 feet
Collins Bus Magellan Collins MFSAB and Magellan MFSAB (SRW's)
Collins Bus Magellan Collins School and Magellan School (SRW's)
66 inches or 5.5 feet
Micro Bird T-Series
Micro Bird MB-II SRW
So, as you can see there is a skoolie ceiling height for just about everyone. If you are of exceptional height, then a roof raise may be the answer for you.
How Wide Is A Skoolie Ceiling?
The width of a skoolie ceiling is going to depend on a few factors. So many, in fact, there are no concrete numbers we can provide you within this post.
We can, however, offer some information that will allow you to plan accordingly when planning and ordering materials for your skoolie ceiling.
Depending on the year, make, and model of your bus, the skoolie ceiling has different angles of curvature from the center of the ceiling to the side walls or windows of the bus.  
That angle of that curvature is going to either increase or decrease the interior height of your bus along the walls or windows.
All school buses in the United States are restricted to an overall width of 102 inches or 8.5 feet.  That is the maximum width of the bus.  Most school buses have an interior width of 90 inches or 7 ½ feet.  So, you can bet that your skoolie ceiling will never be wider than those numbers.
How Do You Frame In A Skoolie Ceiling?
Framing your skoolie ceiling is not a black-and-white affair. There is more than one way to skin a cat.  Not that we suggest or condone skinning cats or any other kind of animal.  Point is, there is more than one way to do just about anything when building your skoolie.  
Some ways are better than others, some ways are easier than others. Sometimes the easiest way is the best way. However, "easy" and "best" is rather subjective depending on who is considering it.
Furring Strips
Utilizing furring strips when planning and installing your skoolie ceiling is one of the best ideas you will make when it comes to the construction and building of your DIY conversion.
The picture above is Don installing furring strips on the support rails of the skoolie ceiling. ThisFurring strips not only make it easier to install the wood ceiling material but also eliminates thermal bridging from the outside of your metal bus to the inside of your bus.  
When you screw a metal screw through your wood ceiling into the metal roof rails, the metal screw to the metal structural rail is allowing heat to conduct to the metal screws.  
Not only is this not good for your screw heads with condensation, but more importantly, it allows heat to transfer through the metal to the inside of your bus. Your skoolie ceiling then becomes a conduit for heat and cool air. 
For us, a hot bus when we do not want it to be hot is a bad bus. We do not like to sweat unless we choose to do an activity that creates sweat.
Conversely, we do not want to lose heat from the inside of the bus to the outside when we are trying to keep it warm in cold climates.
Wood to Metal
Have you ever noticed rusty-looking screws on someone's skoolie ceiling? If you have, do you know why those screws are rusty? It is not because of a leak in their roof.
It is because there is a thermal bridge from the screw to the metal ribs in their ceiling.  The inside temperature is cooler than the outside temperature of the metal roof.  The heat from the outside roof conducts through the metal to the screw to the inside of the bus.
  
Condensation then forms on that metal screw, and thus, you have a rusty screw. 
This is why having a thermal break is so important when converting a metal-skinned and framed school bus into a motorhome. 
Is A Skoolie Roof Raise Worth It?
One of the things that keeps some people from taking on the adventure of a skoolie conversion and life as a skoolie nomad is their height.  There is something to say about those who are under 6'0 tall while living and traveling in a skoolie.
Most school buses' interior height from floor to ceiling is only about 72 inches. Some school buses have a ceiling height that is even less than that.
Now, if you are over 6 feet tall, that really isn't a deterrent because you can just search and hunt for a school bus with a 78-inch ceiling height.  Reference the guide we talked about a little earlier in this post.
There are plenty of them out there, you just have to spend the time and ninja internet skills to find one that is in good condition.  Our first bus had an interior skoolie ceiling height of 78 inches.  Don is right at 6'1" so that was perfect for us.  
We still had several inches of headroom so we didn't feel like we were suffocating from lack of headspace.
So, what about those of you out there who are 6'6" or more.  We met a guy at the Know How Expo in Florida a few years ago who is 7'3".  He is one tall fella!  He loved the idea of a skoolie but didn't think he could handle the height restrictions.
There is a very viable solution for those who are looking for that extra two feet of ceiling height. A skoolie roof raise is just what you need to keep your nogging from hitting the ceiling and cabinets all of the time.
If you have ever been to a skoolie event, you have seen a skoolie with a roof raise. They are distinctive because of the sloop or difference in roof height between the cab area and the rest of the bus body.
Just adding 12 inches of skoolie ceiling height from a skoolie roof raise can change the entire experience for a tall person.
Understand though, you don't have to be a tall person to want, need, or enjoy a roof raise!  Those extra 12 to 24 inches can open your floor plan out like a 12-foot ceiling in a house can.  
How Much Does A Skoolie Roof Raise Cost?
A skoolie roof raise is not an inexpensive endeavor. Whether you do it yourself or pay a professional or someone else to do it. It is going to cost you thousands of dollars.
Including a roof raise into the overall budget of your skoolie build will put things into perspective. If you have not budgeted your skoolie build yet, take a look at this piece we wrote on School Bus Conversion Costs.
If a roof raise is something you need due to your height, then it may be worth every cent you pay. Either way, it is a personal choice, but be prepared to budget accordingly. Having a skoolie ceiling where you do not have to crouch all of the time, makes all the difference!
If you do decide to do a roof raise on your skoolie and choose to have someone do it for you, please be wise and exercise discernment when choosing the person or company to do the work for you. Make sure they are competent and insured to complete this type of operation on your bus!
Professionally Installed Skoolie Roof Raise
Taking on a project like a roof raise is something we would never imagine doing on our own.  To say this would be a precarious and skilled endeavor would be an understatement.  
We do skoolie and van conversions for other people through our business, Tiny Starry Builds. We do not do roof raises however due to the liability involved in the process.
Having someone else complete your roof raise is not going to be a cheap expense.  Be prepared to budget liberally for this project.  We aren't saying the end result is not worth every penny, considering the room you will have to live in and move about.
Just remember the skill required to do something like removing half of a steel-framed and skinned bus and adding one to three feet in between the body and the roof is ridiculous. We are talking mad skills!
Besides the skills involved in raising the height of your skoolie ceiling, consider the tools and materials needed.  The steel alone is going to be a solid $3,000 to $4,000 alone.  The labor and tools required to complete this project are going to run you thousands of dollars.
Be prepared to shell out anywhere between $8,000 to $12,000 for someone else to do a skoolie ceiling raise for you. This is a conservative estimate.  
While we do not know anyone personally that does professional skoolie ceiling or roof raises, we know of some builders who do them.  These are professionals who are well-known within the skoolie community.  
If we were to have one done for our personal selves, we would reach out to these based on the skoolie communities' opinions and experience with them alone.
Wes Lewis with Transcendexistence in Kansas is one such skoolie builder who has a solid reputation for doing roof raises.
Another company that has a solid reputation for conversions and roof raises is Colorado Custom Coach Works in Denver, Colorado.
We have no personal or professional relationship with either of these builders. Our mentioning them is purely by word of mouth of their reputation and workmanship within the skoolie community alone.
DIY Skoolie Roof Raise
Most of us who are completing a skoolie project likely do not want to swallow an $8,000 to $12,000 bill for a roof raise. We can definitely understand where you are coming from. Some people can complete an entire conversion for that amount of money.
There is a solution for paying someone else to do that work for you and empty your bank account. You can do the roof raise yourself, or seek out someone else to assist you.
We have known several people who have procured the help of others who have either done it themselves or have the metalwork and welding skills to get it done confidently.  
Understand that this is no project to take lightly.  We have friends who are professional skoolie builders who choose to not take on the liability of roof raises.  It is a high-risk liability that when properly insured, will cost quite a bit in liability insurance premiums. 
Finding that skoolie friend who has the experience to lend a helping hand though, is worth their weight in gold. Brett Niehaus is just one person who knows how to complete a roof raise but doesn't do it professionally.
Brett's skills for skoolie conversions are unrivaled. If you are looking for someone to consult with your conversion or need a project completed, get in touch with him. You can reach him at Brett The Builder. You will not be disappointed with his workmanship and professionalism.
DIY would be around $3,000 to $4,000 for the parts alone. Of course, no labor costs are involved here because you are completing the work yourself. Labor costs don't really come into play with DIY builds.
If you are selling your bus, after you have completed a roof raise yourself, you can certainly factor in the cost of labor for the overall value.
What Do You Use For A Skoolie Ceiling?
Designing and installing your skoolie ceiling is one of the toughest and earliest projects you will take on. It's tough because everything you do is above your shoulders. Be ready to apply some "icey-hot" and get that heating pad out for sore shoulders later.
Once it is complete though, you can sit back and enjoy all of your hard labor looking at your beautiful ceiling.
We are going to take a look at some of the most popular and unique skoolie ceilings we have come across in our travels so far.
Skoolie Ceiling Ideas
Whether you are building something so unique that no one else has attempted or accomplished or keeping your original school bus ceiling, designing a skoolie ceiling is one of the best opportunities to make your build stand out!
We are talking about some innovative and unique ceilings as well as some common and simple ceilings.  We would love to see what you have done with your ceiling and perhaps share it with others on our website.

Reach out to us so we can showcase your skoolie ceiling.  
Starry Starry Night Skoolie Ceiling
The Starry Starry Night ceiling is one of, if not the best ceilings we 
have ever seen in a skoolie or DIY project.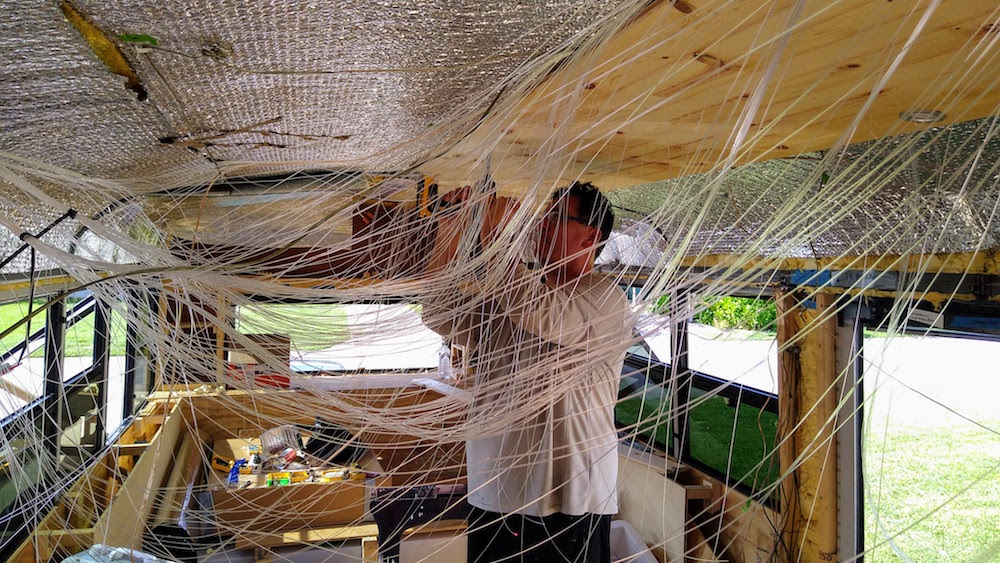 The above picture is Don installing a Starry Starry night skoolie ceiling in pine tongue and groove. This was a two-person 40-hour project. A skoolie ceiling like this requires tons of patience and a laser focus to keep everything organized.
This idea we came up with while building our first skoolie.  It 
was from a picture a friend sent to us of a Bently with fiber optics 
roof in it.  
We were immediately hooked on the idea and determined how to 
incorporate that into our skoolie ceiling. We had no idea how to do it 
since we could not find any videos or online guidance.  
We just figured it out. It was a hellacious process, but the end result
was more than worth all of the cussing, arguing, and therapy needed.
Here is an article Bus Life Adventure wrote on our Starry Night
ceiling installation. You can also contact Tiny Starry Ceilings if you
would like one installed in your skoolie, van, or RV.
We installed over 400 points of light on our pine tongue and groove 
ceiling.  It took both of us to work together over 40 hours to complete 
this ceiling project.  Once we finished it, we couldn't stop looking at it.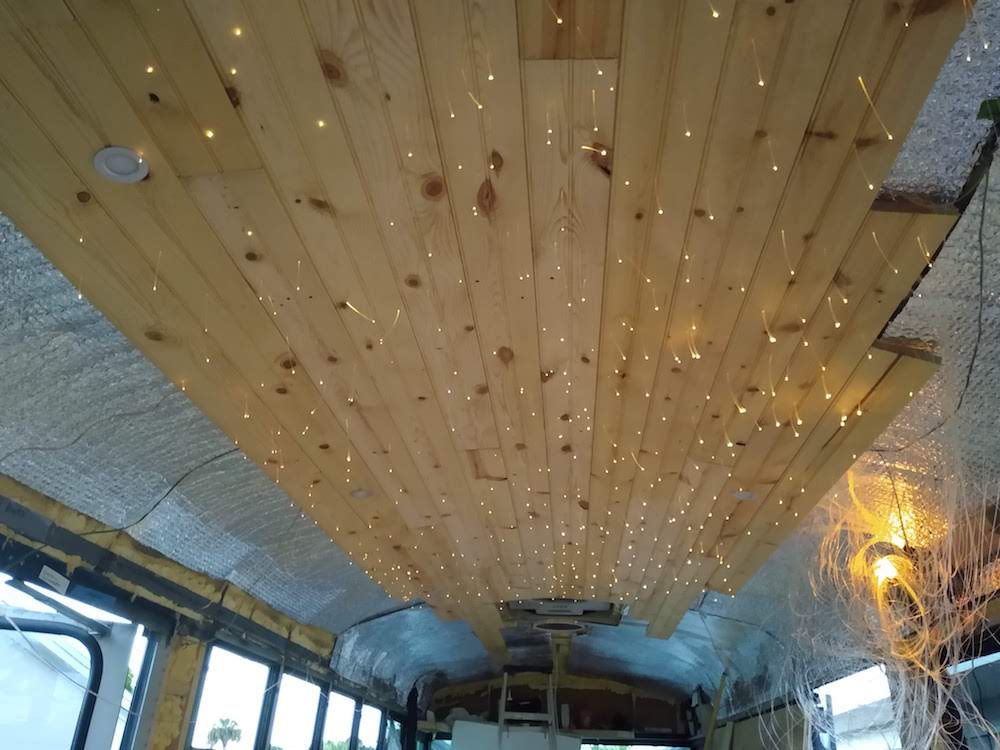 We knew we would have to do it again after we sold our skoolie and
started to convert our Sprinter van. We did and it was even more
amazing.
Despite being a smaller vehicle, we installed 800 points of light this 
time.  Twice as many as was in our bus.  It was more of a galaxy-forming design, so it required more fiber optic lights.  
Amazing, at least to us, is an understatement.  We have our fiber 
optics ceiling lights on every night and most days while we are 
working inside the van.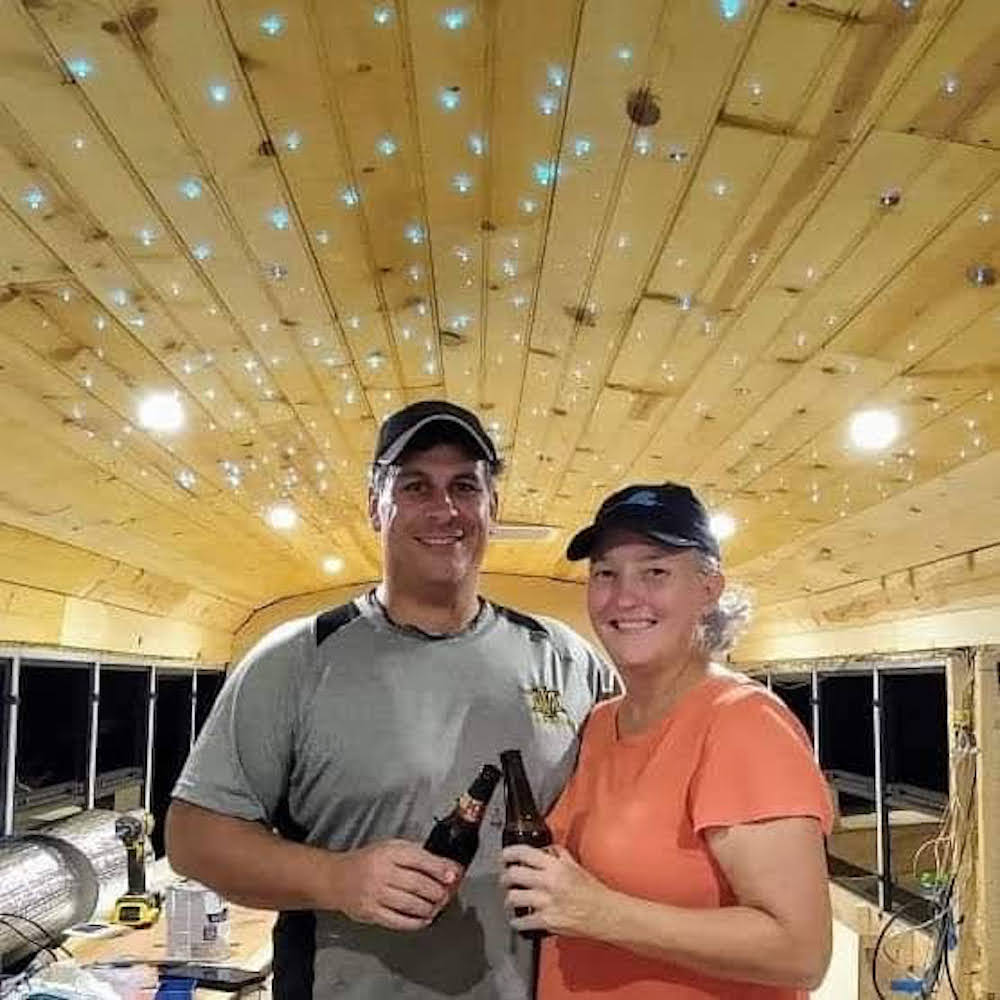 We are currently planning on what we are going to do with our next skoolie ceiling. We have a few conceptual ideas so far, but nothing finalized.  It has to be epic and we know we are going to knock it out of the ballpark! 
Stay tuned for the results of this next one!
Corrugated Metal Skoolie Ceiling
If your bus already has a metal ceiling in it, why go with another metal skoolie  
ceiling?  Seems like a lot of work removing a metal ceiling and then 
turning around and putting one right back up there.
It's not always about the process as much as it is about the results.

We have friends who have used corrugated metal in their
skoolie. Their ceilings are much different than the original metal
ceiling.
It gives it a very raw, rustic, and sometimes industrial look to it.

Depending on how the metal is treated with chemicals, paint, stain or
even allowed to rust, it is unique and interesting.
It is fairly easy to install, especially if you have already installed
furring strips for attachment points.
Tongue and Groove Skoolie Ceiling
Tongue and groove wood ceilings are some of the prettiest and best
ceilings to have in a DIY school bus conversion.
We will warn you though, it is not the easiest material to install on a
curved ceiling, but the results are fantastic! The staggering lines and
wood screws to hold them in are beautiful.
Pro-Tip
When installing tongue and groove wood ceilings, it is much easier to 
install thinner wood planks than thicker and wider pieces.  It fits 
better and is more pliable when dealing with the curvature of the bus 
ceiling.   
Original Metal School Bus Ceiling
There is a lot to be said and credited to those who chose to keep their
original metal bus ceilings. They are sleek, clean-looking, and very
versatile in daily life.
Being able to utilize magnets is a brilliant way to hold things in place,
hang things and use for decorations such as skoolie decals and event
decals.
We love the idea so much, for our current build we are going to have
half of our ceiling cedar tongue and groove with our Tiny Starry
Ceiling. In the back half of our ceiling, we are going to keep our
original metal ceiling.
We have high expectations for how it will look. We are still trying to
figure out how we are going to transition the wood tongue and groove
section with the metal section and have it look good.
Shiplap Skoolie Ceiling
Shiplap is a great medium for ceiling material. It is easy to install,
fairly inexpensive and looks very rustic and raw when completed.

You can paint or stain shiplap any color you want and it will look
great!
Plywood Skoolie Ceiling
Using a thin ¼ inch sheet of plywood as a ceiling is not as popular as
the other ideas we have mentioned, but it makes for a very clean and
easy ceiling.
The same goes for plywood as far as color and stain. Make it what
you want.
One thing about using ¼ plywood or Waynes coating paneling for
your ceiling. You are going to want to cover the seams with a piece
of wood trim.
By doing so, you will clean up any joints and seams and give it a
professional look. We have seen this done in a few skoolies and the
results are solid.
Wrap-Up To Skoolie Ceiling – Everything You Want To Know To Create An Amazing Skoolie Ceiling
Admittedly, we originally didn't give our skoolie ceiling a whole lot of consideration when starting to plan our build.
We knew we wanted a wood ceiling because we had seen it in other buses and liked it. The fiber optic ceiling idea didn't come to us until just before we started the ceiling.
Putting forth the energy and effort to make your ceiling both functional and pleasing to you and your family, will pay you dividends every day and the moment you are on your bus.
The ceiling can be the focal point of your skoolie. An awesome couch, big-screen television, or beautiful raw edge cypress countertop is great. Make all of those areas of your build epic!
Just don't forsake your ceiling. The ceiling should never be an afterthought for your skoolie.
Be different and think outside of the box. Come up with an idea for your ceiling that no one else has yet to build!
We would really love or hear what you have planned for your skoolie ceiling. Drop us a comment or let us know what your social channels are so we can give you a follow!
We look forward to connecting with you and checking out your skoolie ceiling.