10 Easy Ways To Stay Cool In Your Skoolie
This post may contain affiliate links which means we receive a small commission at no cost to you when you make a purchase. I earn from qualifying purchases through Amazon as well as other companies mentioned below. We only choose to showcase products we can stand behind.
We do not like to be hot! Even laying on the beach, which is one of our favorite pastimes, we like to be cool. So, How do you stay cool in your skoolie?
There are several factors and remedies for hot, humid weather to stay cool in your skoolie.
Today. We are going to talk about some of the ways we stay cool while living and traveling nomadically in our skoolie.
What Does Cool Mean in Hot Weather?
I guess it really comes down to what is "cool" to you when trying to regulate your body temperature.
For some of our friends, the high 70s is nice cool weather. When the temps reach the high 70s for us, we get hot and may even get a little cranky.
For us, we like it in the mid to high 60s. When we used to live in a house, then later a condo on the beach, we would keep the thermostat at 65 degrees.
Mind you, we lived in Satellite Beach, Florida. It's warm and sunny all year along there. We loved the sunshine and beach, but we loved being cool more.
So, it's all relative to the individual then. What is cool to one person is not to another. You have to find your "sweet spot" and try to maintain that climate for yourself.
Why Is It Important To Stay Cool In Your Skoolie?
When you are too cold or "chilly" you get irritable and aren't as productive. All you are thinking about is how to warm up and get comfortable.
The same thing goes when you are too hot or warm. For us though, it is much worse when we are hot or even a little warm.
Being in the right temperature improves your mood and productivity. It helps to maintain a healthy relationship with your significant other.
You get cold or hot, you get irritable. When you are irritable you tend to lose your patience and tolerance more. That is when arguments fester. Ain't nobody got time for that.
Fortunately, for us warm-blooded, hot-natured people, there are ways to keep cool in hot weather. Sometimes you have to be creative. Sometimes you need a little bit of technology to assist.
We are going to look at some of the ways we have kept cool while living and traveling in our skoolie, as well as our DIY Sprinter van.
How To Stay Cool In Your Skoolie?
Keeping cool is as easy as breathing if you are in the right environment. Typically, the further north you go, the cooler it gets.

Here are some of the ways we have kept cool in our DIY conversions.
Air Conditioner to Stay Cool In Your Skoolie
Nothing quite like feeling that cool air blowing over your skin when it is hot outside. An air conditioner is a luxury no one should ever have to live without if they can help it.
Mini-split
Installing a mini-split air conditioner in your skoolie has become commonplace these days. In fact, if you aren't planning on a mini-split, people look at you sideways as if you are crazy.
We installed a mini-split in our first skoolie. Not planning on doing a mini-split on this next skoolie project, but we are looking at some alternative cooling solutions.
We didn't have a great experience with our mini-split.  It was a great unit.  A Pioneer, 12k BTU a/c with a heat pump.
We had a professional HVAC guy evac and charge the lines. Then we had an HVAC guy come out and add some freon due to a small leak.
The copper lines sweat so much, that we had to do some mold remediation in the back cabinets of our bus.
Mini-split air conditioners aren't designed and built to be on vehicles traveling on the road. They were designed to be stationary for stick and brick dwellings.
So many swear up and down by them, but for us, it was not the best solution.
If you are planning on doing a mini-split, plan on spending somewhere in the neighborhood $1,500 for all of the materials and installation.
Zero Breeze Portable AC
The First Off Grid Portable Air Conditioner
Enjoy an AC without a generator
• 240W ultra energy-saving
• Developed miniature compressor
• 2300 BTU, cool a limited & small space
• Charge by cigarette socket or solar power at anytime
Trucker Mini-Split
We haven't been able to get too much information on these mini-mini splits, but we do know they are out there. We've seen lots of them on the back of sleeper cabs on 18-wheelers.
Looks like a couple of brands may be Road Master and ThermoKing. They can either run off a diesel-powered motor or 12v.
We are told they are very expensive and fairly new to the market. Looks like a unit is going to drop you between $6,000 and $10,000.

A wee bit high for our budget at the moment, but definitely keeping our eye on this for the future.
Window Unit
Do you want to stay cool in your skoolie? A window unit air conditioner is a viable and inexpensive solution to having a cool a/c in your bus. 

A few things about the window unit though. 

Don't plan on running it with your solar unless you have a minimum of 2,000 watts on top and 600 to 800 amp hours of batteries.
As far as aesthetics go, and we do not mean to offend anyone here, but, they look a little "janky" in a skoolie. Hell, they look a little "janky" in a window of a house.
Just not our cup of tea I guess. If it is yours, plan on spending $150 to $300 for a decent unit.
Stand Up Unit
One more option to consider for air conditioning to help you stay cool in your skoolie in hot weather is a stand-up air conditioner.  
One of our first skoolie friends, Modern Day Adventurers, used a stand-up a/c in their bus and it worked pretty well. They were based in Central Florida as well, and it kept their bus cool in the Florida heat.
Again, not something you will typically run on solar, but if you have a generator, it should handle it just fine.
This type of air conditioning solution will run you between $300 and $600.
Fans Will Help You Stay Cool In Your Skoolie
Fans are either a great supplement to an air conditioner or at the very least, an alternative to air conditioning. If you want to stay cool in your skoolie with the power usage of an air conditioner, a fan or two is a great option.
If nothing else, during the day, a good fan will get the air moving inside of your skoolie. It is not the most effective in very hot temperatures, but it is a way to stay cool in your skoolie in hot weather.
MaxxAir
For us, the MaxxAir is a staple when it comes to a DIY conversion project. We had two installed in our skoolie, one in our van conversion, and will be installing one in our mid-size skoolie conversion.
One of the features we love so much about the MaxxAir fa is that it has a two-way motor. Meaning, that it can either pull air inside of your bus, or exhaust air out of your bus.
This is great for warm weather. Hot air rises. So, by exhausting air out of your skoolie, you are expelling the warmest air in your bus, and pulling in fresh cooler air from the outside through your windows.
A MaxxAir fan will definitely help you stay cool in your skoolie!
MaxxAir fans come in a few different models. We had one with the remote control but found it unnecessary.
Our go-to MaxxAir fan is the 5100k or the 6200k model.  Plan on spending around $300 per fan.  It is well worth the money.
Sirrocco
The Sirrocco fans are new to us.  We installed two in our Sprinter van conversion but will be installing at least two in our next skoolie project.  They are a little pricey at $120 but well worth the price.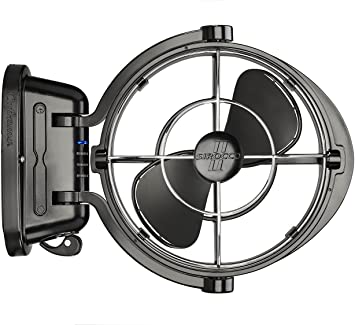 They can rotate on a gyroscope 360 degrees, and have a timer, and three speeds. These fans run off 12v and hardly use any power at all. May 2 watts on high setting. These little fans will go a long way to help you stay cool in your skoolie.
Windows
Remember, you live on a school bus. Unless you have deleted your windows, you have them all around you! Open some windows, turn on some fans and let that cool air circulate throughout your tiny house on wheels man!
If you want to stay cool in your skoolie without running the air conditioner, this is about as efficient as it gets.
It's also worth mentioning, don't hesitate to throw a layer of extra tint on them, bad boys, either. Tinting windows is fairly easy. The more you do it, the better you get at it.
A good carbon UV protection dark tint can really cut down on the radiated heat through all of those windows.
This is the tint we have used on all of our DIY conversions.  Lexen Puremax 20% tint.  Good stuff.  A roll to tint all of the windows in your skoolie will cost you less than $100. A good carbon ceramic tint will help you stay cool in your skoolie.
Follow the Temps To Stay Cool In Your Skoolie
There is one surefire way to avoid temperatures that make you uncomfortable and stay cool in your skoolie. Follow the weather of your choice.

For us, it would be following 70 degrees all year around.
Thanks to the Earth's natural cycle of warming up and cooling down, temperatures way up north get up into the mid to high 90s in the summer these last few years.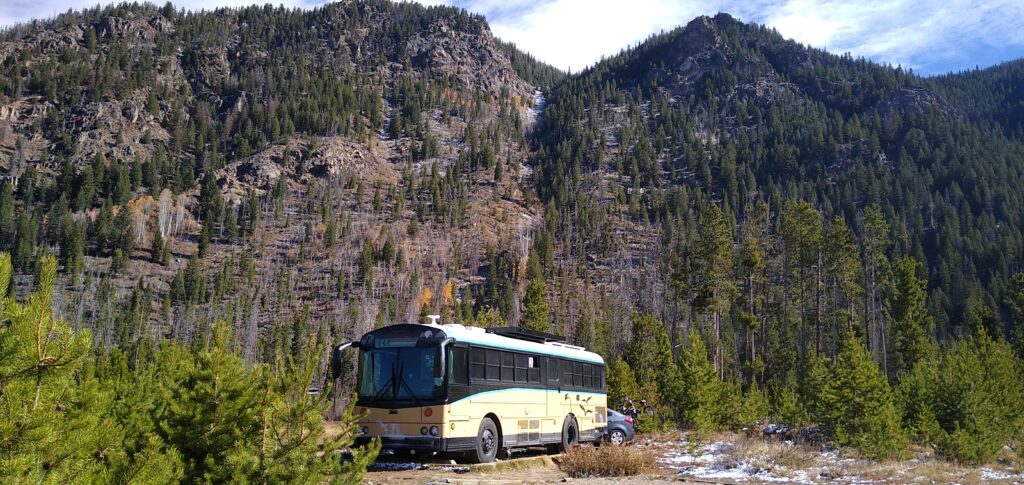 Sometimes when you think you are going somewhere to get cool, you end up sweating your (insert body part) off.
Two years ago, we spent the end of summer and Fall in upstate Wisconsin. Sure, it got hot a few times, but most of the time the weather was great!
Summer of 2021, we spent in Michigan, Wisconsin, the Ozark mountains, and then early Fall in upstate New York, Vermont, and New Hampshire.
It is Fall 2022 and we have been enjoying the Fall Colors of Maine and New Hampshire. The weather is almost perfect. This is how you stay cool in your skoolie!
The days here are pleasant and the nights were nice and cool. No air conditioning and we still sleep like babies. In fact, sometimes it gets a little too cool at night. How Do I Keep Warm in My Skoolie? Read this article for some tips and strategies we have learned the hard way!

If we can do that, then anyone can do it!
It's more of an exception than normal. We figure we can handle a hot day here and there as long as we have a lake or river we can go swimming in now and then. Being able to stay cool in your skoolie is not so hard!
Wrap Up To How To Stay Cool In My Skoolie
One of the lessons we have learned since going tiny and traveling nomadically is that you have to roll with the punches often. If you want to stay cool in your skoolie, sometimes you will have to go somewhere else, or just improvise.
The best way to plan on something is to plan on something changing or not going the way you planned or want it to go.
That is skoolie life, RV life, and van life in a nutshell.
Things are always changing. The temperature is no exception. Find out what you can tolerate and then try to improve on it.

Remember, this is an adventure and journey that will change you! Focus on improving your circumstances all of the time and you will succeed!
Tell us how you stay cool in your skoolie. Leave us a comment below! We would love to connect with you!