3 of Our Favorite Delicious Skoolie Recipes
Our Favorite Skoolie Recipes vary from time to time.
We want to share some of our favorite skoolie recipes We love to eat. Especially Don. Don is definitely the foodie of the two of us.
For some people, food is not just nourishment, It's much more than that for some people. Like an old song or smell, some foods have an instant nostalgic trigger to a time or a place.
Cooking or preparing a meal on your skoolie is one of the best ways to acclimate your skoolie as your home. Just like food brings friends together, the more we cook in our skoolie, the more it feels like home.
Cooking Appliances for Skoolie Recipes
You do not need a gourmet kitchen to cook gourmet meals in your skoolie. Your favorite skoolie recipes can be made with the simplest of kitsch appliances.
Take a look at this post we wrote on How To Cook In Your Skoolie.
With some of the simplest cookware and cooking methods, you can make any of your favorite skoolie recipes. Whether you are using an RV oven and cooktop, propane camping stovetop, Instapot, or solar oven.
You can make anything you want. What are some of your favorite meals to prepare in your skoolie? Leave a comment and let us know. We'd love to try one of your recipes.
Here are a few of our favorite skoolie recipes that are super easy to make.
Cowboy Beans
Admittedly, this is one of Don's favorite skoolie recipes more so than Nat's. In fact, Nat doesn't like this one at all, but that is because she is not a big fan of sausage.
This is a meal Don's momma used to make for him when he was just a wee little lad. Now, when his mom made this, she used Pork n Beans. Don has changed it up slightly to baked beans but feels like it is an upgrade.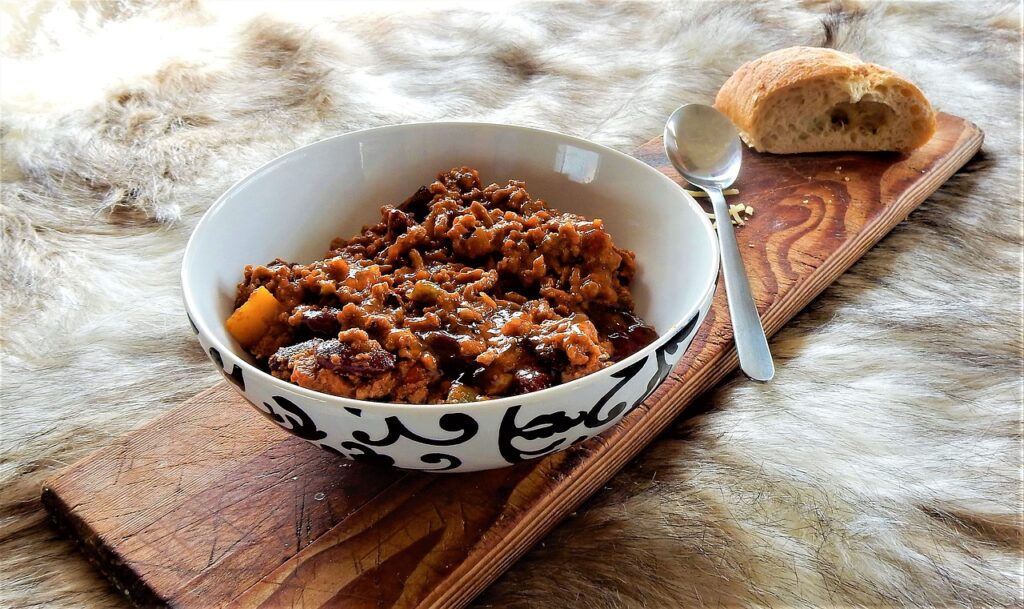 Here is the recipe.
Ingredients:
Jimmy Dean sausage 1 pound
1 can of Country Style Baked Beans
1 Tablespoon of ground pepper
½ Tablespoon of Himalayan salt
1 Tablespoon of steak Seasoning
1 Tablespoon of Mesquite Barbeque Seasoning
Directions:
In a cast-iron frying pan, brown and crumble the sausage until there is no more pink left in the meat. Set sausage aside.
In a medium-sized saucepan, heat beans on medium-high. Add all of the spices and the cooked sausage and stir thoroughly.
Let cook until it simmers.
Allow it to cool slightly.
This is best served with buttermilk biscuits. It is one of Don's favorite meals. It is simple, inexpensive, and somewhat nutritious.
Let us know what you think of one of our favorite skoolie recipes. Have ever tried this dish, or if you would try it based on the above recipe?
Warm Homemade Chocolate Chip Cookies
Nothing says love more than the smell of fresh-baked chocolate chip cookies. This is another one of Don's favorite treat and skoolie recipes. His mom used to make these on special occasions.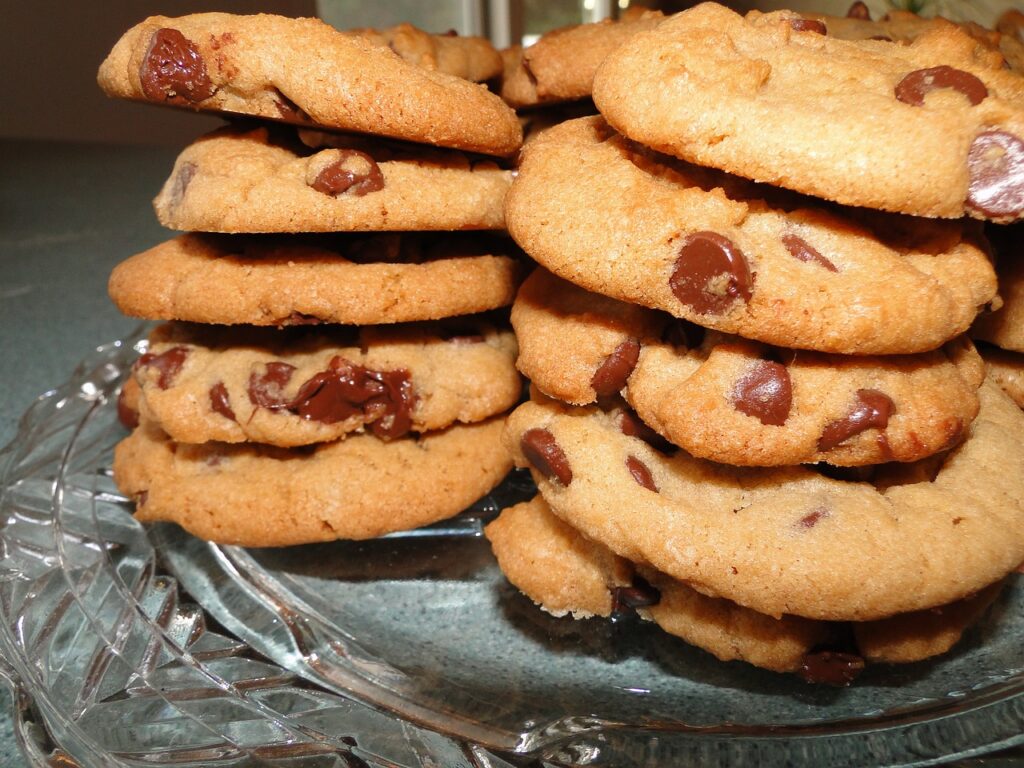 Ingredients:
1 cup of pure can sugar (granulated)
1 cup of sweet brown sugar (i just like saying that)
3 cups of all-purpose flour
1 teaspoon of baking soda
½ teaspoon of baking powder
1 teaspoon of Himalayan salt
2 cups of your favorite chocolate chips or chunks
1 cup of salted sweet butter (softened)
2 teaspoons of pure vanilla extract
2 large eggs
Directions:
Preheat your oven to 375 degrees F.
Line a baking pan with parchment paper and set aside.
In a separate bowl mix flour, baking soda, salt, and baking powder. Set aside.
Mix the butter and sugars until combined and creamy.
Beat in the eggs and vanilla extract until fluffy.
Mix in the dry ingredients with the wet ingredients until it is all combined and roll into one large ball.
Add all of the chocolate chips or chunks of chocolate. Use as much as you want to the dough and mix well.
Roll 2-3 TBS (depending on how large you like your cookies) of dough at a time into balls and place them evenly spaced on your prepared cookie sheets.
Bake in preheated oven for approximately 8-10 minutes. Take them out when they are just starting to turn a nice light brown.
(if you want crispy cookies, allow them to cook until medium brown)
Let them sit on the baking pan for 2 minutes before removing them to the cooling rack.
Pour a glass of milk and enjoy!
Nothing will warm your skoolie up and make it feel and smell like home like a batch of homemade chocolate chip cookies!
The Best Grilled Cheese Ever
Nat is a master at making grilled cheese sammiches. She has perfected her own personal recipes over the years. She started off making these for her kids.
Now, she has perfected it for our skoolie recipes cookbook!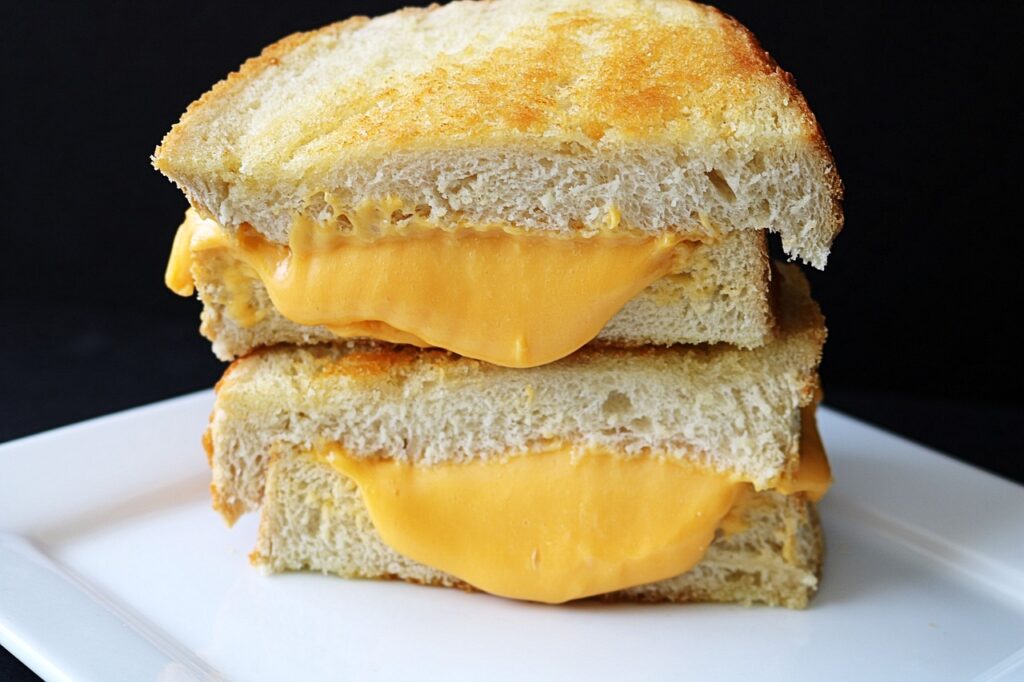 Ingredients:
Sourdough Bread (or your favorite sliced bread)
2 slices of your favorite cheese. Don likes a slice of Havarti and a slide of white cheddar.
Salted sweet butter
Parmesan Cheese
Italian Seasoning
Directions:
Heat cast-iron pan on medium-low heat
Add 1 tablespoon of butter to the pan and allow to melt
Place cheese slices between the bread pieces
Add slices of butter to the bread to cover the bread.
Sprinkle bread with Italian seasoning and Parmesan cheese
Place in the center of the frying pan.
Allow to brown as you repeat steps 4 through 6 on the opposite side of the bread.
Once both sides are golden brown, remove from the cast-iron pan and place on a plate.
Add more Parmesan cheese and serve
This is by far the best-tasting grilled cheese I have ever eaten. Serve this with a plate of your favorite chips or a cup of hot tomato soup.
Wrap Up To Our Favorite Skoolie Recipes
Cooking is easy in a skoolie as long as you keep it simple, have fun, and don't approach it like it's a chore.
We all have to eat, so why not enjoy what you are eating? Try different recipes for the part of the country you are in. Get creative and expand your diet and palette for different foods and spices.
Just because you live in a skoolie doesn't mean you can't enjoy your favorite skoolie recipes and foods.
We have loved cooking in our skoolie and van conversions. We are excited about cooking in our new bus. If you are wondering what you can make in your bus, here are 15 delicious recipes you can make in a camper.
What should be the first meal we cook in the new skoolie? Leave us a comment below. If we cook your suggested meal, we will invite you to come over, where ever we are, and eat it with us.
What are some of your favorite skoolie recipes?