The Best Skoolie Adventure Stickers for 2023
Custom Adventure Stickers for your Skoolie, RV, or Van conversion.
Having your very own, personal and custom adventure stickers is like having your nomadic calling card. Do you love traveling in your very own tiny house on wheels?
Have ever been to a Tiny House Festival, Skoolie gathering event, or RV tradeshow and wanted some adventure stickers for yourself but didn't know where to get them?
By the way, be sure to check out the next social gathering for the skoolie or van life communities on our Social Events Page.
It is common among those who travel by RV, skoolie, van, or any other type of recreational vehicle to collect and display stickers, decals, or magnets somewhere on their vehicle. Rear windows are very popular amongst vans and RVs. Decals and magnets are very popular amongst skoolies, due to their metal ceilings and lots of places to show the adventures stickers off.
What Are Adventure Stickers?
For anyone who loves adventure, there's nothing better than custom-made adventure stickers. RVers, campers, van lifers, and skoolie owners all use them to show off their adventurous spirit. They're great for personalizing your vehicle and showing everyone that you're a true adventurer.
There are adventure stickers for all sorts of different activities, from hiking and camping to skiing and climbing. One of the most popular types of adventure stickers nowadays is the personal custom-made decals showing off a person's rig. Adventure stickers don't have to be expensive; you can find plenty of affordable options online.
Adventure stickers are commonly referred to as skoolie decals, RV stickers, or van life decals. They are like the calling card for the RV, bus, skoolie, and vanlife owners. Think business card with a much cooler, artistic, and adventurous flair to it.
Now, the adventure sticker doesn't have to be a re-creation of your rig. It can be a mountain, desert, or ocean scene with an inspirational quote on it.
Sometimes, adventure stickers can be locations, nature scenes, or businesses like skoolie homesteads. In the two decals below, Nat Silver created a business logo for these two Homesteads.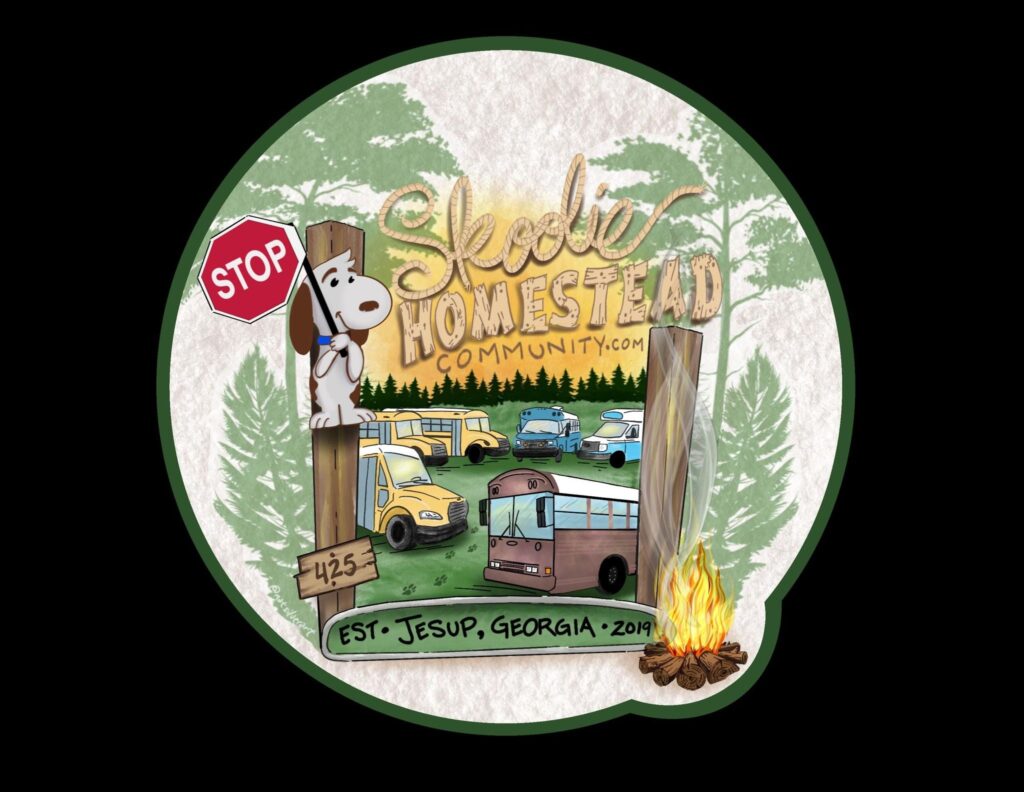 Adventure stickers can come in all shapes, sizes, and forms. We know some people, ourselves included, who like to attach their adventure stickers to magnetic sheets, cut them out and affix them to the refrigerator, or anything that is magnetic in your rig.
We have a few different types of adventure stickers we like to collect as we travel and adventure across North America.
Adventure Stickers for your Rig
These are commonly referred to as Skoolie Decals, RV Stickers, Van Life Decals, or any other description you prefer to throw at them. Most of the time, the adventure sticker depicts a drawing or rendering of the rig you are traveling in with your rig's name or social media handle.
As you can see in the two pictures below, Nat Silver does a pencil SketchUp of the design for her client, and then brings the art alive with colors that give it a personality and life of its own.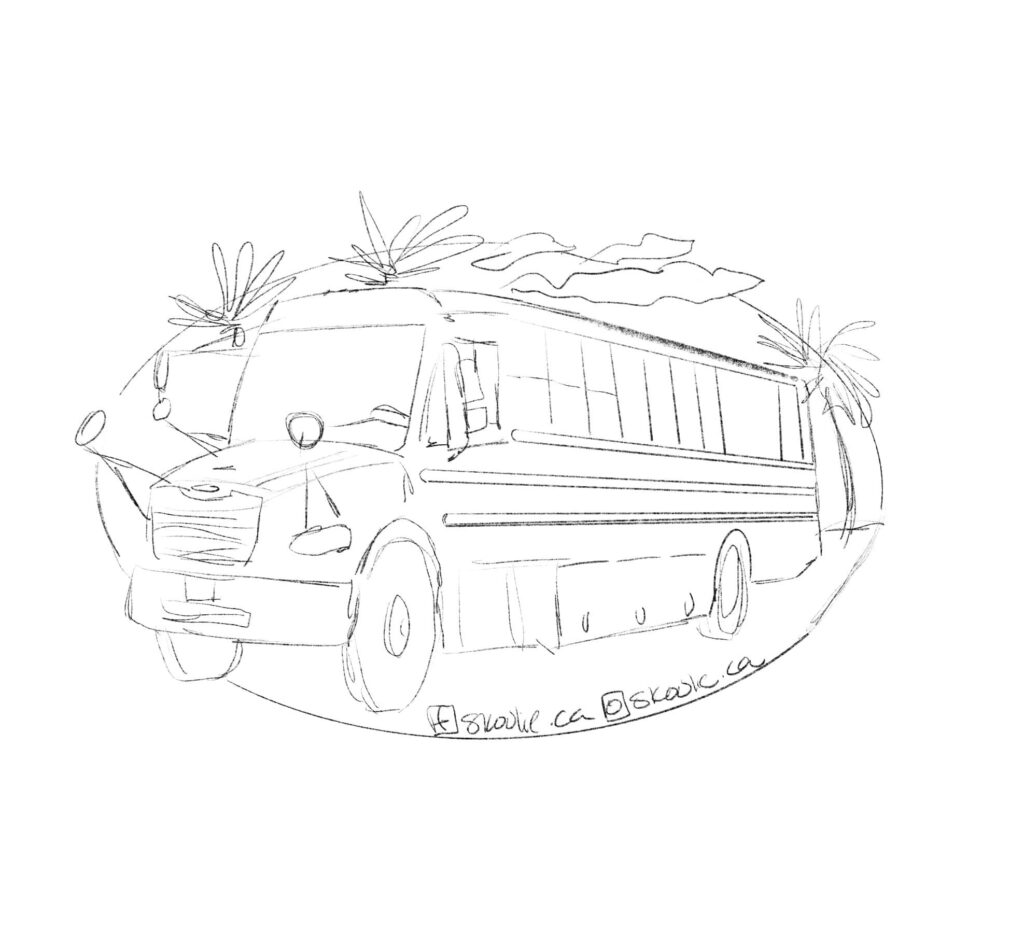 This is like your personal baseball card or business card to trade with other travelers who have their own custom-made adventure sticker.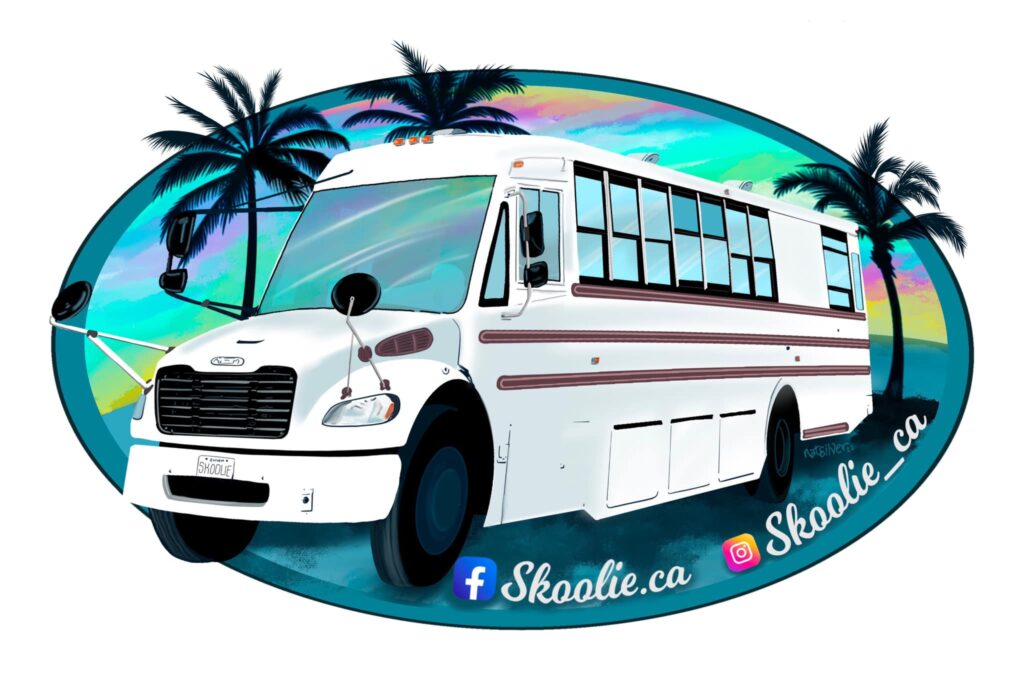 Many times, people like to include a caricature of themselves and their pets on the decal or sticker like the decal below designed for The Fishbowl skoolie. This takes the customization to a whole other level.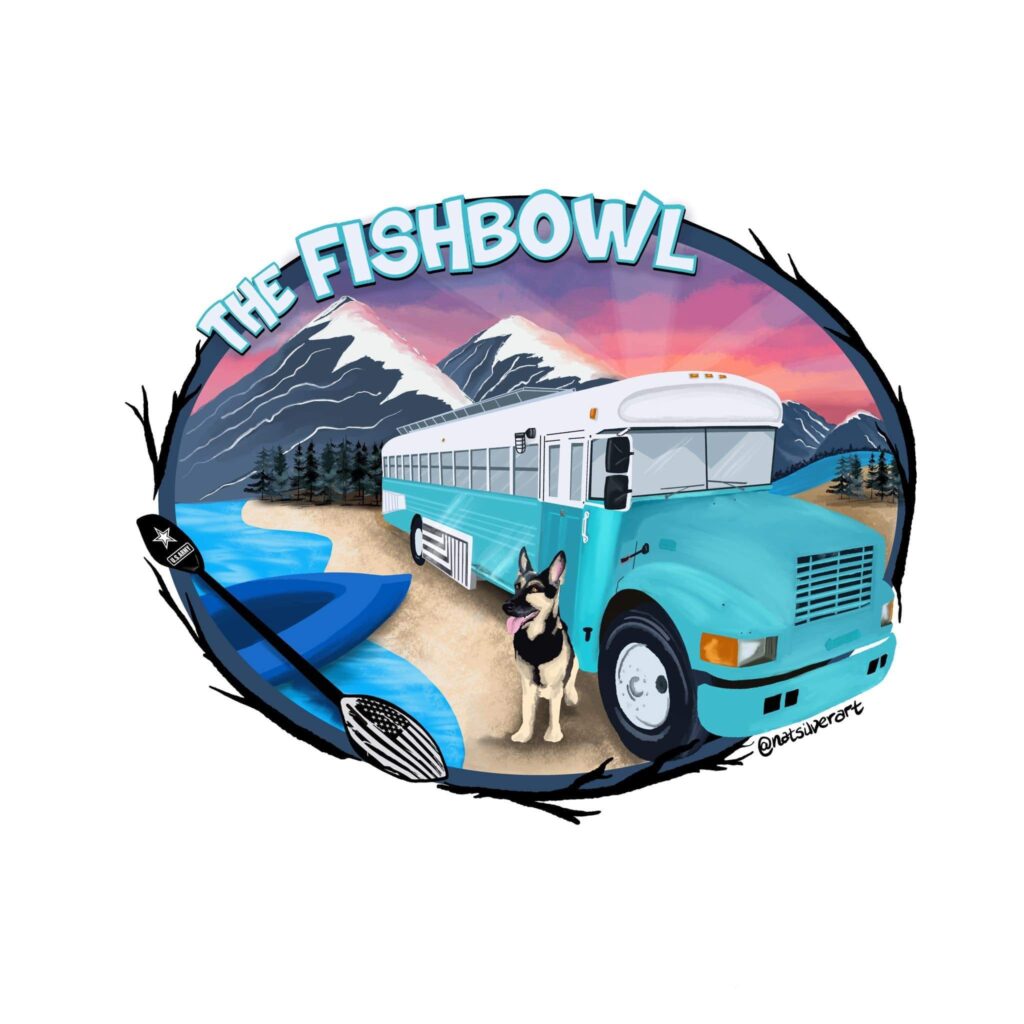 How Expensive Are Adventure Stickers?
Adventure stickers can vary in price. Most people in the nomad community give their stickers to others as a means of self-advertising or self-marketing their website or social media channels including YouTube.
Many people, however, do sell their decals and stickers either online, as well as when attending gatherings and festivals that promote tiny living and nomadic living.
What we have seen, is that most adventure stickers sell for somewhere in the neighborhood of $3 to $5 each.
That is the retail price for selling individual decals to others. The cost to design and produce the adventure sticker is another topic.
How Much is the Cost to Design and Produce Your Adventure Sticker
Getting an adventure sticker made requires you first find an artist who will design the sticker from scratch.
Adventure stickers don't just appear or grow on trees. It takes someone with vision, creativity, and experience to put together a sticker that has meaning and speaks to the soul.
That artist will likely spend hours on mock-up designs until a final proof is complete. Then the artist will create their magic by making the proof come alive with colors and final touches.
A talented artist does commissions for anywhere between $75 to $300 per hour and up. Depending on how detailed, intricate, and elaborate your adventure sticker is, will dictate how much time it takes the artist to complete the design.
Remember, that is $75 to $300 per hour, not per design.
Tier One Adventure Stickers
RV and skoolie decals typically come in three categories. The simplest RV, Skoolie, van decal, or Tier one will have a side view or front view of the rig. These decals typically start at around $150 to $250 complete. This is the simplest design with only the rig and its social media name or channel.
Tier Two Adventure Stickers
The second tier for adventure stickers for your rig may include an angle view of the rig and some background scenery. This would also include the rig name and or social media channel name.
Tier Three Adventure Stickers
The third-tier RV, skoolie, or van decal has all of the above but may also include caricatures, or elaborate rigs such as a Flexible coach, intricate background scenery, etc. This adventure sticker is going to start around $350 and go up from there depending on the details.
Other types of Adventure Stickers can vary in price for the complexity, colors used, and details. The one thing for sure is that a talented artist is worth every bit of their talent and time when designing an adventure sticker that connects with you and tells your story.
Where Can I Get Adventure Stickers?
The best place to get Adventure Stickers is from people who have their own designs. RV'ers, skoolie peeps, and van lifers love to trade and collect adventure stickers from one another.
Look on the back of most RVs and custom van conversions and you will see and witness a mosaic of adventure stickers signifying where they have adventured, who they have come across, and places they have been. Walk into just about every skoolie there is and you will see a collection of skoolie decals anywhere from refrigerators, front cab panels, and ceilings.
Finding an artist who will design your very own custom adventure sticker should not be too difficult. Finding a talented artist with exceptional skills who has been doing it for years may be a little more challenging.
Nat Silver is an artist in the nomad community that has been designing RV, skoolie, van life, and all other types of tiny house and nomadic vehicles for years now. Her attention to detail, and ability to capture the essence and personalities of the individuals who commission her to create their artwork is unrivaled.
You can find and contact Nat Silver through her website, NatSilver, her Facebook Group Page or leave a comment at the end of this post if you would like more information on her making an adventure sticker for you.
Final Thoughts On Adventure Stickers
For anyone who loves adventure, there's nothing better than hitting the open road in an RV, camper, or skoolie. And what better way to show your love of adventure than with some cool adventure stickers?
Whether you're looking to add some personality to your RV, camper, or skoolie, or just want to show off your adventurous side, adventure stickers are the perfect way to do it. From fun and funky designs to more classic and understated styles, there's an adventure sticker out there for everyone.
So whether you're a seasoned RVer, camper, or skoolie owner, or are just getting started on your adventure-filled journey, be sure to pick up some adventure stickers for your ride.
The Adventure sticker is indeed the travelers calling card these days. It doesn't matter if you are in a motorhome, RV, skoolie, van, or any other type of camping, and adventuring vehicle, having your very own custom adventure sticker is a must.
The key phrase here is a custom-designed adventure sticker. The art is specifically created for you and your rig. Your personality, your rig, and your color scheme.
Nat Silver is an artist who has been creating decals, branding, and illustrations for over 40 years. Her style, skills, and introspective talents allow her to not only create a custom adventure sticker, but also allows her to create an individualized and custom piece of art that represents her clients' travels, rig, and adventures.
What kind of adventure stickers do you have in mind for your rig?