Hi, my name is Sandy! 
If you see me on the road, I'll always have room for another friend in my life!
I love my bus so much that I'm always willing to give a tour and be your inspiration.
So let's go traveling! The road is calling!
How did you get into bus life?

I already owned a tiny house and needed something with wheels to get away! I love vacations so my next adventure plans are to vacation/travel full time.
Seems to be working out so far!
Where did you find your bus:
Southern Indiana
Why did you choose this bus?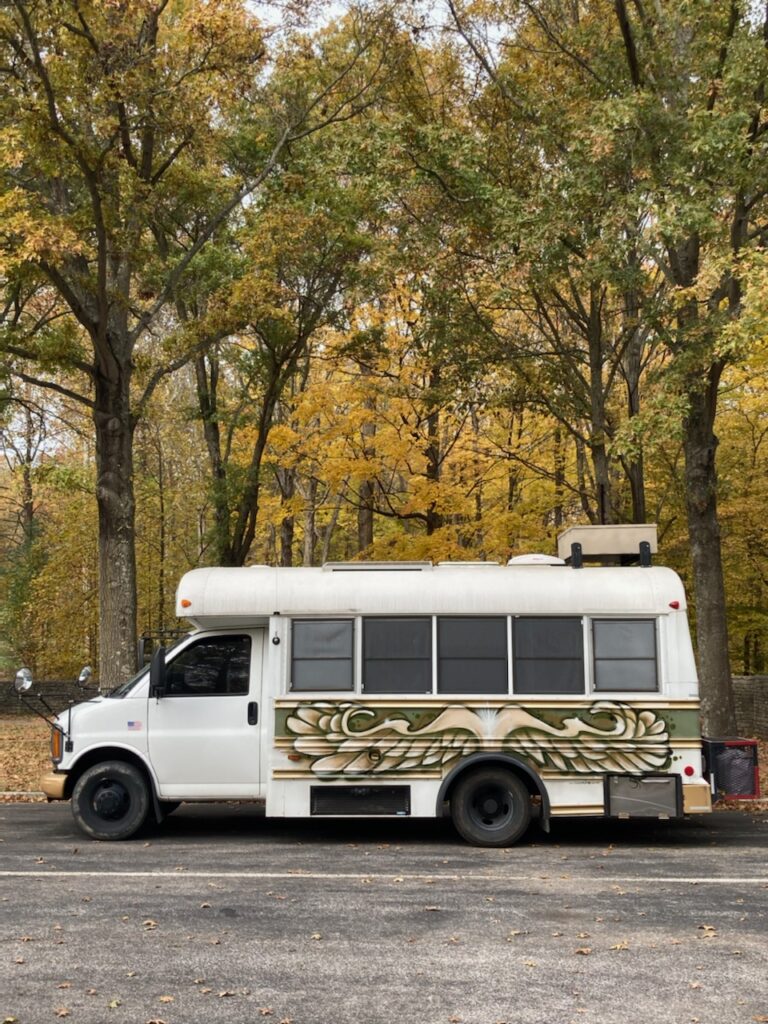 My skoolie is short and comfy to drive. I went from a Prius to a short bus and felt it was manageable enough as a solo traveler. So I made the offer while test driving and negotiated with them to bring it to me the next day. 
I was so excited and all I've talked about since is my skoolie!🤣
How was the conversion process?
Took 3 years, but I was not planning to travel until then.
With a lot of struggles along the way and after a new engine we were road-ready.
I sold my business and hit the road in July 2021. With no regrets and meeting some wonderful and positive like-minded people along the way!

What is it like to live/travel on the bus?
Awesome! I like being outside and you just don't see much from inside the house on a couch. Sometimes I like to be with groups and other times I like to be by myself in the woods alone. It's like resetting and rejuvenating. 
I can talk to just about anyone so I never get lonely. Yet! I have an even balance between woods and public.
Besides, my family, friends, and support groups are always a phone call away.

What do you like most and least about living in a bus?
I enjoy living out of my bus for so many reasons;
It may seem small, but one of the reasons I love living on my bus is loading groceries from the store to the fridge.
It's the simple things that make me happy. I always knew it doesn't take much in a day's time to survive. Absolutely no drama here.
A nice fire, a good book, deer walking through the camp, I love it all.
Can't say I dislike anything except big cities, low bridges, busy traffic, and fuel prices.
What is something you would like to tell people looking to get into this life?
Just do it!
Buy something you feel you can live in/travel to fit your comfort needs and just try it. Chances are: you'll love it too!
Sleep is important so make sure to keep that in mind.
Where can we follow you? Please include your website, social media channels for us to share your story and link back to you!

Facebook: Command Post Skoolie Art and Adventures
TikTok: command_post_skoolie
Instagram: commandpostskoolie
Give Sandy a follow on her Social Media channels and feel free to reach out and say hello to her!

Thank you Sandy for being a part of this Skoolie Community!