Our Next Skoolie Build Will Be Our Best Skoolie!
It's no secret! We are building another DIY skoolie project! This time though our next skoolie build will be much different than our first skoolie build.
We'd like to think that we have learned a thing or two. Not only about the design and construction itself, but about living skoolie life and traveling.
We never imagined we would build another skoolie, much less, be this excited about it. We are stoked about this new build and can't wait to share everything we do with you all!
Our Youtube page is getting revived to document not only the build but the adventures to come once we start traveling in it. It's been some time since we published a Whiskey Wayback Wednesday.
For those who remember those episodes, we are sorry. LOL For those who never saw one of them, you are welcome! 😉
Why Will Our Next Skoolie Build Be Much Different?
As we said, we learned a thing or two after building, living, and traveling in our first skoolie, Caroline.
There are quite a few things we wish we had done differently, but alas, sometimes you don't discover those things until you are a few months and a few thousand miles down the road.
Our next skoolie will be different no doubt, and the changes are going to make it so much better for us!
You can read about some of the things we did not particularly like about our first skoolie build here. 7 Things I Hate About Our Skoolie.
Are There Things From Our First Build We Want To Keep?
Sweet Caroline! 🎵 Good times never felt so good….🎵. We loved our skoolie bus, Caroline! She was a great bus! She was a beautiful bus!
They say your first is always special and you'll never forget her. We will never forget Caroline, our bus either.
There were some very good things about that bus build that we loved. There will be parts of our next skoolie that will be different. But some things of ou next skoolie will be the same.
The main thing we will not only be duplicating but improving on is our Tiny Starry Ceiling! It is absolutely beautiful in the daytime.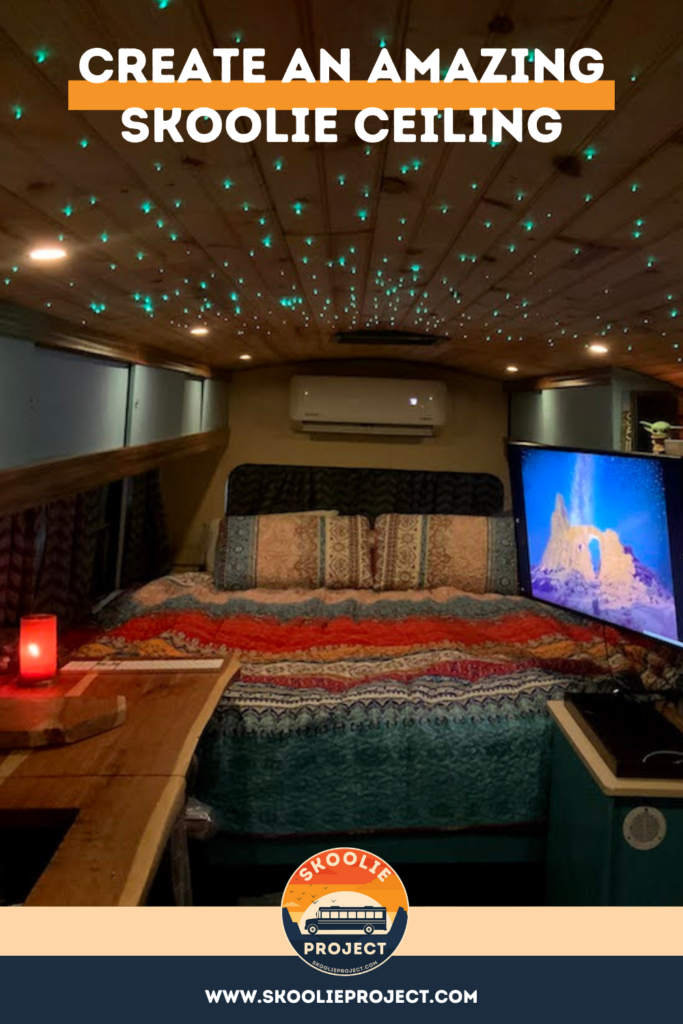 At night, it is epically insane! We can't imagine having a skoolie without our thousand points of light in a fiber optic Starry Starry Night Ceiling!
Going to Keep it A Thomas
We are definitely going to build another Thomas. In fact, we already have the bus picked out. It is a Thomas C2. It has 7 windows and boasts a handicap wheelchair lift.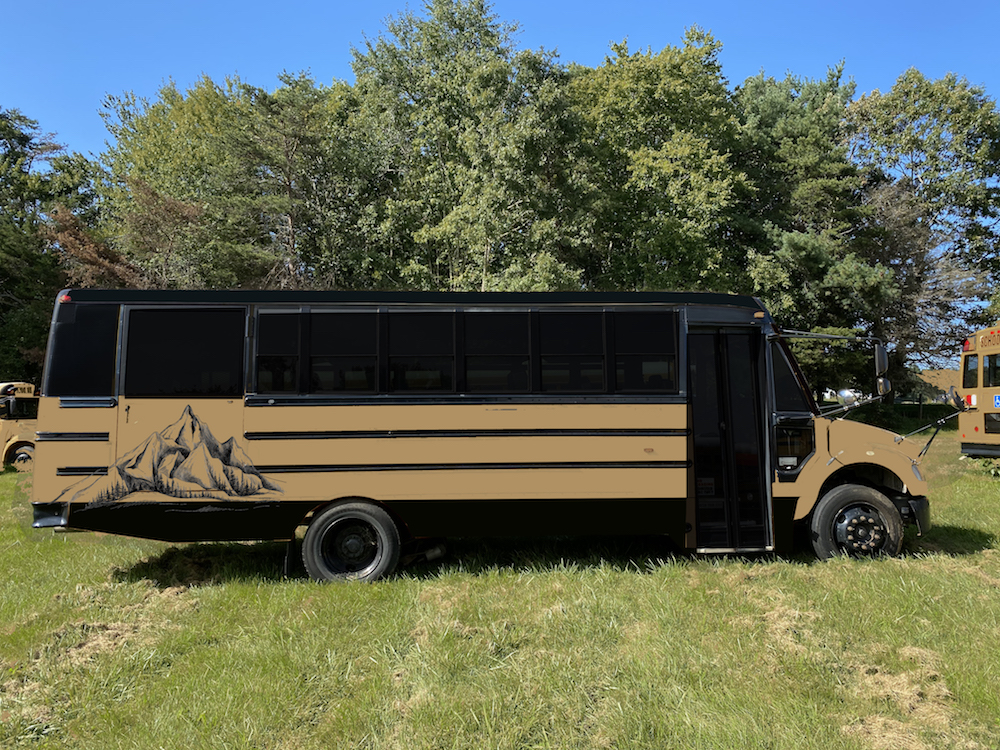 For our next skoolie build, we specifically chose this bus because, of course, it is a Thomas, but the length is just right for us. Not too long and not too short. Just right.

Our next skoolie build must have air-ride rear suspension, in-dash air conditioning, and no wheel wells. Besides, it just looks damn good!
Same Engine – Mercedes MBE 906
The Mercedes-Detroit MBE 900 series engine is both a beast of an engine and a purring little kitty cat at the same time. We drove our last MBE 906 all over the country.
Up mountains, and down mountains. Through the desert and across the Mighty Mississippi. It never let us down and performed like a champion. Besides, we love the way it sounds too!
With that being said, our next skoolie build must have the MBE 900 series motor with the Allison transmission!
What Are Some Improvements From Our First Skloolie Build?
We are well into the planning and design stage of our next skoolie build. The more we plan and design, the more excited we are getting. We know this is going to be an epic build for us.
We are really excited about sharing it with all of you. Let's jump right in and talk about how our next skoolie build will be different.
Better Window Insulation Inserts
For our first skoolie build, we knew we would be losing a lot of heat and cool air through the windows. We did make, what we thought, some good window inserts made out of reflectix.
For our next skoolie build, we are going to be using Thinsulate instead of reflectix.

Reflectix has a .01 insulation R-Value. Thinsulate has an R-Value of 3.1. That is a significant increase in window insulation.
Admittedly, putting up and taking down window insulation inserts is a pain in the ass (also, you have to store them somewhere once you take them down) we are not 100% dedicated to using inserts on our next skoolie build. We just haven't come up with a solution to replace them with yet.
Better Bathroom
Our bathroom in Caroline was very basic. A self-made composting toilet with a urine diverter to our grey tank. A pull-out shower from underneath our couch.
They both worked fine, but we were never truly happy with either. This time around, for our next skoolie build, the bathroom will be different.
This time, we are going to have a dedicated built-in shower and bathroom of its own. We are going to dedicate a full 26.25 square feet to the bathroom by itself. That's pretty generous considering our skoolie is only around 150 square feet in total area.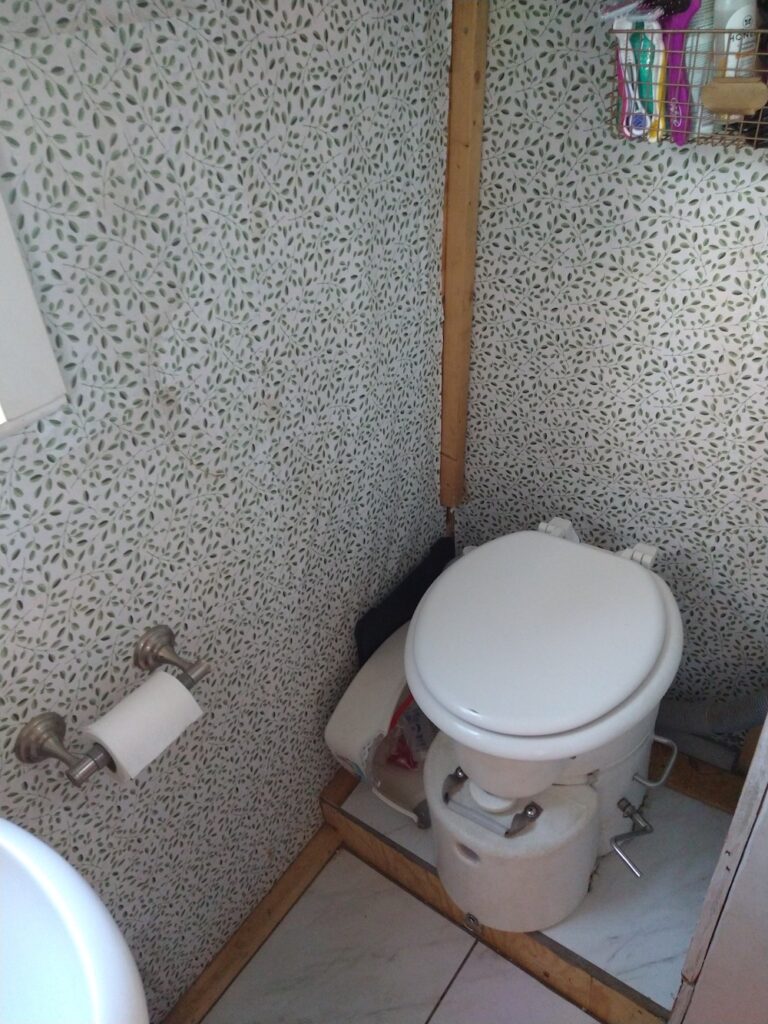 We are excited about our next skoolie build, especially for the bathroom and shower! We can't wait to share pics with all of you.
Our Skoolie Build Will Be Lighter
Our last build was heavy! Too heavy. We had so much storage space. (and we filled it up too) While we were building her, we "overbuilt" all over the place.

If a particular part of the build required two brackets, we used four. If we needed one screw, we would use three.
We may not have had any experience building something like this, but by golly, we damn well knew it wasn't going to come apart after we built it! For our next skoolie build we are going to use lighter materials, fewer materials, and not carry around so much of our "stuff".
OUr Next Skoolie Build Will Have Two Different Kinds of Ceiling
We installed pine tongue and groove into Caroline with over 400 points of fiber optic lights in our Tiny Starry Ceiling.

This time, we are going to keep half of the ceiling metal, and the other half will be cedar tongue and groove with at least 1,000 points of tiny starry ceiling lights in a magnificent galaxy-forming design.

We can't wait to fall asleep under the stars on our next bus!
Passenger Chair for The Co-Pilot
This is another big deal for us. One of the things we hated most about our first build was that we did not travel together. Sitting side-by-side is important for us.
We actually like spending time together. That's what best friends do. Traveling down the road, seeing things, sharing each other's thoughts, and listening and singing to music make traveling bearable.
For this build, we are installing a passenger seat right next to the driver's seat.
Dog Nose vs Flat Nose
We thought a flat-nose diesel pusher was the way to go for our first skoolie project. In hindsight, we suppose it was. It allowed us to experience that type of drive with that type of bus.
Now, we know that is not the type of bus for us. We are as excited about living and traveling in a dog nose skoolie now as much as we were glad we didn't have one on the first build.
That probably has a lot to do with the style of the Thomas C2. It's a damn good-looking front end. We love the windshield most of all. One piece of glass, and is sloped like a car windshield.
For our next skoolie build, that bus is going to look damn good when we are through with it.
Solar! Lots of Solar
We took some poor advice on our first skoolie build. Solar was a thing, but as we have mentioned before, there weren't a ton of skoolies out and about when we built our first one.
We had a friend who did the electrical for his daughter's bus. His advice to us was electrical in this order.
1. Shore Power
2. Generator
3. Solar
Mind you, he was an RV guy. So his advice was sound for those who would be RV campsite hopping.
Our next skoolie build will be different though. For this next build, we are going to prioritize our power and electricity as follows;
1. Solar
2. DC to DC for our solar batteries
3. Generator (to charge our solar batteries)
4. Shore Power (to charge our solar batteries)

We learned a very valuable lesson by not having solar on our bus and having solar in our DIY Sprinter.

Going without solar as a full-time nomad is like going fishing without lures. It's possible, but it is going to be difficult and frustrating.
We are excited about our next skoolie build. Yes, our next skoolie build will be different, because it is going to be better!
Wrap-Up To Our Next Skoolie Build Will Be Different
We loved living on our bus, Caroline. This next time around, not only are we going to love living in our skoolie, but we are going to love and look forward to traveling in her as well.
Yes, our next skoolie will be different. It will be different in so many magnificent ways. We are figuratively biting at the chomp to get this build underway.

We know that the secret to a successful skoolie build is being patient and following the steps to get it done right.
What do you think about the changes we have planned for our next skoolie project?
Leave us a comment below! We look forward to connecting with you!