We Are Buying A Skoolie, Again!
We Are Buying Another Skoolie
Oh my gosh! We can't believe it, but we really are buying a skoolie! This will be the second bus we have purchased. We never imagined buying a skoolie again would ever happen after we sold our last one.

This is so far out from the left field, but we really can't contain the excitement and eagerness to get the bus started!
You see, we had a skoolie and lived and traveled in it full time for a little over a year. Our bus was awesome! We had so much fun doing the conversion ourselves.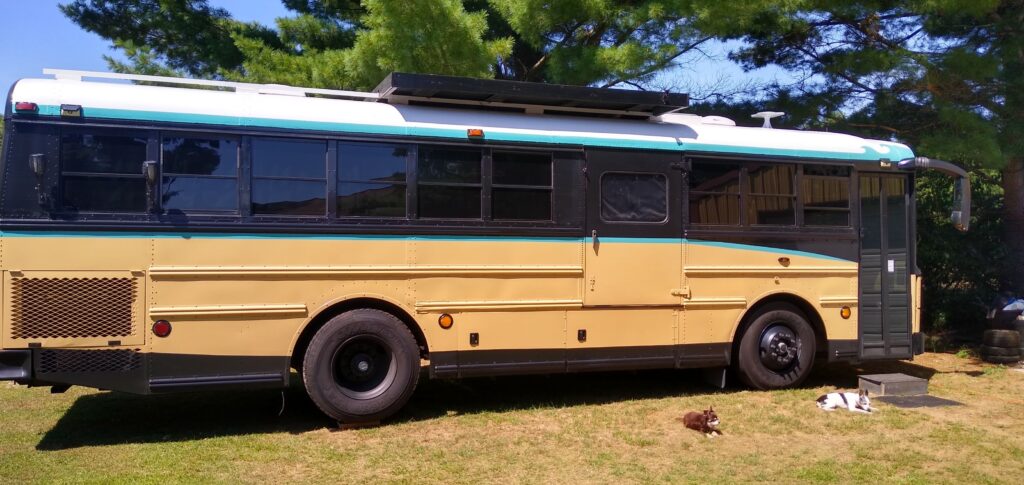 We had some great and unforgettable times living and traveling in her with our two pups, Bandit and Kona.

Great memories of taking her to Skoolie Swarms, Know-How Expos, Tiny House Festivals. Truly some great and memorable times.

But, alas, all good things….(Star Trek TNG reference)
I digress, all of this to say, we are in utter shock and excitement to be buying and building our second skoolie.

We had decided our next build was going to be a box truck on a van chassis. If it weren't for that damn mid-size skoolie at the Homestead in Jesup, Georgia, we'd still be searching and planning on a box truck build.
Well, we couldn't be happier about the change of direction or to quote a good friend of ours in Colorado, a plot twist! Perhaps one day we will do a box truck conversion, but right now, all of our focus is on building out Skoolie number two!
We Used To Have a Skoolie
We have missed our bus since we sold her back on Thanksgiving Day in 2020. The moment was so surreal watching our Caroline drive away down that dirt road in Southern Colorado. At the same time though, we were so incredibly excited about what would lay ahead for us in our nomadic journey.
Go back a couple of years to the day we found the bus we wanted! She was a 2004 Thomas HDX Safe T Liner. A diesel pusher coupled with a Mercedes Detroit MBE906 engine and an Allison MD3060 6 speed automatic transmission.
She looked sexy and sounded even sexier! We were living in Satellite Beach, Florida. Our bus was in upstate Virginia. That meant a long drive to just go look at something we weren't 100% sure we would be driving home.
Besides, what the hell did we know about diesel engines or school buses for that matter?
We did have an ace in our pocket though. One of my cousins was about as much of a "diesel head" as we knew. He agreed to drive up to Virginia with us from his home in North Carolina to give the bus a look over and let us know if it would be a good purchase for us.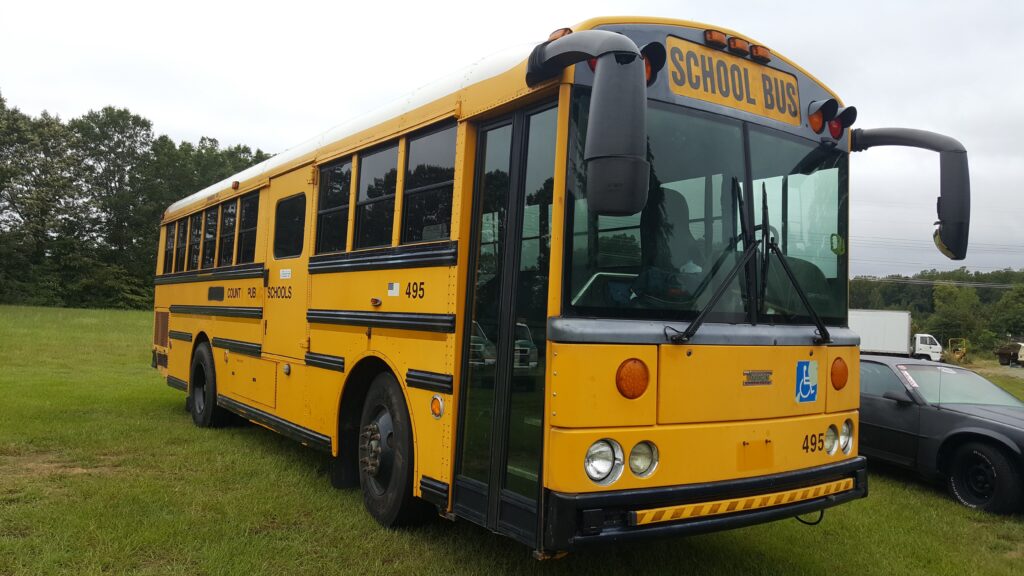 Not a bad compromise for a few packs of Marlboros and a few dozen Mountain Dews.
By the way, if you aren't that familiar with the different types of skoolies, you can read this blog post that will tell you all about the differences. Types of Skoolies.
We Demo'd Our Skoolie In Only Four Days

We went, and a long story short, we drove that bus back to my cousin's farm in North Carolina and gutted it during Hurricane Florence. In just four days, we had the seat, wheelchair lift, ceiling, walls, and floor out of that bus!
After the hurricane subsided, we drive back home to Satellite Beach and started a build process that took us about a year.
We Built a Van
No need to wait long to transition from a skoolie to a van.  We had been scoping vans out as soon as we decided to sell our bus, Caroline.  It had been narrowed down to a Mercedes Sprinter passenger van with a 170 wheelbase just outside of Chicago, Illinois, and a cargo Sprinter in Kansas City, Missouri.  
The Kansas van was a 144 wheelbase. A couple of feet shorter, and also about $6,000 less in price too.
Both vans were black, which is something we both specifically wanted in our van. We really liked the passenger van in Illinois, but there was just something about the guy selling it that didn't sit right with either of us.
Both of our guts were telling us to walk away. Don't you love it when our discernment is so strong that it is like it is screaming for you to listen? Fortunately, more times than not, we both listen and yield to our 6th sense.
We decided that even though the cargo Sprinter was a shorter wheelbase, it was the better deal for us. So, the day after our skoolie, sweet Caroline, drive away, we were in our car and headed East from Southern Colorado to pick up our soon-to-be DIY van conversion.
It was a long drive across eastern Colorado and ALL of Kansas. My God! What the hell Kansas? We can't decide which is a more hypnotic and boring-ass drive, Nebraska or Kansas?
We took our time getting there and checking out the van.  It looked great and it drove great!  We were in love immediately!  Making the cash for title exchange with the owners and we were on our home back to Colorado.
We had to make a quick stop at Culver's for some food but then headed back west. The drive back to Colorado was a bit less boring, but that is because those damn Kansas winds kept trying to blow us off the highway.
It was an intense drive, but the van drove like a champ and we knew we were going to love traveling full time in a van conversion!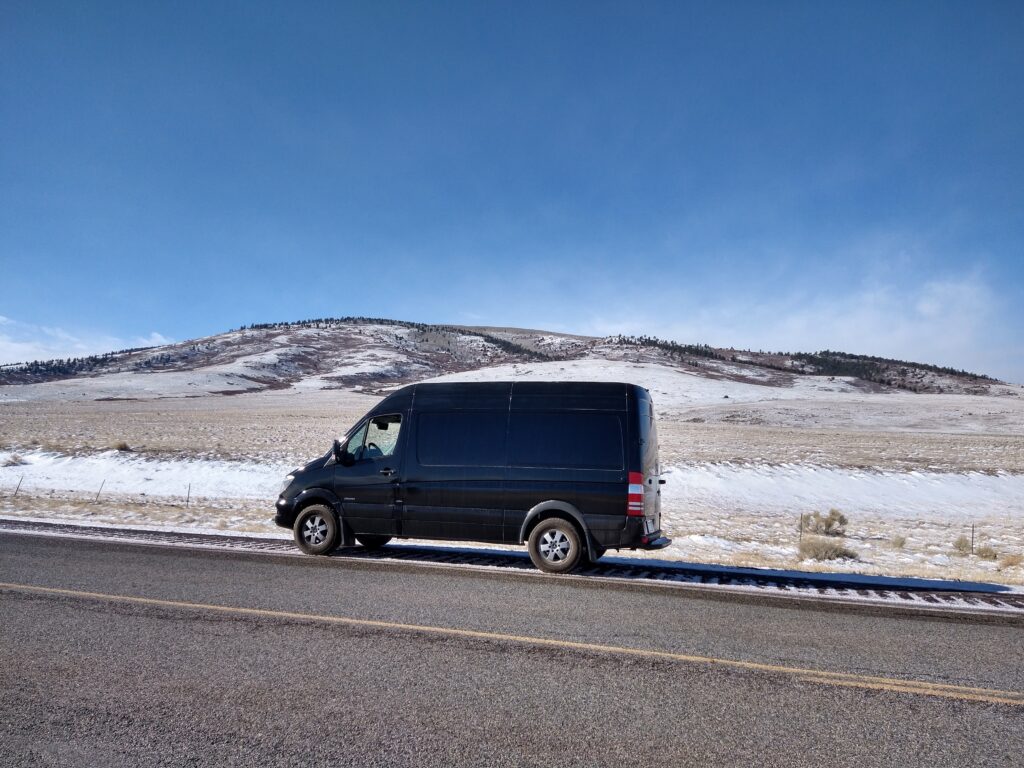 We have absolutely loved traveling, exploring, and adventuring in this van! She has been great! We are as in love with the results of our build as when we first left Florida headed to Michigan for the Skoolie U.P. event.
Making the transition from living in a 32-foot bus to a 19-foot van was the hardest adjustment for us. We knew and had prepared ourselves as well as possible about the reduction in living space.
If you are considering a van, just know, it really is small. In fact, it is small enough that after less than a year of living and traveling full time in her, we have decided to sell the van and build something out a little bigger.
Why Are We Buying A Skoolie Again?
If there is one thing about Van Life we both love and appreciate more than anything, it would be traveling full time in a DIY converted van.

Driving is as easy as driving a car.
Parking is as easy as parking a car.
Being stealthy, especially with the way we painted the exterior of our van, has been like being a Ninja van at night. Our van almost disappears after dark.
Fuel costs have been just like driving a car. We have averaged 19 – 22 miles per gallon over close to 10,000 miles we've traveled since July of 2020.
As awesome as having a van to travel full time in, there were several things about it we were not as excited about as well.
First and foremost, we were living in a very small space. Most of the time we spend outside of the van, but when we do both need to be inside, it gets a little cramped.
Imagine it raining hard….snowing….night time….being very, very cold outside. We both want to stay dry and warm in the van. Well, we have to suck it in and break out the Kama Sutra manual to move around in this van at the same time.
I'm not going to even go into the costs of maintenance and repairs on a 2014 Mercedes engine, but, a Mercedes engine in a skoolie is not going to be that much less expensive.
Temptation Is A Delicacy Served Best Hungry
We have been hanging out with some friends in Georgia at the Skoolie Homestead Community while waiting for our appointment at the Mercedes Service Center in Savanah for a repair we need.
Our van needs some repairs completed for the DEF system that only the Mercedes dealer can accommodate. We are not the only van here, but the skoolies definitely greatly outnumber us.
This is a great place to park and build your skoolie. Brett and Renee have opened up their land for very reasonable prices to allow others to build their bus right here.
Well, parked right behind us is mid to short Thomas skoolie waiting to be built. It is a client of Brett and Renee's and the owner is keeping the bus here until it is scheduled for conversion.

First of all, it is a Thomas. We are partial to Thomas busses because we know how well built they are and most of them have screws instead of rivets. (This makes demo soooo much easier)
So, this cute little bus so innocently sitting behind our van keeps calling to us. It is a 7 window bus with a handicapped wheelchair door on the right side.
The length is about as perfect for us as it gets. The overall length of the bus is only about 28 – 29 feet from bumper to bumper. Our van, which we currently live and travel in is only 19 feet bumper to bumper.
We must mention also, our van is only about 6 feet wide too, and that is with the FlareSpace flares we installed to give us more sleeping room.
Most skoolie buses are a very liberal 90 inches wide. To put that into perspective, we could fit a king-sized mattress in the bus with room to boot on each side. We barely fit a queen-size mattress long way in the van.
The Shift Occurs – We Are Buying A Skoolie
It was like one second we were set on building out a box truck on a Ford Transit van chassis and the very next second, we were going to buy another school bus and convert it into a skoolie!
We really did shift that quickly. All we could do was keep looking at each other and saying, "We are buying a skoolie!"
We both looked at each other and said, "Holy Hell, we are buying a skoolie again!"
The size bus we are wanting is not that much longer in length than a box truck. The width amongst the two are pretty much the same as well.
The thing we love so much about a van conversion or a box truck conversion on a van chassis is that we can still drive and travel sitting next to one another. The easiness of the driving experience and the relatively low profile size of a van chassis.
The more we kept looking at and considering a skoolie of about 25 feet long though, with the lots of extra room to live in, we were falling deeper and deeper in love with a skoolie of this size.
We knew what kind of bus we would enjoy building, living, and traveling in, now, we just had to find the doggone thing!


The New Bus Search Begins
Everyone who has ever purchased a bus, and those of you currently searching for a bus, knows that the search is the hardest part about converting a school bus into a tiny house on wheels.
There is no national database for retired school busses. It is a hunt and peck, looking for a unicorn, needle in the haystack, Milky Way Galaxy of stars kind of process.
There are surplus government auction sites out the wazoo. Facebook Market Place is becoming a popular source for school busses. Then, there are the bus and truck dealerships. Their prices are heavily inflated and you still can not be sure you are getting a quality bus from them.
Searching for a specific kind of bus can be both exciting and stressful. You just have to start looking, Googling, and sending out positive vibes that your ideal bus will manifest itself to you.
We Found Our Bus
Credit goes where credit is deserved, Nat and her mad internet and search skills located a bus, lightning-fast, and the bus she found, quickly caught our attention. Buying a skoolie like this one just gives us that "giddy" feeling all over!
She found us a Thomas, 7 window handicap bus with an MBE 906 engine. The same engine as our Caroline, but this one is a dog-nose skoolie. We knew we wanted a dog-nose front end this time. Neither of us really enjoyed or felt 100% comfortable and confident driving the flat nose diesel pusher.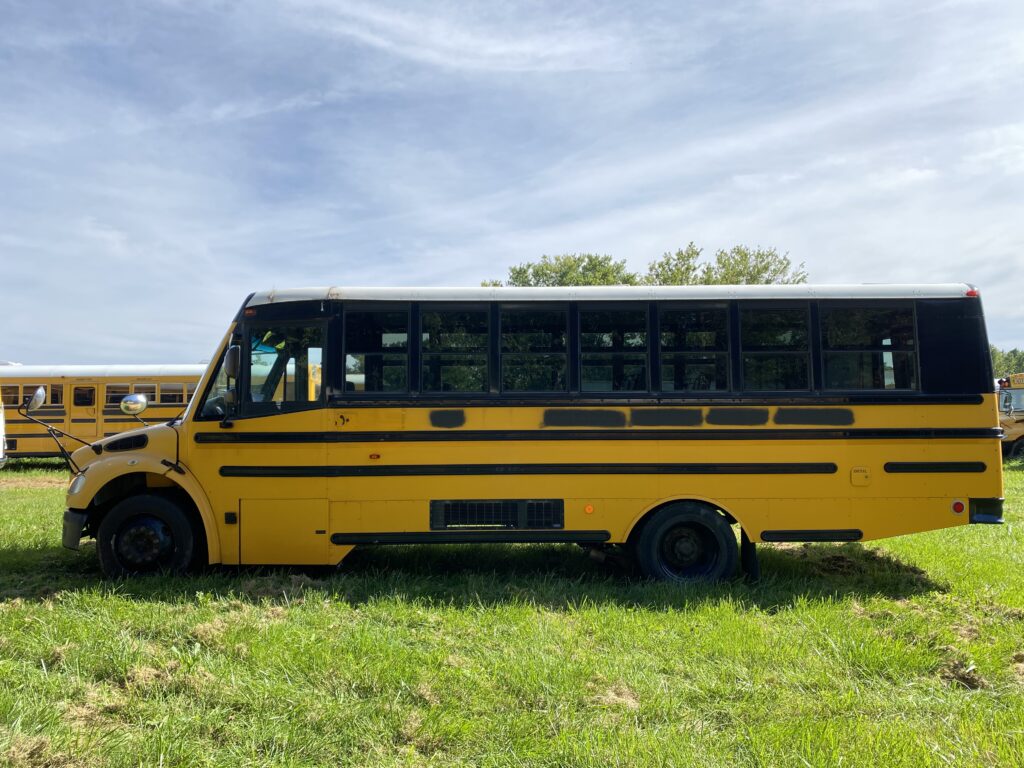 Everything about the look and feel of this bus is a win for us! The overall look, feel and length is just right! We want a dog-nose for this build and man do we love the look of the front end!
A nice low "swoop" to the dog nose. Sexy LED headlights and a solid curved big-ass windshield. The mileage is about 30,000 miles less than our previous bus.
This skoolie hits all of the marks we are looking for in a skoolie conversion for us.
By the way, if you are not familiar with the different styles of school busses such as Dog-nose, diesel pusher, front-engine, etc… Give this blog post a read and it will explain it all.
This new bus has relatively low miles for a big diesel engine. Good tires, air ride suspension, and a very clean inside. Did you notice that we just mentioned it has an air-ride suspension? Underneath her is super clean and no signs of rust to be concerned about.

She is a beauty and we have instantly fallen in love with her. Our creative conversion juices are flowing like the Nile River! We are already trying to figure out floor plans and color schemes for the exterior paint.
We have looked and talked about the pictures hundreds of times in the last few days now.  The owner took some video for us multiple times.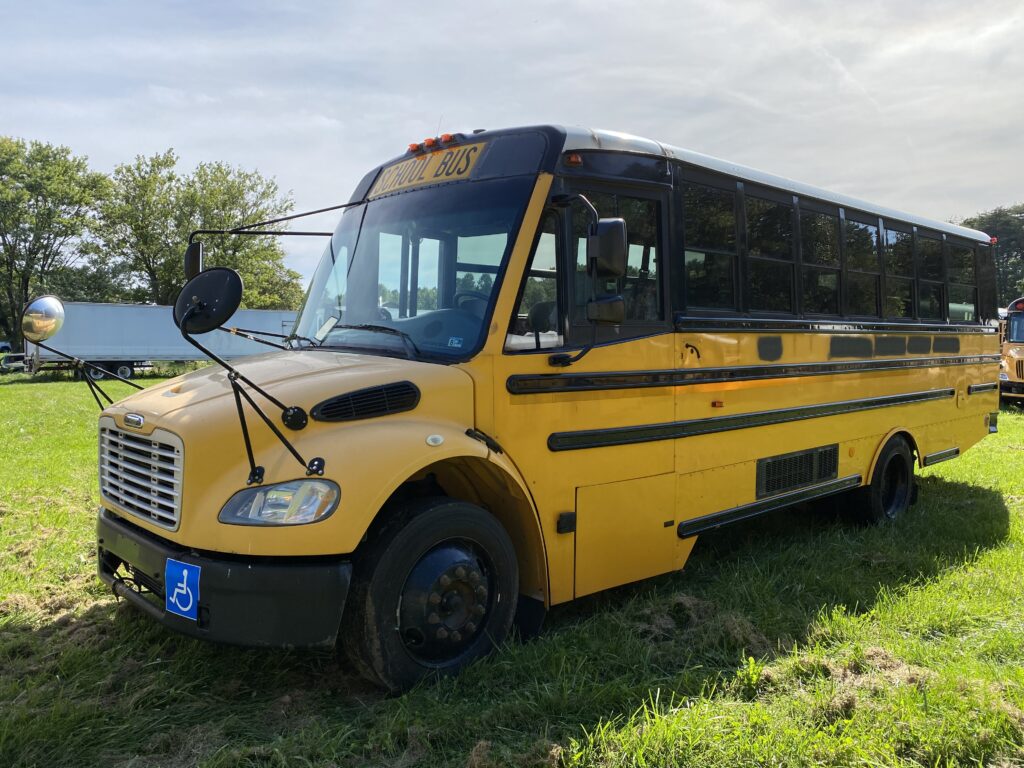 We have completely envisioned this build and what our lives would look like traveling and living in her.  Loving what we can see and we are ready to move things along!
We Are Buying A Skoolie – What Is Next? Stay Tuned….
Well, we have to sell our van before we can go buy her. We are putting a deposit on her to hold her for us though. We are not going to let this one getaway! This is going to be the bus we convert and continue to travel in full time!

Once our van sells, then we will fly to where she is located, drive our new bus back to Georgia where we will do the demo. Once she is demo'd, which means we have removed all of the seats, wheelchair lift, walls, and ceiling, we will insulate her.
Then we can build a solar and deck rack on the roof. Layout and build and install a solar system so we can be self-sufficient with power. By the way, we are so psyched about having a large deck on top again!

We built a deck on our van, but we really haven't taken advantage of it so far. I know….shame on us!
We will then build a bed and a few other basic needs before heading to either the Skoolie Swarm down in Florida or out west for the remainder of Winter.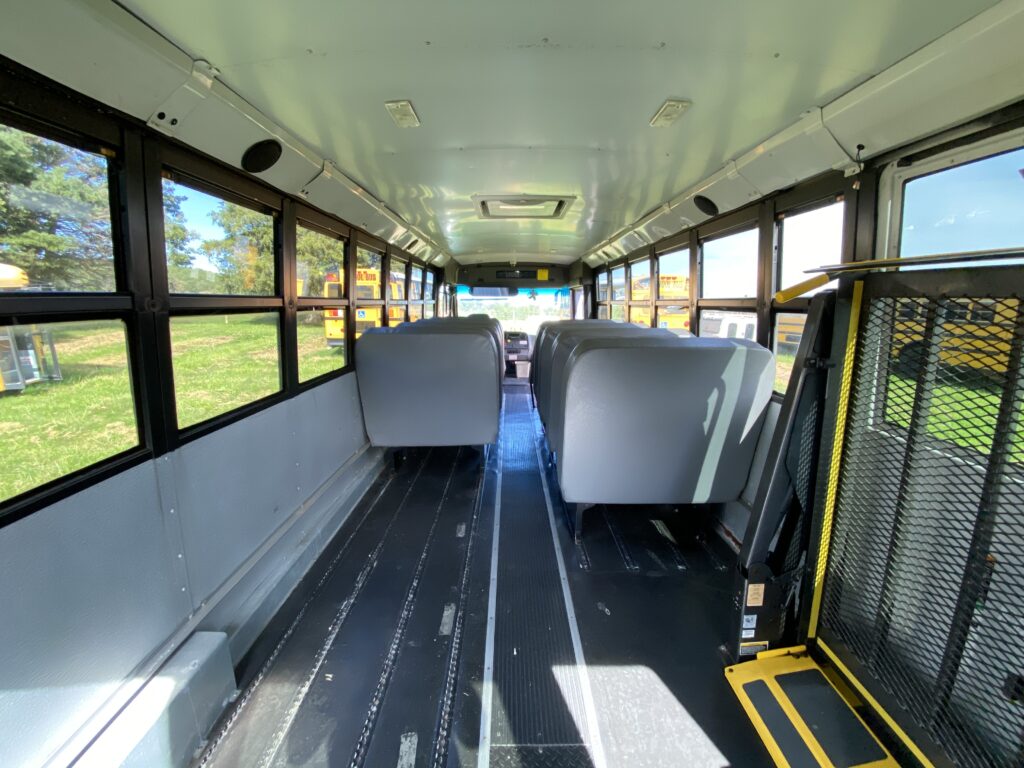 For this build, we are going to document it on YouTube from start to finish! That is something we wanted to do with our first build but never got around to uploading the tons of video we took, and still have mind you.

We look forward to teaching others how easy and possible it is to escape the monotony and rat race of living a 9-5 existence in a house or apartment.
We are excited to be buying a skoolie again! Stay tuned folks…this is going to be a fun ride!
Don and Nat