The Best Portable Kayak For A Skoolie
Having the ability and option of putting your kayak in the water where you are camping is one of the ultimate benefits of having a portable kayak for a skoolie.
There are so many places to camp that have some epic hiking trails across America. Few people ever mention the cool, crystal clear, calm waters that are right along those hiking trails.
Spending a few hours on the water paddling, exploring, or even fishing from your kayak is an experience we could attempt to describe for you, but you just have to experience it yourself.
We aren't talking about racing down the Colorado River in some class 3 white water. We are talking about the glassy, silky waters of the Indian River Lagoon or Fallen Leaf Lake in Lake Tahoe.
Waters that are as clear as the air and as refreshing as a cool glass of iced tea.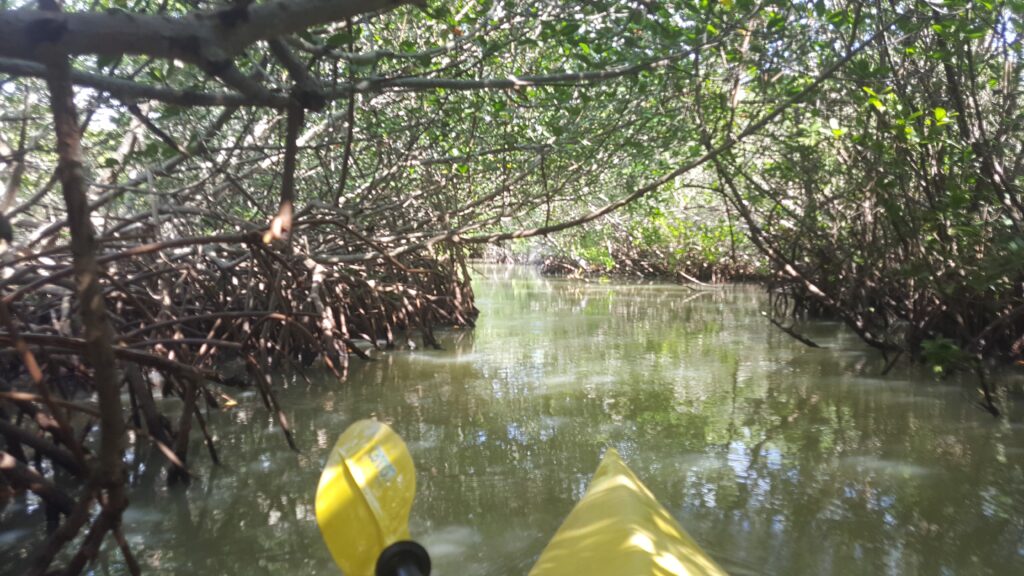 There aren't too many experiences we love more while living and traveling in our school bus than experiencing some new waters in our portable kayaks.
What Is A Portable Kayak?
We suppose we should get to the basics when talking about a portable kayak for a skoolie. A portable kayak is a kayak that either inflates, folds or breaks apart into multiple pieces that allow you to transport and store in small spaces.
Unlike a traditional kayak, whether it is a sit-on-top or "sit-in" kayak, that has to be stored on top of your skoolie roof or somehow attached to the side or rear of your skoolie.  
A portable kayak can fit in a space as small as 15 inches by 48 inches. Considering most kayaks, even portable kayaks are at least 10 feet long and 2 feet wide when put together, that is a small space for storage.
There are basically three types of portable kayaks. Each one has its own pros and cons as to which one is best. It really boils down to which one is best for you and your adventures.
The three types of portable kayaks we are going to talk about today are the
Inflatable Kayak
Foldable Kayak
Snap Kayak
Each type of portable kayak is good for different types of kayaking experiences.
Why A Portable Kayak For A Skoolie?
Why would someone want to purchase a portable kayak for a skoolie?  Great question and we have some great answers.
Besides all of the fun and adventure that goes along with a portable kayak, there is the health factor. It is a great way to get some exercise while having fun! Want to learn more about how to Stay Fit and Healthy in A Skoolie? Click the link and learn more!
A portable kayak eliminates the need to lift and secure a traditional kayak to the roof of your bus.  Once you get it up there and strap it down, then you have to get up there and get it down the next time you want to paddle.
Besides the pain in the rump to get it on top of your skoolie roof, there is the space it takes up.

It reduces your solar panel footprint. It also takes up valuable deck space if you have decided to build a deck.
You can take it down or move it off of the deck, but you will have to do that every time you want to sit on your deck and enjoy a cup of coffee or an adult beverage.
A portable kayak for a skoolie eliminates all of that mess. 

The portable kayak can fit under your sofa, bed, or counter or fit easily and compactly in the garage section of your bus.  Whether that is in the rear or underbelly storage, it takes up very little space.
We all know that storage space rules when it comes to our skoolies. Having the ability and convenience of having a reliable and functional kayak to play in the water once in a while is a great luxury.
We are going to take a deeper look at each style and you can determine which one is best for you and your skoolie adventures.
Inflatable Kayak
An inflatable kayak is exactly what the name implies. Think of it as an adult inflatable. This isn't your backyard pool toy inflatable kayak. An inflatable kayak is designed and made to withstand most kayaking venues.
The exterior is made of special materials. There are three primary types of materials used for inflatable kayaks.
PVC
CSM (Chlorosulfonated Polyethylene Rubber)
Nitrylon
Nitrylon uses natural rubber and nitrile synthetic rubber and fuses or laminates the two together to create a very strong and almost puncture-proof material.

It is stronger and more durable than PVC inflatable kayaks and comparable to CSM inflatable kayaks.
REI has lots of inflatable kayaks. Of course, you can find much more online with a quick search.
A mid-grade quality inflatable kayak will cost you somewhere in the neighborhood of $500 to $800.
The price may seem a little high compared to a traditional kayak you can purchase at your local sports outlet, but you are paying for the convenience and portability of the kayak.
An inflatable kayak for a single paddler will weigh around 30 lbs. It reduces in size when deflated to about the size of a laundry bag.
Pros & Cons of an Inflatable Kayak
For us, the biggest "Pro" or benefit of an inflatable kayak is the easy storage and portability. If your launch point is a mile from your car, then carrying on your back is a simple task.
You can easily store a 10+ foot kayak in the trunk of your compact car.
The biggest "con" is that you have to allow them to completely dry before deflating and folding them back up. This can take some time depending on the relative humidity and cloud cover.
Pros
Portable
Lightweight
Durable skin for various venues
Easy to carry distances to water
Can be used for fishing
Comes in single and tandem sizes
Cons
Relatively expensive
Hard to steer in strong winds & strong currents
Requires thorough drying.
Material can stain from dark dirt or mud
Foldable Kayak
If you are looking for a more traditional style and feel portable kayak for a skoolie, but you do not have room to store one, then a foldable kayak may be a good option for you.
A foldable kayak sometimes referred to as an origami kayak, are very lightweight kayaks that unfold from a compact package into a full-size kayak.  
The kayaks are made with seams that fold and unfold and are secured with buckles and straps to hold them into place.
The market is not yet saturated with folding kayaks with only a couple of major suppliers. Both major brands are U.S. companies that are made and assembled in the United States.
Oru
Oru is one of the manufacturers of the foldable kayak. Based out of California, Oru is all about the outdoor experience.
The thing we like so much about Oru is they offer several different styles of kayaks for different water venues and conditions. Can accommodate a person up to 400lbs for a single and 500lbs for a tandem
They also offer packages for long trips such as overnight or weekend camping paddles. These packages cost in excess of $2,000.
Seems a bit pricey, but you are getting a compact, portable, and easy-to-store and carry a kayak.
Tucktec
Tucktec is a South Carolina-based company that offers foldable kayaks at a very reasonable price. The company offers one style of kayak to keep things simple and it costs $350 for a single.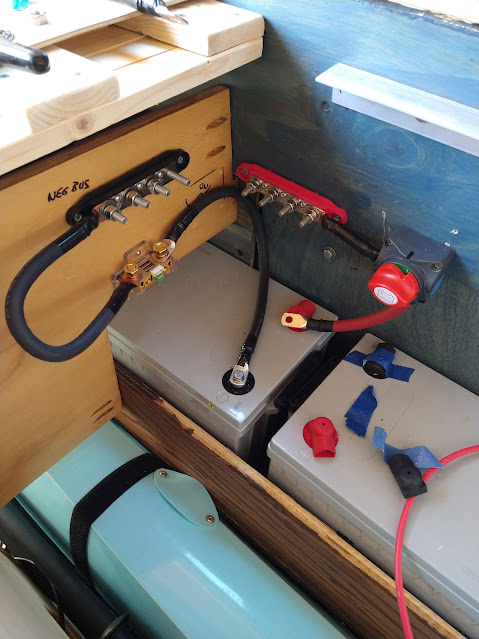 The Tucktec is a portable kayak that folds into a compact 15 inches by 48-inch tube. It is very easy to store and takes up very little space.
They often run specials for purchasing two or three at a discounted price.
Tucktec also offers an affiliate program. If someone purchases a Tucktek kayak with your promo code, you make $25 and the buyer gets a free paddle valued at $50.
We own a couple of Tucktek kayaks and will attest that they work and perform as advertised. We have paddled in still calm waters as well as a "lazy" river with a couple of rapids in the Upper Peninsula of Michigan.
They performed great! Took a little bit to get used to, but we adapted quickly.
We will say the seats are not designed for long paddles. Around 2 hours is the comfort limit for us. If you are planning on paddling longer than that, we recommend getting a good seat cushion for your bum.
Pros & Cons of a Foldable Kayak
Like the inflatable kayak, foldable kayaks have their ups and downs. There are some great things about them and there are some not-so-great things about them.
The greatest thing about a foldable kayak to us is that they make an excellent portable kayak for a skoolie. You can easily fit it into your "garage" area with paddles and life vests and still have plenty of room.
The thing we like least about the foldable kayak is that they are only designed for calm water kayaking. They sit low to the water and are prone to fill up with water if it is slightly choppy.
Pros
Portable and easy to store
Lighweight and easy to carry
Durable plastic skin
Can accommodate up to 400lbs single, 500lbs tandem and 6'2" body frame
Cons
Do not track very well in winds due to how light they are
The folds do not have an infinite number of uses
Small cock-pit
Seats are not the most comfortable for long paddles. (more than two hours)
Oru brand is expensive at over $1,000
Snap Kayak
A snap kayak is one that breaks down into sections. Think of it like a Lego kayak. It usually breaks down into two or three sections and each piece "snaps" together like a Lego block.
Storage and portability are not as convenient as the inflatable or foldable kayaks, but still can be stored away in a relatively small compartment.
Pros & Cons of a Snap Kayak
The thing we like most about the snap kayak is that you get the feel and paddling experience as you would a single traditional kayak. They are hard plastic and feel very sturdy.
The other thing we like so much about the snap kayak is that you can choose between a sit-on top as well as a sit-in kayak.

We prefer the sit-on-top kayaks. We like the feel and experience of being above the water. It requires more core strength and balance, but it is a better paddling experience for us.
Pros
Breaks down into small pieces for storage
Hard thick plastic for a more traditional feel and paddle experience
Tracks well in winds and moderate currents
Easy to stand up and paddle
Quick and easy assembly and breakdown
Cons
Heavier than inflatable and foldable kayaks
Cumbersom to port prior to assembly
What is the Best Portable Kayak For Me?
Which portable kayak you choose for yourself depends on your budget, needs, and wants in a portable and functional kayak.
We chose the Tucktec kayaks because of their price point, materials in construction, and the reviews from past and current customers who were very happy with theirs.
Here is a quick graphic comparing the types of kayaks we have discussed today.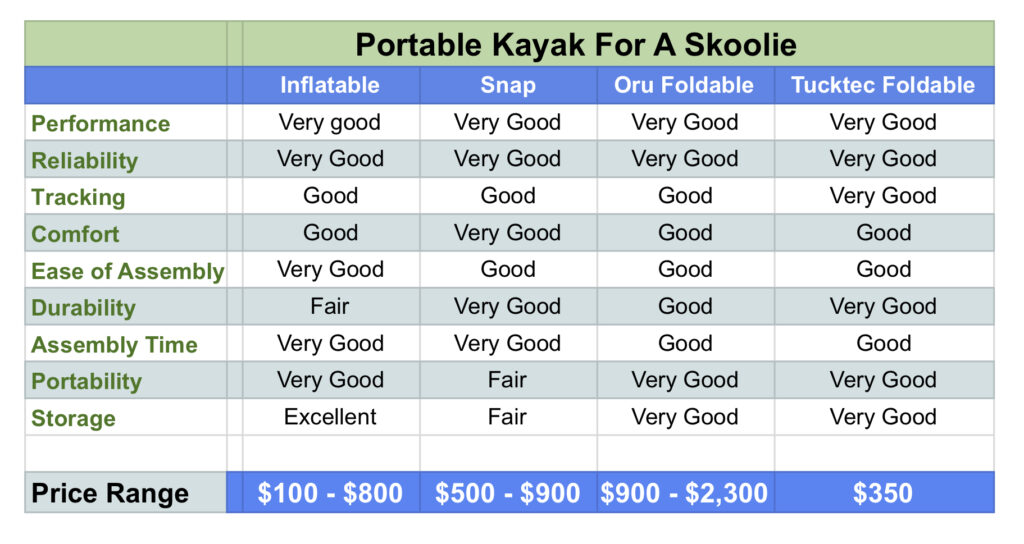 The portable kayak for a skoolie you end up choosing should fit all of your needs, or at least most of your needs.
If your budget is an issue, then purchase a kayak you can afford at the time and then upgrade later on if you feel the need to do so.