The Best Ways How To Make Your Skoolie Not Look Like A Skoolie
How do you make your skoolie not look like a skoolie? When we decided to convert an old school bus into an RV, I immediately started thinking of ways how to make a skoolie not look like a skoolie.

When we first started talking about living in a tiny house on wheels and traveling full-time, my first bus envy was a full-size MCI or Van Hool type of bus.   I wanted the whole rock-band tour bus look.
When Nat suggested we get a school bus and convert it, all I could picture in my head was either the Partridge Family school bus or something out of Cheech & Chong, Up In Smoke.
I was not digging the whole "skoolie vibe" at all. In fact, when I knew we were going to buy a school bus and convert it into our new tiny house on wheels, I immediately started thinking of what to make a skoolie not look like a skoolie.
I wanted something a little more refined. I wanted that tour bus coach, but I didn't want the six-figure price tag that went along with it.
Why Wouldn't I Want My Skoolie To Look Like A Skoolie?
I had my reasons for not wanting our skoolie to not look like a skoolie. I hadn't quite developed an understanding of the community as a whole. The skoolie community at that time was still very small.
In fact, our first Tiny House Festival back in 2017 only had 7 skoolies there. Two of those skoolies were completely empty. So, there weren't a whole lot of examples to pull from to create a realistic image of what we could do.
As we began to see and have an opportunity to walk through more skoolies, we (I) get a better understanding that they all do not look like a bohemian, gypsy wagon train. (not that there is anything wrong with that)
Still, I wanted our skoolie to resemble more a coach than a skoolie.  Nat was patient and sweet enough to go along with my thought process, but still, have the fun of having her first skoolie.
I had read and come to understand that if my skoolie looked like someone just threw an air mattress in it, then it was going to get pulled over by law enforcement at least once a day for as long as we owned it.
I didn't want our skoolie to look like some homeless family who just got kicked out of their home and had no choice but to live in a school bus.
Dumb! I know!
The misconception and indoctrinations we are subjected to are really shameful!  I knew not all skoolies looked like that.  In fact, I had seen some pretty sweet-looking school bus conversions by that time.
Still, for me, I wanted that tour bus coach look.  That is in part why I was so attracted to the flat nose, diesel pusher with the Rosco-style mirrors.
Ways To Mask Your Skoolie
A school bus conversion will always be a skoolie. It doesn't matter how you dress it up, a skoolie is a skoolie and you should never be ashamed to live and travel in a skoolie.
In fact, we celebrate and are so proud of our skoolie builds. Anyone can go down to a local RV lot and buy an RV.
There are only so many of us who have the gumption and ingenuity to buy a school bus and turn it into a kick-ass tiny house on wheels!
If you are a person who wants to "tone down" your skoolie a little. Someone who may not want to be frowned upon by the RV parks and KOAs across the country.
There are a few things you can do to make it look a little less like a school bus and a little more like that REO Speedwagon Tour Bus.
Delete Windows
Deleting windows in your skoolie will break up that school bus look of windows up and down both sides of your bus. If your windows are sitting behind a cabinet or something else, you might as well delete it.
Another benefit of deleting your windows is that you can properly insulate them which will keep your skoolie cool or warm depending on the time of the year.
Paint Scheme
The paint scheme you ultimately decide for your skoolie really personifies its personality and how others initially view your bus.
We would never suggest you paint your skoolie like an RV with the "swishes and swooshes". But doing something that kind of breaks up the school bus look may be a good idea.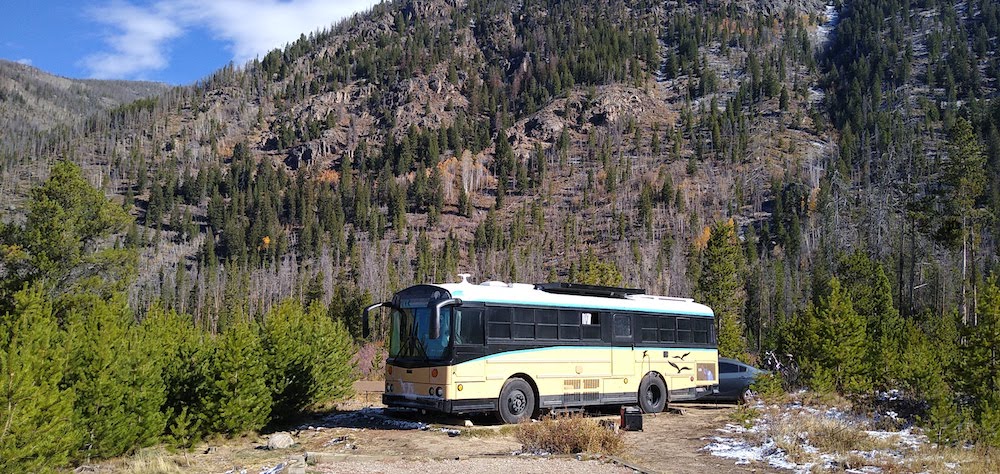 This is the paint scheme we put on our first schoolie.  We took advantage of the naturally dark windows and black window frames and went for a tour bus coach kind of look. Did we succeed in making it not look like a skoolie?
It doesn't look like something Sting, Willie Nelson, or Lady Gaga is going to travel on tour in, but it makes you look kind of hard to realize it's a school bus.
Flat Nose vs Dognose
Having a flat nose or a dog nose skoolie use to be a good way of differentiating between a school bus and an RV coach.  You are going to be successful trying to make your bus not look like a skoolie with a flat nose over a dog nose for sure.
Not so much anymore.  The truck chassis class C RV is getting fairly popular. Dynamax has a pretty sweet line of truck chassis RVs that look a lot like a mid-size dognose skoolie.

Those coaches are going to run you a cool $370,000 to over $400,000. Hrmmm, I wonder what a similar-looking skoolie would end up costing you? Maybe $35,000 to $45,000? Probably even considerably less than that.
Our next skoolie build is a dognose Thomas seven-window school bus.  Here is a mock-up of some color schemes we are playing with. Here is the story about why we decided to buy another skoolie. We Are Buying A Skoolie, Again!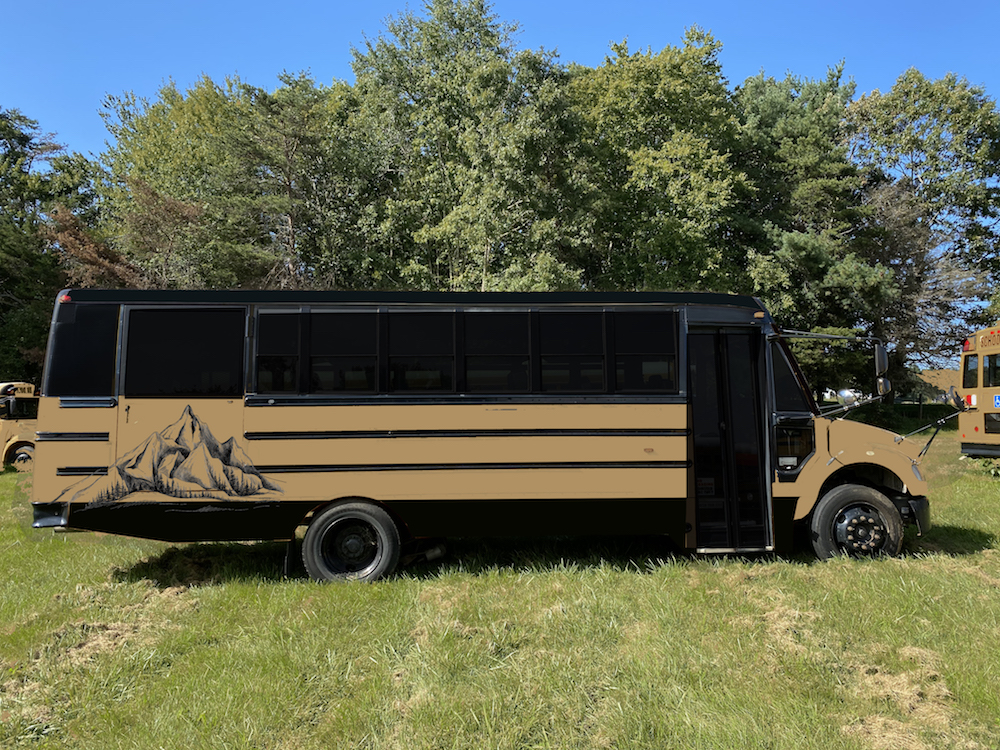 Whether you prefer the flat nose or the dog nose, just get a bus and convert that sucker to a motorhome so you can start living your dreams and creating memories while you can still remember.
Don't worry so much about making your tiny house on wheels not look like a skoolie. Embrace it!
Adventure before Dementia! That's our motto!
Wheel Coverings
This is a subtle way to make your bus not look like a skoolie. Wheel coverings are another way to "dress" your skoolie up and make it look a little more fancy and sophisticated.
Wheel coverings or hubcaps are fairly inexpensive and do really dress up those big black rims.  Want t make your skoolie not look like a skoolie, dress those tires and wheels up a little bit!
Wrap Up To How To Make Your Skoolie Not Look Like A Skoolie
We have moved beyond trying to make our skoolie not look like a skoolie.  In fact, we are actually embracing the whole skoolie persona on our next build. 

We are still going to dress her up and give her a makeover that will register with our personalities and personify our look and feel. At the end of the day though, she is definitely going to identify as a skoolie!
We talked about this in another blog post we wrote. We love the fact that you can paint, design, build, and create your skoolie any way you want. It doesn't have to fit a mold set by someone else.
Tell us about your skoolie. What does your skoolie look like? Maybe you haven't gotten that far yet? What does the skoolie you want to get someday look like?
Leave us a comment and let us know! We can't wait to connect with you!